LOUISVILLE, Ky. (WDRB) – After their plan to buy a home fell through, Karen Riley and her husband, Tom, scrambled last summer to find a place to live in Louisville, where they had just moved from Savannah, Georgia.
An online search led them to a three-bedroom, two-bath ranch just off Cooper Chapel Road in the Okolona neighborhood. It had new appliances with factory stickers still on them, granite countertops and a new digital thermostat.
"It was a very nice house; you could tell it was recently renovated," Karen Riley said.
In the year the Rileys rented the home, they found the landlord, a company called Main Street Renewal, to be responsive and easy to work with.
It was only after a reporter visited that Karen Riley learned their monthly rent checks of $1,395 were headed far beyond Main Street Renewal's office in Plainview.
The house in the Indian Falls subdivision is ultimately owned by a company linked to Luxor Capital, a New York hedge fund. Since February, Luxor Capital has purchased 86 single-family homes in Louisville, according to Jefferson County property records.
Institutional landlords -- including New York financial firms like Luxor and a publicly traded company in the U.S. Virgin Islands – are increasingly snapping up nondescript two- and three-bedroom homes in Louisville and renting them.
Since late 2015, these investors – backed by hundreds of millions in cash – have bought more than 400 single-family homes in middle-income areas of Jefferson County, largely in a swath spanning from Pleasure Ridge Park to Jeffersontown, according to a WDRB review of records from the County Clerk's office, the Property Valuation Administrator and the Kentucky Secretary of State.
For the first 15 years of its life, the house the Rileys rented was occupied by its owner. But Wells Fargo bank foreclosed on it in 2015, and Main Street Renewal bought it for a song last year at auction before selling it in May to the Luxor Capital entity.
Karen Riley, who last week moved to a house the couple purchased down the street, said she found it "kind of strange" that a firm in New York owns the rental house, but ultimately inconsequential.
"It really didn't bother me who owned it, as long as whoever managed was maintaining it," she said.
Landlords have traditionally been local mom-and-pop operators who own a few houses, and experts say those small investors still make up the vast majority of the single-family rental-home market in the U.S.
But around 2012, big business started getting into the game, buying up single-family homes in larger metros like Atlanta and Dallas. It's only in the last two-and-a-half years that the trend has hit Louisville, property records show.
The behemoths of the industry are Dallas-based Invitation Homes and Agoura Hills, Calif.-based American Homes 4 Rent, which own more than 130,000 houses between them.
With homeownership declining following the 2008 housing crash, mortgages harder to come by and student debt on the rise, big-money investors see long-term opportunity in owning homes with a fenced-in yard and a garage – the sort of properties that might once have been starter houses for young families.
"(T)he choice to rent may be more attractive, especially to those without the ability for large down payments or who cannot afford costly repairs associated with home ownership," Front Yard Residential, one of the institutional landlords buying homes in Louisville, said in an investor presentation last month.
Front Yard assured its investors that in the "affordable housing" segment of the market in which it is active, tenants are "less likely to leave to purchase a home."
Cathy Hinko, executive director of the Metropolitan Housing Coalition, a research organization that advocates for fair and affordable housing in greater Louisville, said the entry of institutional landlords is a reminder that fewer people are in a financial position to own a home.
"It means a lot of people are not using the most accessible tool for creating wealth, and that's of some concern to us," she said. "…Households of two adults with children are now renting at greater numbers, and that's who's going to be renting these homes."
Dave Parks, president of the Greater Louisville Association of Realtors, said he hasn't seen a "major impact" on the home sale market from institutional investors, who still have a negligible share of the homes for sale in Louisville.
He noted that their business model involves getting fixer-upper homes on the cheap, so they're generally priced out of the good-condition homes that individual buyers compete for.
"What they are scarfing up is not your everyday, 'I want to buy it,' move-in-ready house," he said.
Parks added that institutional investors didn't cause the shortage of starter homes that has plagued the Louisville market for the last few years.
If anything, he said, they may help alleviate the shortage by rehabbing foreclosed homes and eventually offering them for sale.
Main Street Renewal leads trend in Louisville
While various institutional firms are the ultimate owners of rental homes in Louisville, one company – Main Street Renewal -- is at the center of the local activity, according to WDRB's review.
A subsidiary of Amherst Holdings, a private investment firm in Austin, Texas, Main Street Renewal owns or manages rental homes in 15 states, according to its website.
Main Street Renewal purchased all 414 homes in WDRB's review, from late 2015 to earlier this month. It buys the homes through subsidiaries with names that might resemble WIFI networks – MUPR 3 Assets, EPH 2 Assets, AVRM 5. 
The company has sold about half of the Louisville houses to other investors – companies linked to Luxor Capital, Global Atlantic Financial Group in New York and Front Yard Residential, a publicly traded rental home owner based in the U.S. Virgin Islands.
But even for the homes it has sold, Main Street Renewal continues to manage the rental homes and deal with tenants.
Main Street Renewal declined an interview for this story.
In a written statement, the company said it's "committed to continue bringing to Louisville residents the many benefits of professionally managed rental homes including efficient response to maintenance requests, on-the-ground support services and an all-around higher quality rental experience."
The company said it has spent $13 million rehabilitating Louisville homes -- upgrades like granite countertops, stainless steel appliances, new windows and roofs. 
"Main Street Renewal will continue to invest in the Louisville community, as our projects bring consistent work to more than 20 local construction businesses and we continue to provide Louisville residents with safe, secure and affordable superior-quality homes," the company said. 
A spokeswoman for Global Atlantic Financial Corp. declined to comment, while Luxor Capital and Front Yard Residential did not respond to WDRB inquiries.
Records show Main Street Renewal has been active at public foreclosure auctions -- one source of cheap homes that can quickly upgraded and put on the rental market.
It bought the home the Rileys rented at auction for $109,910 in January 2017, a 45 percent discount, adjusted for inflation, from the house's original price, $143,480, when it was built in 2002.
Main Street Renewal has also purchased dozens of properties at a time from local landlords and from homebuilders, and made individual deals through aggressive, low-ball offers on the public market.
Steve Adams, an agent with Bob Hayes Realty, listed a three-bedroom home in north Bullitt County for $122,900 on Monday, posting a single photo of its exterior.
The next day, a representative of a broker based in Arizona emailed an offer for the home from Main Street Renewal – no appraisal needed because the company would pay cash.
Adams said the offer was significantly below the asking price, though he declined to share the amount.
Tenant complaints
While Riley had no gripes about renting from Main Street Renewal, a handful of other tenants raised issues in interviews with WDRB.
Kyle Kelly, a 2014 University of Louisville graduate, said despite upgrades like granite countertops, there were a number of problems when he began renting his home, including leaky sinks and malfunctioning air conditioning.
Kelly's house is on Meadow Chase Court in Okolona, a dead-end street where nine of the 26 homes are managed by Main Street Renewal.
Kelly and Tasha Bright, who rents a four-bedroom home off Lowers Hunters Trace in Pleasure Ridge Park, said Main Street Renewal charged them errant late fees after the company's automated billing software failed to credit their rent by its due date.
Bright also said Main Street Renewal requires her to spend about $17 a month on renters insurance though she already has coverage independent of the landlord. (A Main Street Renewal representative said the company requires tenants have rental insurance but doesn't dictate the insurance provider).
WDRB also found a few Main Street Renewal houses in need of mowing and other basic maintenance. One house on Hunters Chase Lane, across the street from Bright, had an overgrown yard, a busted mailbox and a broken "for rent" sign when WDRB visited last week.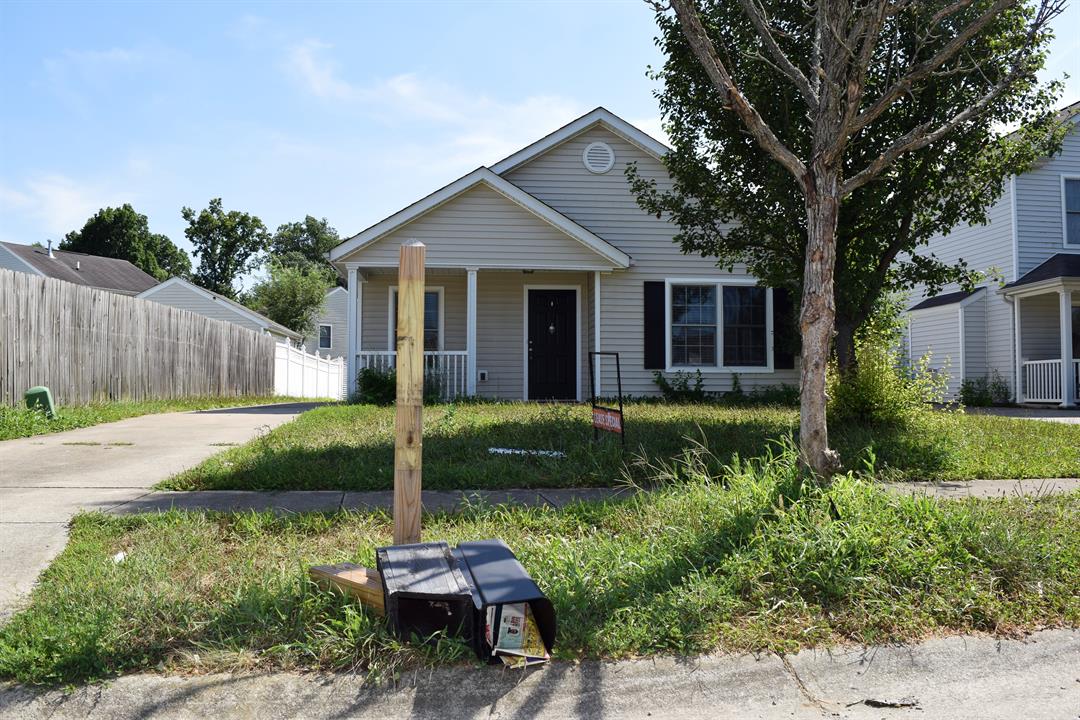 Of course, local landlords aren't free of problems.
Laurie Goodman, director of the Housing Finance Policy Center at the Urban Institute, a Washington, D.C. think tank, said "there is no evidence that an institutional landlord is a worse landlord for a renter than one who owns just a few homes."
"Larger, professional organizations may be better positioned to be more responsive when repairs are needed and able to standardize lease terms, etc.," Goodman told WDRB in an email.   
In its statement, Main Street Renewal said: "Institutional ownership and management of rental homes provides a better level of service with higher quality rental homes than have previously been available to residents."
Another potential benefit of institutional ownership, according to Hinko, is that businesses like Main Street Renewal may be less likely to discriminate against tenants based on factors like race, gender and sexual orientation since they are narrowly focused on generating investment returns.
Main Street Renewal tenants had one common complaint – the amount of the rent, which the company raises with lease renewals or with tenants opting to go month-to-month.
Kelly, a computer programmer, said the rent for his three-bedroom house went to $1,290 per month, from $1,245, when his year lease was up. He also opted to pay an additional $100 a month to avoid committing to another year's lease.
He's trying to find a starter home to buy in time to make the month-to-month fee pay off, but it's a gamble.
"It's hard because there are not a whole lot of houses that aren't gobbled up," he said.
The National Home Rental Council, a trade group that represents the institutional landlord industry, says rents are dictated by conditions in each city, not the whims of big-money owners.
"If our member companies unilaterally raise rents beyond what local markets can handle, they will lose residents and their businesses will struggle," the council says.
Reach reporter Chris Otts at 502-585-0822, cotts@wdrb.com, on Twitter or on Facebook. Copyright 2018 WDRB News. All rights reserved.