LOUISVILLE, Ky. (WDRB) -- Seventeen months after a Louisville mother disappeared, her family is holding a vigil to remember her and help other families in crisis. 
Andrea Knabel, a mother of two, was last seen Aug. 13, 2019, in Louisville. More than one year later, her family is still searching for clues. They've called on police, private investigators and had a K-9 search. 
"I sadly can tell you that we have no sign of life nor death," said Michael Knabel, Andrea's father. 
The family held a vigil last year and is holding another one this Sunday, Jan. 17, outside of St. Stephen Martyr Church on Pindell Avenue at 5 p.m. All are welcome to attend.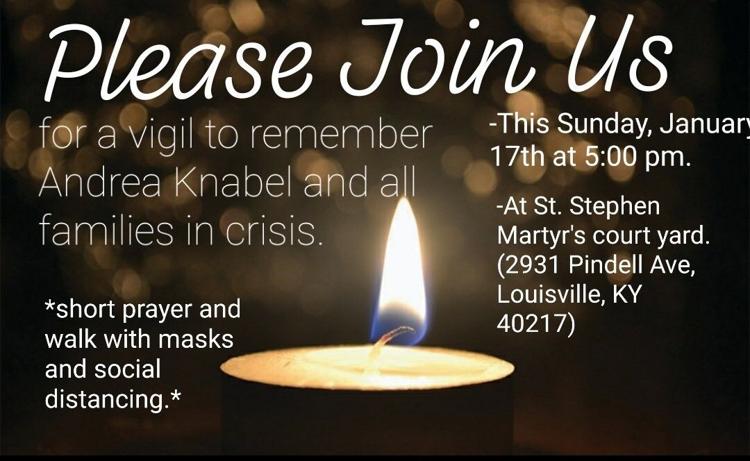 A flyer with details about the vigil explains there will be a short prayer walk. Masks are required and social distancing will be in place.
While the vigil is being put on by Andrea's family, her father said he wants this to be a moment to bring others together who are going through similar experiences 
"Many people are still missing and not getting full attention," he said. "This is very close to us and my daughter Erin (Andrea's sister), and I would both agree we've come across so many people and families in crisis that it would be very selfish otherwise if we didn't include them and make them feel welcome."
Michael Knabel said people continue contacting him saying they've seen his missing daughter, but so far, none of the pictures have turned out to actually be Andrea. He said he's pursued possible sightings from multiple states. 
"There's been hundreds of leads, hundreds plural," he said. "And they haven't panned out."
As he continues the search for Andrea, he's hoping others will join the Knabel family Sunday for the vigil. 
"You don't have to be directly connected to my family," he said. "Erin and I both extremely want to emphasize that. This is for healing, for prayer, for people, families of missing, or any kind of crisis within a family. We're very touched by this, because we've been part of it for 17 months, 17 long months. And we know what people go through, and we have a great deal of sympathy for that. And they are absolutely invited and welcomed to be with us."
Copyright 2021 WDRB Media. All Rights Reserved.