DAWSON SPRINGS, Ky. (WDRB) -- As recovery continues two months after tornadoes tore through western Kentucky, stories of strength and recovery are coming from the rubble.
In Dawson Springs, Ms. Becky's Place is serving up smiles and meals, bringing hope to residents through some home cooking. With cold drinks and sizzling burgers, it's the place to be.
When the tornado hit the city on Dec. 10, tearing through nearby homes and businesses, the restaurant wasn't damaged much and only had to close for three weeks.
"There's so many people. They don't even have a stove to cook on," said Becky James, who owns Ms. Becky's Place. "I hope it helps them feel better and enjoying it."
With few restaurants open in the area, the eatery is serving up supper, smiles and much more.
Customer Becky Pendley said she and her daughter are regulars at the restaurant a lot because she loves all the food and usually orders the "blue plate special."  
"We come maybe five to six times a week," Pendley said. "I've cooked for 58 years and I'm sick of cooking."
IMAGES | Residents of Dawson Springs, Ky. begin picking up the pieces after tornado
It's more than just a place with good home cooking. It's also a place for community fellowship.
James lost her husband five years ago and said the restaurant has helped her through tough times. Now, she's surrounded by people who are also dealing with difficulties and wants to "be there for them."
Pendley is one of many whose home was destroyed by the December tornado.
"It got destroyed when it hit," Pendley said. "All the windows shattered. It got demolished."
James said she knows exactly what that feels like. She was working on menus for the restaurant at her home when her kids told her she needed to take cover immediately during the storm.
"We were all in the basement, and when the one from this end hit, it was really loud," she said. "And the pressure ... and when you see the funnel, it was like it was sucking everything up."
James' house was totaled.
"It took all the bricks on the house and they fell inside," James said, opening doors to the bedrooms in her home. "It was so atrocious, but it didn't last long. I'm just so thankful the good Lord kept my family safe. These other things don't matter."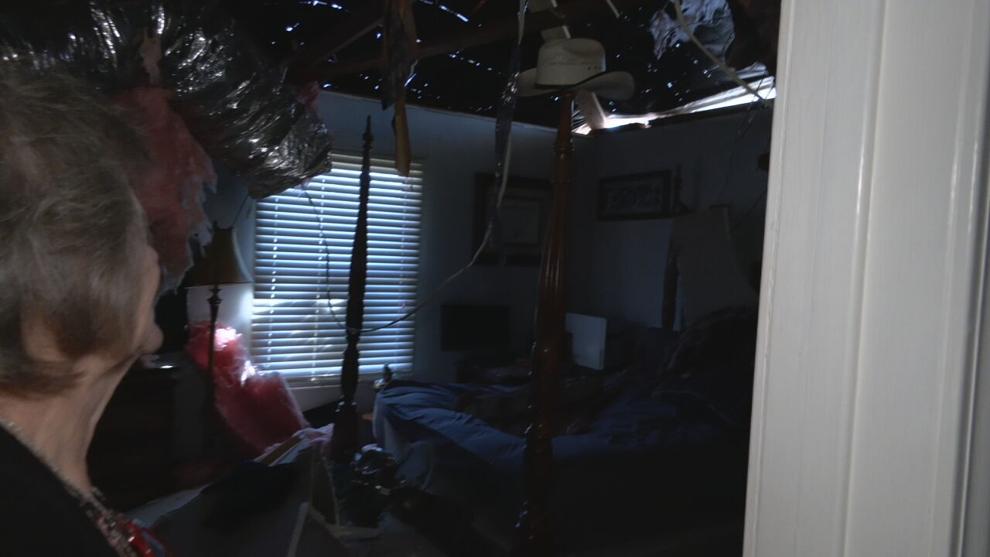 Seven barns were destroyed on James' farm, but that's not all.
"What they said I had lost ... 50-some acres of timber," she said. "I own that trailer up there. It was totaled too. It wasn't turned over but it was pushed 10 or 12 feet up. And that's my daughter's house over there. It was totaled. My son here lives on the back corner. He has a farm, and everything at his house was totaled."
Huge piles of debris remain on her property as cleanup continues. Her neighbors and friends also victims of the tornado.
"I had two to three friends beside them that the tornado took," James said. "It's still sort of seems like a nightmare when you think what happened to them. When I sit out here and look at all of this, it's a little depressing. But when I go down there, everybody is smiling and laughing and it wasn't torn up and it's like it's always been. So it's like going back home."
James said she plans to rebuild her house, and despite what she's gone through, she's still working.
"Working is what I like to do," she said. "I'm not a sit-down person."
Through loss and heartbreak, James' restaurant and the Dawson Springs community are stepping up to help. They're going through the unthinkable together but coming back stronger than before.
Customers call James a bright light in the community.
"It makes me feel good, but there's a lot of people who do more things," she said. "I don't want to take credit because when I go down and see them, it does just as much for me as it does them."
For now, James is living in a trailer on her property, closing the door on this tornado chapter of her life, knowing there are more to good things to come.
Related Stories:
Copyright 2022 WDRB Media. All Rights Reserved.