FALLS OF ROUGH, Ky. (WDRB) -- Families who spend their summers out on Rough River Lake are getting used to a new reality.
The Army Corp. of Engineers restricted the lake level 5 feet to 490 feet — and it'll remain that way for the next six to eight years — as its works to repair the lake's dam.
During a recent risk assessment study of the dam at Rough River, the corps changed the Dam Safety Action Classification risk rating from a 3 to 2. One indicates "very high urgency," 2 being "high urgency," 3 means "moderate urgency," 4 is "low urgency," and 5 being "normal."
The assessment findings and change in DSAC rating is the reason for pool restrictions at the lake.
"The (490-foot) level was chosen to help reduce stress on the dam, to make sure that our problems don't get any worse than what they already are," said Adam Taylor, park ranger at Rough River.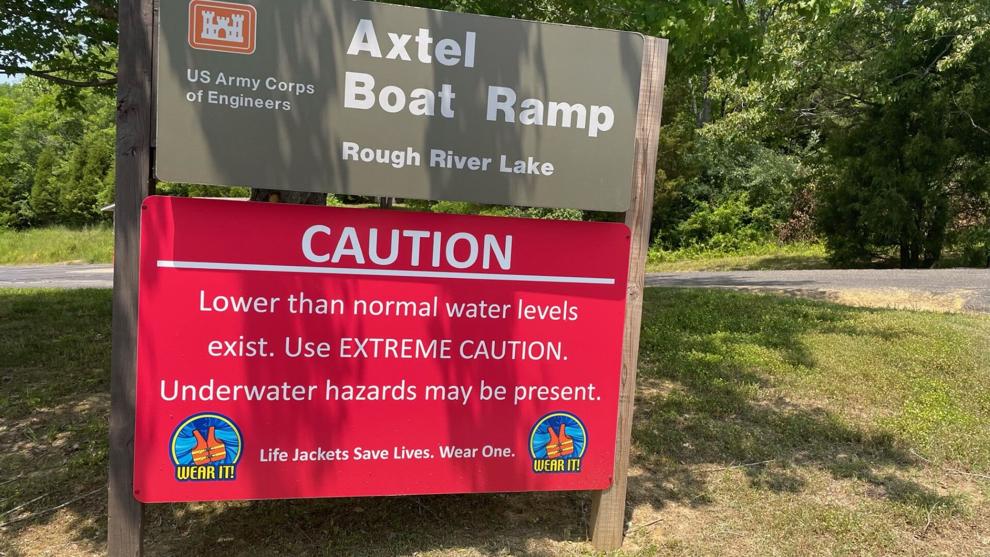 Stark divides around the shoreline plainly show the former lake level, and these conditions won't change any time soon. With less water and a huge Memorial Day weekend crowd expected, things will likely be more congested than normal.
"It'll be a learning effort for everybody," Taylor said. "It'll take everybody's part to help keep things lined out and keep everybody safe. You'll see a little extra patrol on the water."
Out on the water Friday celebrating his son's birthday, Tom Dennison said his family has had to be more cautious with the new water level.
"Don't come in here and think it's like it's always been, because it's way, way different," Dennison said. "It's good, but you've just got to be safe.
"Don't jump off cliffs. There are rocks everywhere."
Taylor said rock piles, branches, logs or anything else that is normally covered and well below the water surface could now be lurking just beneath it.
"We're urging people to take lots of extra caution," he said. "Slow down. The lake is different. Even though it's the same place, the hazards are different."
Some beaches — like North Fork and the state park beach — will be closed throughout the dam remediation. But the group Friends of Rough River Lake said the newer Laurel Branch Beach will remain open.
"I view this year as kind of a transition year," said Charlie Corbett, president of the group. "It may take a few trips to figure out what the shoreline looks like now and get your dock smoothed out, for people who have a private dock. But once we're through the first months of the season, we're going to be pretty much normal."
Businesses around the lake still expect the usual big holiday weekend crowd. And regardless of the water level, Dennison and his family said they'll keep coming to Rough River any chance they get.  
"It's a beautiful place," he said Friday. "We just love being here."
Related Stories:
Copyright 2023 WDRB Media. All Rights Reserved.