FRANKFORT, Ky. (WDRB) -- Kentucky Attorney General Daniel Cameron said his office did not present murder charges to the grand jury in the Breonna Taylor case.
In an exclusive interview with WDRB News on Tuesday, Cameron said it was "not appropriate" to recommend charges for two Louisville Metro Police officers — Sgt. Jonathan Mattingly and Det. Myles Cosgrove —who fired shots into her apartment early on March 13, six of which hit Taylor.
"They're an independent body. If they wanted to make an assessment about different charges, they could have done that," said Cameron. "But our recommendation was that Mattingly and Cosgrove were justified in their acts and their conduct."
Cameron's office did recommend wanton endangerment charges for former Det. Brett Hankison, he acknowledged for the first time Monday night; a Jefferson County grand jury indicted Hankison on those charges last week.
"The charge that we could prove at trial, beyond reasonable doubt, was for wanton endangerment against Mr. Hankison," Cameron said Tuesday. "Myles Cosgrove and Jonathan Mattingly were fired upon by Mr. Walker. They were justified in returning fire."
That initial shot, which Cameron said Taylor's boyfriend, Kenneth Walker, admitted to firing, gave Mattingly and Cosgrove cover for every shot they returned, regardless of its result, the attorney general said. Cameron said that includes shots fired into a upstairs apartment, where people were at home at the time.
The trajectory of those bullets, he said, suggests they were fired by Mattingly and/or Cosgrove as they returned fire. 
"It was our judgment that it was not a case that could go forward as it relates to Sgt. Mattingly and Myles Cosgrove," he said. "Because they were fired upon, they returned fire. I think that's been lost a lot in this conversation. They were justified."
Cameron's office said in a statement late Tuesday, "The evidence supported, and our team recommended, wanton endangerment charges against Mr. Hankison. Sergeant Mattingly and Detective Cosgrove were justified in returning fire after having been fired upon by Kenneth Walker. However, the Grand Jury was presented with all of the evidence over the course of the two-and-a-half day presentation, including information involving Sergeant Mattingly and Detective Cosgrove. If our office just presented the wanton endangerment charge against Hankison, it would have been a much shorter presentation, but we felt it was important for the Grand Jury to hear all the information before they deliberated and voted."
Questions arose about who shot Mattingly after Walker's attorney, Steve Romines, suggested that it was "much more likely" that police accidentally shot Mattingly.
Cameron said Walker confirmed he has a 9mm handgun with Remington bullets, and that the bullet found outside the apartment behind where Mattingly was standing was a Remington round. In addition, he said, a cartridge found in the hallway of the apartment "going out toward the door where Mattingly and Cosgrove were" was from a Remington bullet.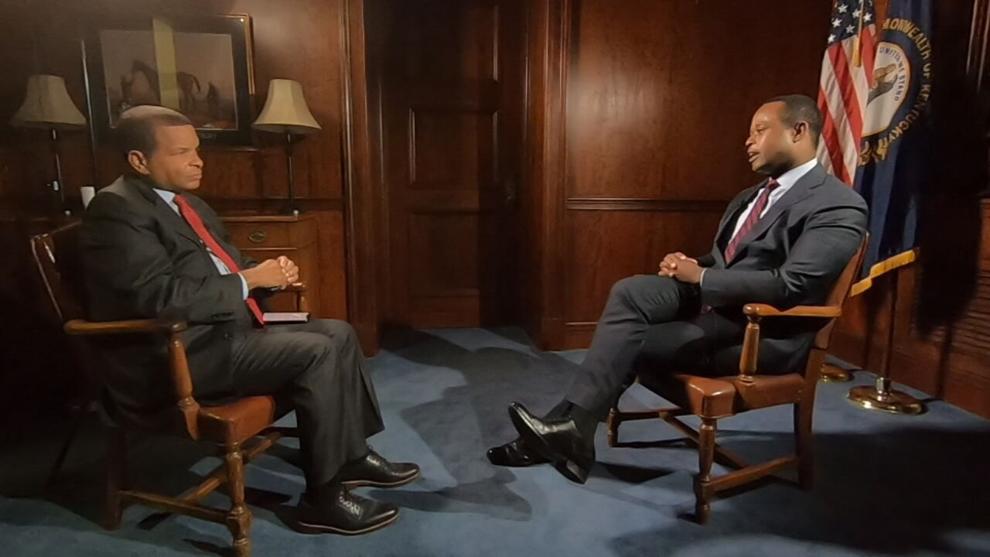 Cameron called it a "silly idea" that Mattingly was hit by crossfire or shots from another officer.
"If what others are saying as it relates to the shot fired by Kenny Walker, assuming what he said is that it was a warning shot and that the warning shot did not hit Sgt. Mattingly, then where is that bullet?" he said. "Where is the hole in the apartment unit? Where is the hole in the floor? Where is the hole in the wall?
"Everything indicates that that was a round that was fired by Kenny Walker."
Cameron said he didn't want to get too specific as it relates to Hankison because of the ongoing case against him, but he said any shot by Hankison would have to "turn left" to hit Mattingly based off both of their positioning outside Taylor's apartment. Cameron added that nobody entertained this theory before Romines said it at a news conference earlier this month.
All three officers returned fire after Walker's initial shot, but there has been some debate as to which officers fired the shots that killed Taylor. Cameron said the Kentucky State Police ballistics report came back inconclusive, and using the same equipment and test, the FBI got the same result.
However, Cameron said the FBI decided to make a "subjective" determination that Cosgrove filed the shot that killed Taylor. The difference in the two agencies' reports was another reason it was difficult, Cameron said, to recommend murder charges to the grand jury.
"I know the truth sometimes will make people uncomfortable," Cameron said. "Some in the public had already made a determination about where they wanted to see this case to conclude without all of the facts. It was this office's responsibility to find those facts and then have that lead to the conclusions."
Asked why there were no recommended wanton endangerment charges in connection with Hankison's shots into Taylor's apartment, Cameron said "the reports that we have seen related to her passing is that she passed pretty quickly. But outside of that I don't want to speak too specifically about ... Det. Hankison because there is this ongoing prosecution into him and it would be inappropriate for me to speak too specifically about anything related to him."
Since the grand jury charged Hankison with wanton endangerment last week, and as nightly protests have continued in Louisville, some of taken issue with many aspects of the investigation's findings.
One such issue has been Cameron's suggestion that a witness, who lived in Taylor's apartment complex, corroborated the officers' claim that they knocked and announced themselves before forcing their way inside.
National civil rights attorney Ben Crump said Louisville attorney Sam Aguiar's office interviewed 12 residents of the apartment complex who lived "in close proximity" to Taylor who "all said they did not hear the police knock and announce their presence." On Tuesday, Cameron said the witness confirmed the officers' statements on "at least one account."
Regardless, Cameron said, whether the officers knocked and announced themselves or not is irrelevant to charging anyone murder if you factor in Walker's initial shot at police.
"There is nothing to suggest they did not knock and announce in terms of the things that were said by this particular witness and the statements that were made by the officers," Cameron said. "But putting even that aside, whether they knocked or didn't knock does not have any bearing on the justification of Myles Cosgrove and Jonathan Mattingly to return fire."
Cameron said he did present the discrepancies of the witness' accounts to the grand jury. 
Much of the grand jury proceeding will be made public Wednesday after Jefferson Circuit Judge Ann Bailey Smith ordered discovery items and recordings be submitted to the court. Cameron had said he was concerned that their release could jeopardize the case against Hankison and the other officers. 
"I'm not afraid of any judgments or recommendations that we made," Cameron said. "We're confident in the presentation that we put forth. Whether this grand jury speaks out or not, that's of their own accord and their own volition."
Cameron was sure to mention that the underlying fact of the case is Taylor's death, a tragedy that has rocked the city of Louisville.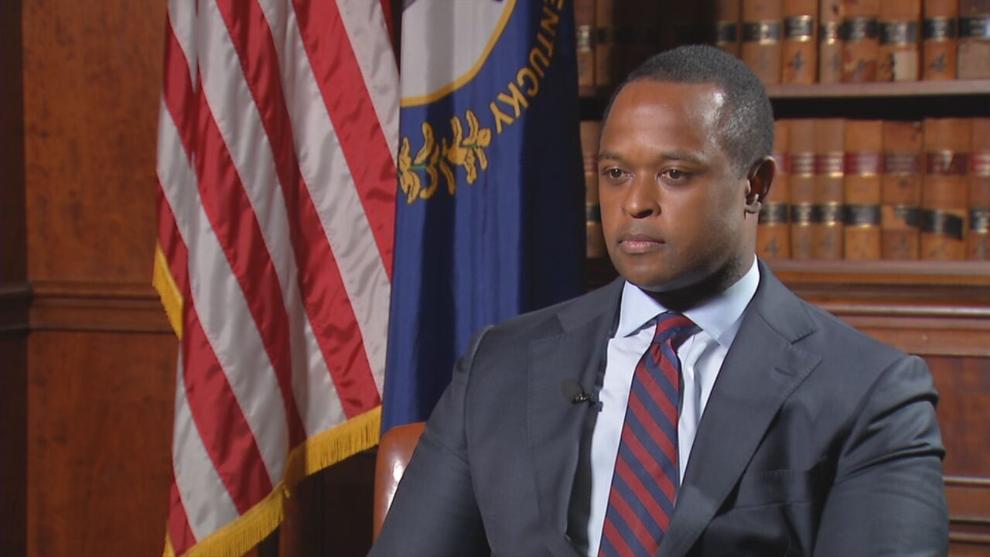 "By all accounts, she was a loyal friend, a loyal family member, someone who I've been told was the glue of the family," he said. "And I can't imagine the pain and hurt that Ms. Palmer and other members of her family are feeling and that the community feels. I feel that pain."
But even through that pain, Cameron said, his office had to find the facts to meet a conclusion, rather than the other way around, something he accused his critics of doing before he had presented the findings of the investigation.
"I know that is not the popular decision to make, but it was the right decision," he said. "Truth has to mean something in our society."
You can watch the full interview below:
Copyright 2020 WDRB Media. All Rights Reserved.