LOUISVILLE, Ky. (WDRB) -- Videos showing chaos at Eastern High School on Monday have many parents having tough conversations with their kids.
A spokesperson for Jefferson County Public Schools said a gun fell out of a student's backpack during a fight. It's something parents said has unfortunately become a new normal that can happen anywhere.
Tuesday was a much quieter day at Eastern High School, where Dora McKnight's granddaughter is a student.
"I could see it in her eyes when she was talking to me last night. It was scary," McKnight said. 
McKnight's granddaughter was in her lunch period on Monday when the fight broke out. 
"She was in the bathroom, about 10-feet away or so from all the commotion, and when she came out, everybody was panicked and running," she said. "And when I got home, I saw the massive hysteria that the lunch room was going under."
It was another night with another tough conversation about safety. McKnight said they've had to teach their granddaughter to be the sense of calm when all the commotion is going on, a lesson she said she never thought she'd have to teach.
"With the world as it is, it can happen at the bus stop, at the mall, at the dance hall taking dance lessons, so I have taught her to have a heightened sense of her surroundings, and she did exactly as I had hoped," she said.
According to Norton Children's Hospital, students who become aware that another student has a gun or other weapon should "get away from the person quickly and quietly" and to immediately tell an adult. A call to 911 should be made to report the weapon if a teacher, parent, coach or other school employee can't be found.
Eastern High School isn't alone. In the first semester, 15 guns were found at Western, Pleasure Ridge Park, Moore, Ballard, Seneca and Fern Creek, according to JCPS.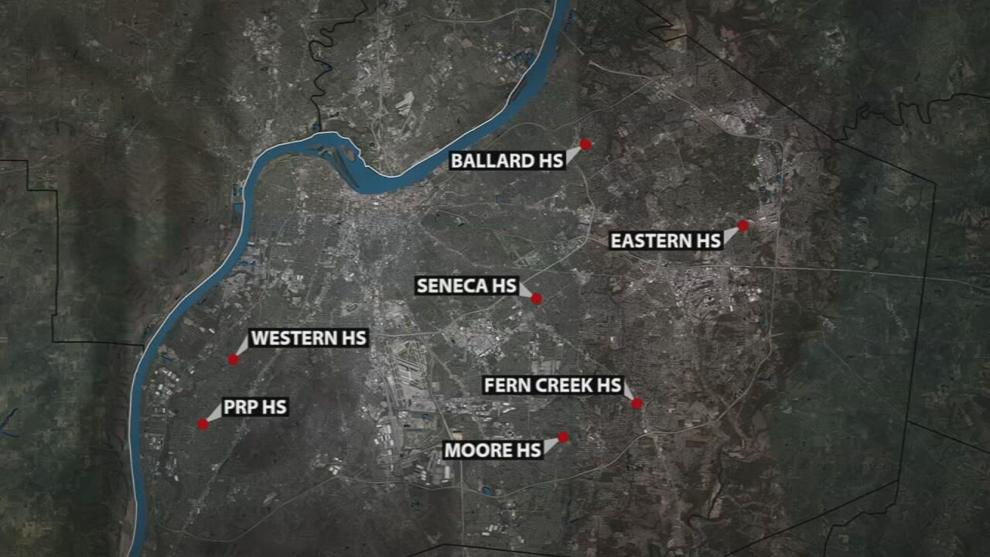 "I felt like the school did the best that they could and had resolved to that point," said McKnight.
Last January, the JCPS Board of Education passed a nearly $7.3 million school security plan, which included school safety administrators, officers and monitors. Board members said the response at Eastern on Monday showed that the new plan is working.
"We had the school safety administrator there. We had informed, competent, trained adults who immediately responded to the situation and prevented a worse situation from happening," said board member James Craig. 
Craig represents District 3, which includes Eastern High School where his son is also a student. He said no one wants to see guns in schools, but this is a community problem that has to be addressed.
"So long as guns are so widely accessible in Louisville, they're going to show up inside JCPS," he said. "We just need to be prepared and know how to deal with the situation when it happens."
Many parents, including some who spoke to WDRB News at Eastern on Monday, suggested installing metal detectors at schools. Craig said they talked about that at the school board meeting in December, and that the district is evaluating whether it needs metal detectors or should have them in schools.
Norton said there are warning signs of violence, which can include name-calling, harassment, taunting and "other forms of" bullying. Signs someone is "likely to become violent" may include cruelty to animals, talking about weapons and violence, a fascination with violent video games, TV shows and movies, threatening or bullying, and isolation from friends and family. 
Copyright 2023 WDRB Media. All Rights Reserved.