LOUISVILLE, Ky. (WDRB) -- It might as well be called no man's land.
Considering the company who owns Schardein Cemetery doesn't exist, no one really is responsible for the upkeep of the place. Many headstones are turned over, graves have sunk and most recently, a tree fell, covering up multiple graves.
"This is all uncalled for," said Bob Patterson, whose family is buried under the overgrown mess. "And I know there are probably more families that want to come in and take care of theirs, but how can you do it?"
Patterson trudged through waist high grass and a massive fallen tree Monday to try, again, to find his brother's headstone. He found it, and tears poured from his eyes as he stared at a partial headstone covered in dirt, bark and tall grass.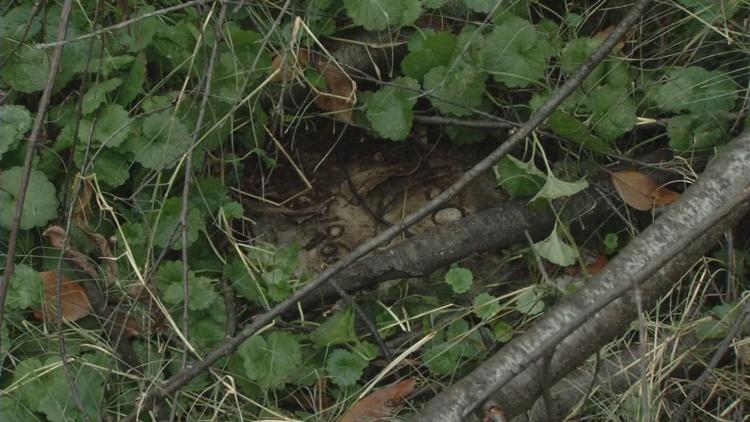 "That's him," he said as his voice trembled. "That's my brother."
His step-father and twin step-brothers are also buried under the mess. He wasn't able to find them but hopes he can soon. He doesn't understand why some of this property is maintained, but this hasn't been touched.
"This is all uncalled for," he said.
Here's the problem: In the late 1980s, the attorney general investigated, and dissolved, Louisville Crematory & Cemetery Company for improper burials and wrongdoing at Louisville's Eastern Cemetery. The dissolved company owned and operated Schardein Cemetery as well. 
According to the Jefferson County Property Valuation Administrator's records, that parcel of land is still owned by Louisville Crematory & Cemetery Co., but that company doesn't exist. The property is technically in the hands of the Attorney General's Office, and it doesn't have the funding for upkeep of cemeteries like Schardein and Eastern. The City of Louisville said it's not taking responsibility for the land and won't acknowledge that the company doesn't exist.
It's a legal battle that's still in limbo, and Patterson think's is despicable.
"I don't holler too much," he said. "I don't get mad too much. But you come out here and see something like this, it just ain't right."
The Attorney General's Office hasn't responded to a request for comment.
Patterson urges volunteers to help in any way they can.
Copyright 2019 WDRB Media. All Rights Reserved.