LOUISVILLE, Ky. (WDRB) -- Homeless people in Louisville were forced to leave their camps Tuesday morning as the city cleaned up the locations.
The people in the camps were given a 21-day notice to pack what they can and move. Anything that's left is thrown in the trash. The order was given on June 26 and was carried out July 16 on Breckenridge, College and Jacob Streets under overpasses connecting to Brooks Street. 
"On days like this, emotions run high," said Tiny Herron-Markwell of St. John's Center for Men.
Mattresses, couches and even needles could all be found in homeless camps under overpasses along Brook Street. Now, it's all gone as the city said  the areas create health and safety concerns.
"I can see it's a lot of trash and needles and stuff like that," said Orlando Johnson, who's among the homeless. "I can see it's creating a health hazard, you know what I'm saying? But my thing is, where these people going to go now?"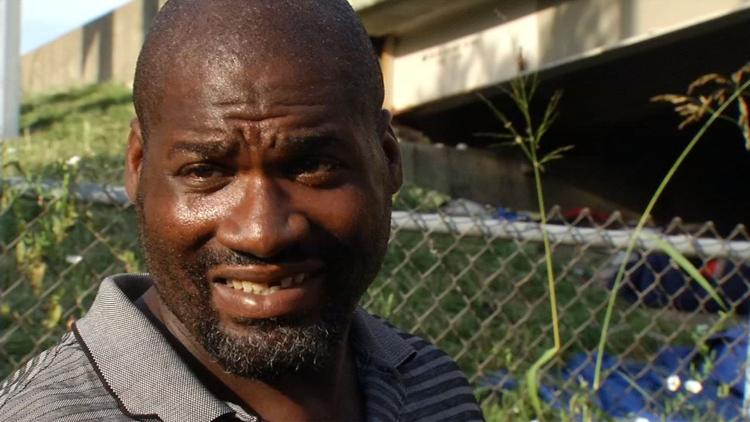 Johnson has lived at the camp for nearly seven months and is now looking for a new temporary home, which likely won't be in a typically overcrowded shelter.
"If you don't got a bed in there, then your only other option is if you don't got no way of paying your rent, you got to sleep on the streets, you know what I'm saying?" he said. "I'm just trying my best to survive."
The city funded low-barrier shelters and storage locations earlier this year to help the rising homeless issue, but homeless advocates say more needs to be done.
Fences are being torn down to clean completely under the overpass. @WDRBNews pic.twitter.com/5s4XjyPZXy

— Lexie Ratterman (@LRatterman_WDRB) July 16, 2019
Mattresses, couches, chairs... it's all being tossed into the garbage. @WDRBNews pic.twitter.com/AtlHwTEWR3

— Lexie Ratterman (@LRatterman_WDRB) July 16, 2019
"We don't have enough shelter beds," Herron-Markwell said. "We have a lack of affordable housing in our city, which is the cause of homelessness that we have."
Advocates said the sad truth of these clear-outs is that dozens of people will just relocate to another outdoor camp.
Ronnie Morris moved his tent and sleeping bag two blocks down from Jacob Street to Caldweel Street. 
"I've lived on College twice ... They move us every couple months," Morris said. "This right here will make a man into a man. It will."
Last year, Louisville cleared a homeless camp to make way for a new soccer stadium. The move brought many people out of the woods and into the public eye. Camps were then cleared on Jefferson Street heading into downtown and land owned by CSX.
"You say this is a compassionate city?" Johnson said. "Then reach down and help them people."
Happening now: City crews are clearing out homeless camps along Brook Street. @WDRBNews pic.twitter.com/EnO0w9qkEZ

— Lexie Ratterman (@LRatterman_WDRB) July 16, 2019
There have been at least two serious fires at homeless camps in Louisville this year. On Jan. 31, a person was injured after a tent fire at a homeless camp under an overpass near South Brook and East Kentucky Streets on Jan. 31. Fire officials said they believe that fire was started by a Sterno can then spread to a propane tank.  
Several weeks later, on March 6, a fire at another homeless camp near the fairgrounds was visible from Interstate 65.
A recent study said to stop clearing the camps and put resources into the root causes of homeless like a lack of affordable housing and treatment for addiction and mental health issues. 
"That's not something that can happen in six months or a year," said Eric Friedlander, director of resilience and community services for Metro Government. "In the meantime, we have to look at how can we do what we're doing, like the clean out today, in the most humane and compassionate way possible."
Metro Council put $1 million of new funding in the 2019-2020 budget for more homeless resources. Friedlander said proposals on how and where to use that money are due to the Coalition for the Homeless this week.
Related Stories:
Copyright 2019 WDRB Media. All Rights Reserved.