LOUISVILLE, Ky. (WDRB) -- Kentucky firefighters are outraged after they say a Louisville man made unsubstantiated claims of being a Ground Zero fireman who pulled bodies from the rubble on Sept. 11.
Mitchell Feltz -- a.k.a. Michael -- says he worked for Lexington and Georgetown fire departments at the time of the terrorist attacks and retired in 2012.
"During 9/11 we were coming back from Hawaii from a convention -- a firefighters' convention -- a plane of us was -- and the Mayor Giuliani, when our plane landed, came on it and asked for help," Feltz said in an interview with Louisville-based Gladiator Sports Network. "I worked up there every day for almost six-and-a-half months. Helped pull bodies and everything."
The parent company for Ohio Valley Wrestling planned to recognize Feltz with an award for courage at a 9/11 event at 4th Street Live! in downtown Louisville Wednesday. During the vetting process, however, Feltz's story could not be confirmed and his recognition was cancelled.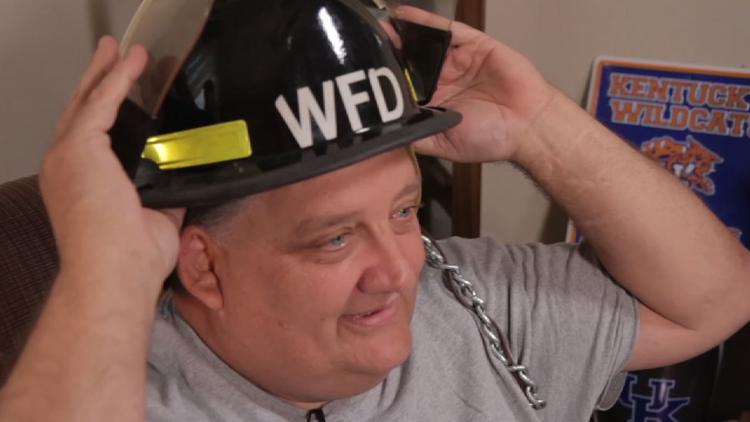 "Not only was he not in the Lexington Fire Department system, he was nowhere in Fayette County, Lexington urban government system," Lexington Fire Department Battalion Chief Marc Bramlage said. "If we have someone going around not representing us in a good light, that does damage to the department and it also does damage to the profession in general."
In the GSN interview, Feltz told wild stories about some of the most iconic images from the attacks. He claims to be one of the three firefighter hoisting the American flag in the midst of the rubble at Ground Zero.
Those firefighters have long been identified as George Johnson, Dan McWilliams and Billy Eisengrein.
Feltz also claimed to have been among the group that carried FDNY Chaplain Mychal Judge, considered Ground Zero Victim 0001, out of the debris.
"It makes you more than angry," Kentucky Fire Commission Division Director Bruce Roberts said. "It's a shame someone would do something like that."
The Kentucky Fire Commission keeps certification and training records on every firefighter in the state going back at least 30 years. Roberts said there are no records for Feltz working as a paid or volunteer firefighter anywhere in Kentucky. Ever.
"There's no one with the name Feltz in our system at all," Roberts said. "It's unbelievable, I just cannot imagine someone would come up with that kind of story."
Nearly 3,000 people died in the terrorist attacks of Sept. 11, 2001. Most of them were at Ground Zero where the twin towers of the World Trade Center collapsed. The panic, grief and fear that followed changed history in the United States.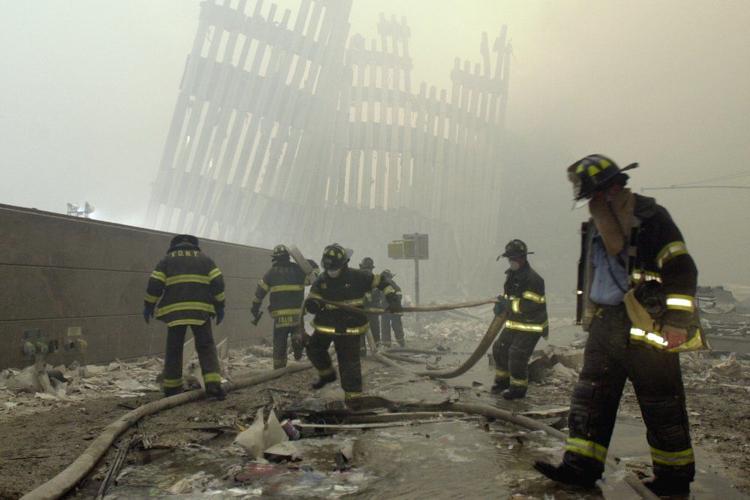 Over the years people believed Feltz's tale, and he exploited of the mission of Mission BBQ. Every day at noon, the crew at the restaurant pauses, and guests stand for the National Anthem. Feltz visits often, and workers have celebrated him and even comped his meals.
One worker from the St. Matthews location took a picture last April with Feltz in the restaurant posing in front of one of the pictures Feltz claims he was featured in. 
"Yesterday my eyes were widened as I listened in awe to Sgt. Feltz," she wrote in a Facebook post. "He told me about his time at Ground Zero and the breathtaking sights he could describe as vivid memories."
The shelter director at Wayside Christian Mission also knew Feltz. Nina Mosley confirmed he stayed at the shelter approximately 10 years ago. She was not familiar with his Sept. 11 claims, but did believe he was a former firefighter based on Feltz's stories. Mosley said he still returns to the shelter to volunteer.
WDRB found no proof Feltz profited from his accounts or that he has a mental illness. But it wasn't just his claims of being a firefighter that lacked truth. Feltz tells some people his first name is Michael; however marriage records confirm it's actually Mitchell.
A search of Kentucky's criminal records shows that on Sept. 10, 2001 -- a day before he claimed to be on a plane returning from Hawaii -- Mitchell Feltz pleaded guilty to writing bad checks in Harrison County, Kentucky.
"He wants a pat on the back for something he didn't do, and he doesn't deserve a pat on the back. He deserves a kick in the ass," said Retired Jeffersontown Fire Captain Matthew Keith. "He doesn't realize that these families are still suffering. Those folks that live there and work there are dying every day because of Sept. 11."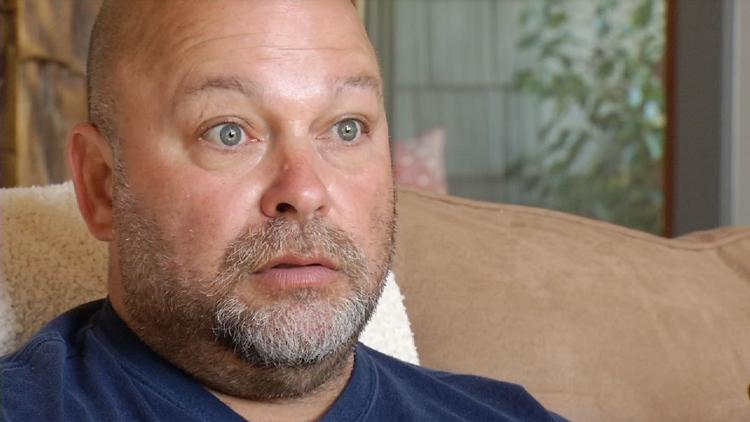 Keith flew to New York in the days after the attack and spent 10 days there. Jefferstown Fire confirmed his story.
"I lost two friends on 9/11 that I knew personally: Michael Carlo and Tim Welty," Keith explained. "I wear a bracelet that's got Michael's name and a FDNY firehouse. They never found him."
Keith says he attended funerals, cleaned firehouses and prepared meals when he volunteered, and he still keeps in contact with the friends he made.
Reports say 343 firefighters died on Sept. 11, 2001. Roughly 200 others have died since, with many lost to cancer as they kept working, even as a toxic cloud of dust and debris filled the air. Each year, the anniversary hits hard for Keith.
"I cry," he said, biting back tears. "It is still a raw emotion ... I don't think I'll ever lose that."
WDRB anchor and reporter Gilbert Corsey conducted the interview with Feltz for Gladiator Sports. After interviewing Lexington Fire and Kentucky Fire Commission, he confronted Feltz about the unsubstantiated claims he'd made of fire service, and offered him the chance to correct or clarify any part of his story for the record.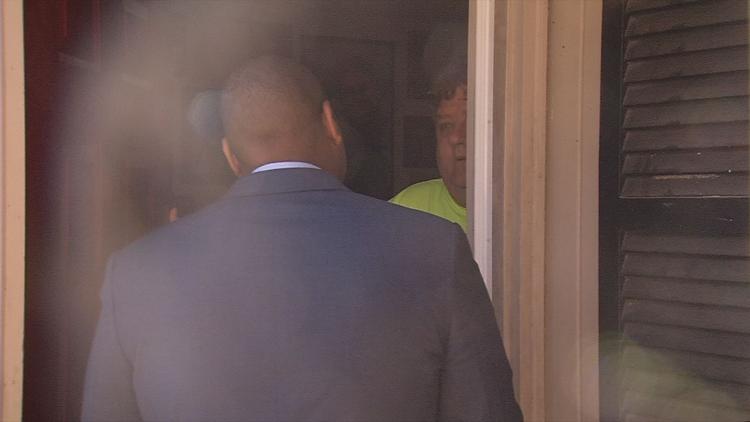 "I don't want to," Feltz said before closing the door.
"It's stolen valor and I hope the prosecutor looks into it," Keith said. "He's a criminal. He's a criminal as far as I'm concerned."
Copyright 2019 by WDRB Media. All rights reserved.