LOUISVILLE, Ky. (WDRB) – Interstate 64 is expected to be closed in both directions for the next four weekends because of work on the Cochran Hill Tunnels.
But after the first weekend of closures and detours, problems popped up. Now the Kentucky Transportation Cabinet (KYTC) is putting a new detour in place.
The detour put in place ahead of last weekend's closure had eastbound drivers exiting at Grinstead Drive.
"It's been a pretty bad nightmare," said Bernie Bierbaum, who lives on Cannons Lane.
It was a nightmare in his own front yard. Traffic wasn't bad on a Tuesday, but this past weekend was a whole different story.
"Lot a lot of trucks. Lot of your big trucks. It's just a constant flow. I didn't know that many trucks were on the road," Bierbaum said.
It was all traffic from I-64 East detouring around the Cochran Hill Tunnels during scheduled lighting upgrades and other maintenance work.
"You know you didn't have to stand there very long to see that it was a real problem particularly for the big trucks," said Councilman Bill Hollander, D-9.
Hollander took a picture of a semitruck unable to make a tight turn on the detour route on Sunday. Rows of cars in the other lane then had to slowly reverse so the truck could make the turn.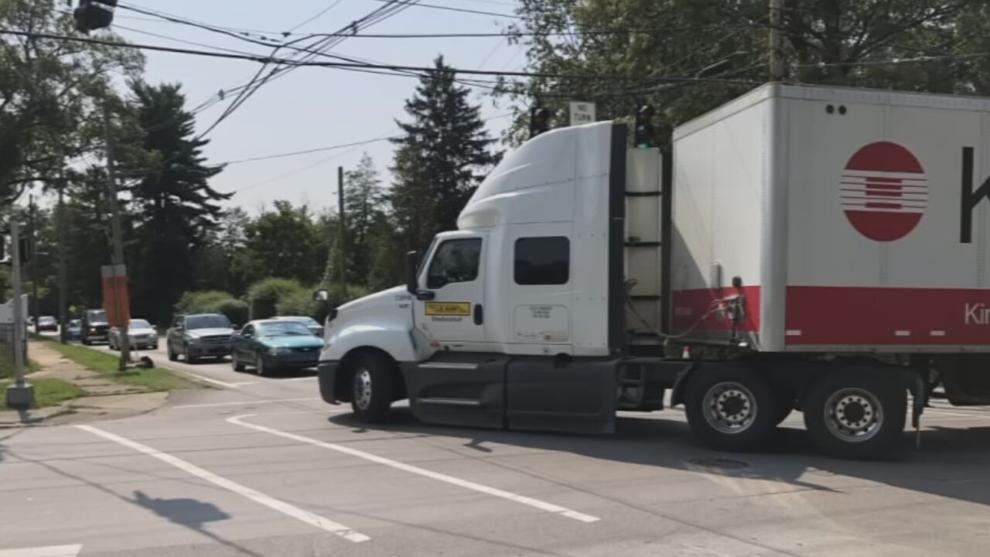 KYTC also said some damage was left behind at the intersection of Lexington Road and Cannons Lane.
"A truck or several trucks actually rubbed up against the telephone pole right there at the corner and also ran over a fire hydrant there," said Matt Bullock, KYTC District 5 chief engineer.
That prompted KYTC to make some changes.
The original eastbound detour exiting at Grinstead Drive, turning onto Lexington Road, then Cannons Lane and then back onto I-64 is no longer happening.
"So this weekend, and the subsequent weekends that we do this project, we're running the eastbound detour on all interstates," Bullock said.
The new detour will have drivers exit I-64 East at I-71 North, to I-264 West and then back onto I-64.
The westbound detour that has drivers exit at the Watterson will stay the same.
"So that problem that we had this weekend, shouldn't be a problem," Bullock said.
The change is welcome news to people who live on the old detour route.
"It's not made for large trucks to come down this road," Bierbaum said.
The weekend closures are scheduled for four more weeks. But depending on the weather and progress on the project, KYTC hopes it will be able to shave off one week of weekend closures.
Related Stories: 
Copyright 2021 WDRB Media. All Rights Reserved.