NEW ALBANY, Ind. (WDRB) -- It's officially Harvest Homecoming week in New Albany, and organizers are expecting large crowds for the festival's return.
"Booth Days" start Thursday, Oct. 7, and preparations are underway downtown, much of which will be closed through the weekend.
More than 270 vendors from around the Kentuckiana region will set up booths along the streets of downtown New Albany to sell their fall goods and food. This year, COVID-19 testing and vaccines will be given during Booth Days at Market and East 3rd streets. 
Harvest Homecoming is one of the most-attended events annually in the Hoosier state. Organizers are expecting nearly 600,000 people over the next four days.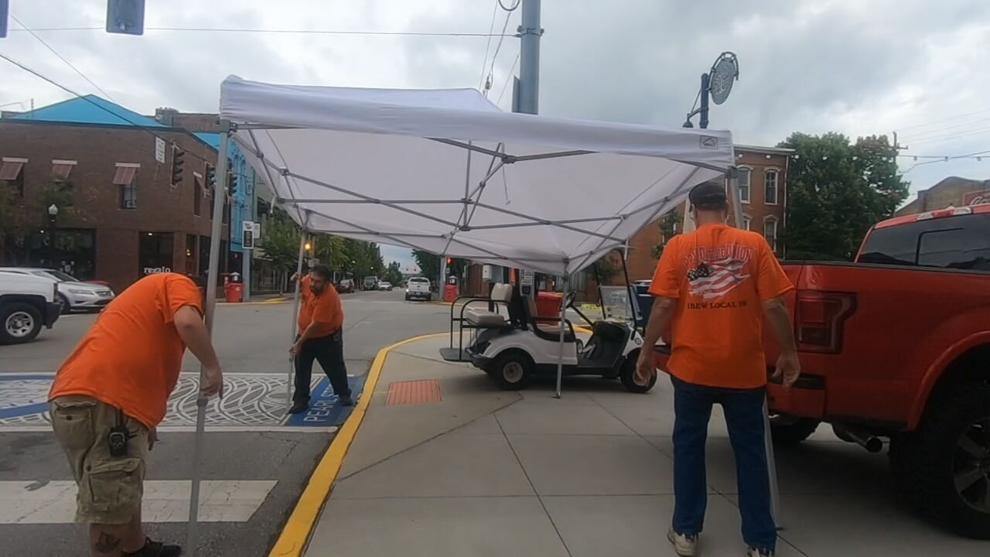 "We are definitely wanting to shout it from the rooftops that Harvest is back. We want you to come down and see us," Festival President Beth White said. "We are ready to greet our visitors from all over and we want this to be the best festival you have seen for a couple of years."
The fall festival was canceled last year because of the COVID-19 pandemic. Many downtown New Albany businesses have been working overtime to make sure their products are ready to go. 
"We've been making nonstop every day up until about midnight or 1:00 in the morning," said Paula Wimatt, who owns Wimsatt Soap Company. "My prediction is that it is just going to be a pour of love and support for downtown New Albany."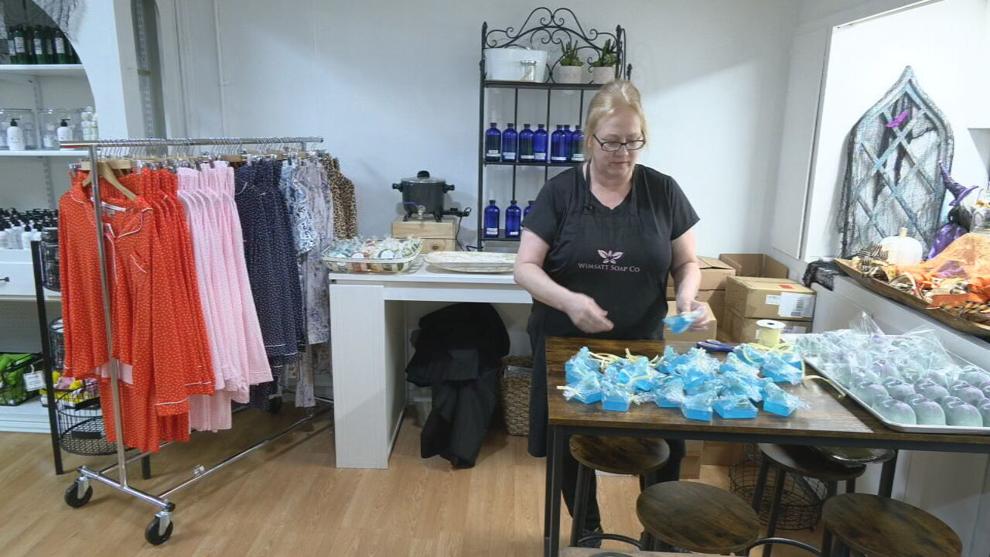 Although ongoing construction on the Sherman Minton Bridge coming into New Albany from Louisville will be underway, organizers don't expect it to have a direct impact on the festival or parking. Visitors are being urged to allow for delays in the westbound lanes if they're coming from Kentucky.
Booth Days run through Sunday, Oct. 10, 2021. The official schedule is below:
Thursday, Oct. 7: Noon-9 p.m.
Friday, Oct. 8: 9 a.m. to 10 p.m.
Saturday, Oct. 9: 9 a.m. to 10 p.m.
Sunday, Oct. 10: Noon-5 p.m.
In addition to the booths, Harvest Homecoming also includes live entertainment and rides.
Starting Thursday, Oct. 7, the Samtec Cares Family Stage at East Market and State Street will have a variety of family-friendly talent. Everything from circus acts to local singers.
There's also a free Family Movie Night on Friday, Oct. 8, at the New Albany Amphitheater, showing a double feature of "The Little Rascals" and "Hocus Pocus" starting at 6:30 p.m.
Various contests and competitions will also be held, including Senior Bingo, the Car and Bike Show, Big Wheel Race, Baby Crawl, Baby Photo Contest, Children's Tractor Pull and a costume contest. 
New this year, the Red Men's club will not be selling their popular "Back Alley Chicken and Dumplins." Instead, the group has partnered with The Exchange pub + kitchen, which will sell the food at its restaurant.
The restaurant will be open and serving the dumplings from 11:30 a.m. to 9 p.m. on Thursday, 11:30 a.m. to 10 p.m. on Friday, 11 a.m. to 10 p.m. on Saturday, and Sunday from noon to 5 p.m. or until the dumplings run out.
Additionally, the Little Miss/Little Mister Pageant to raise money for the Miss Harvest Homecoming Scholarship Pageant is on Saturday.
Local bands are playing in the New Albany Amphitheater all day on Saturday, as well.
Festival Rides are set up on East Water Street in New Albany all week. All day bracelets are $25 and can be used through Sunday, Oct. 10. Coupons for $5 off are available on a first come first served basis at the Silver Street Park or the Griffin Recreation Center through Friday from 10 a.m. to 4 p.m.
Here is the schedule for the rides to be open:
Monday, Oct 4: 5 p.m. to 9 p.m.
Tuesday, Oct. 5: 5 p.m. to 9 p.m.
Wednesday, Oct. 6: 5 p.m. to 10 p.m.
Thursday, Oct. 7: Opens at 3 p.m.
Friday, Oct. 8: Opens at 11 a.m.
Saturday, Oct. 9: Opens at 10 a.m.
Sunday, Oct. 10: Opens at noon
To find a compete schedule and information about Harvest Homecoming, click here. 
Related Stories: 
Copyright 2021 WDRB Media. All Rights Reserved.