LOUISVILLE, Ky. (WDRB) -- Getting liquor delivered straight to your front door can be a convenient option, but it's also against the law in Kentucky if it's coming from an out-of-state retailer.
But a Louisville attorney recently filed a lawsuit in federal district court against Kentucky Gov. Matt Bevin, Kentucky Attorney General Andy Beshear and the Executive Director of Alcoholic Beverage Control Norman Arflack. The lawsuit challenges the law that doesn't allow out-of-state retailers to sell, deliver or ship alcohol straight to consumers in Kentucky.
Kentucky recently "changed the law that allows Kentucky liquor retailers to make direct deliveries to their customers," attorney Greg Troutman said. "You might see some of those big box liquor stores with their little mini vans that can make deliveries now. Customers can now order on an app or online."
But out-of-state deliveries can't cross state lines into Kentucky or Indiana without a resident retail license.
"An Indiana retailer cannot get a Kentucky retail license," Troutman said. "You have to be a resident of Kentucky for a year to get a retail liquor license."
A recent decision by the United States Supreme Court said a similar law in Tennessee is unconstitutional. That opened the door for lawsuits in other states claiming unfair treatment for out-of-state businesses.
This complaint argues the law is unconstitutional because it violates the Commerce Clause of the United States Constitution "because it discriminates against out-of-state wine retailers engaged in interstate commerce."
It also argues it "violates the Privileges and Immunities Clause of Article IV, Section 2 of the United States Constitution because it denies non-resident wine merchants the privilege of engaging in their occupation in Kentucky on the terms equivalent to those given to citizens of Kentucky," according to the lawsuit.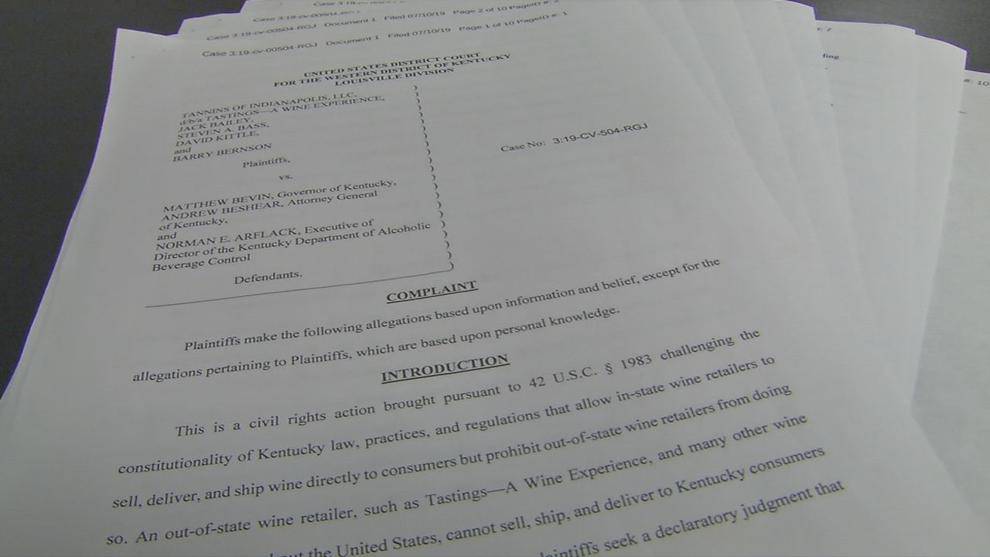 Changing the law to allow out-of-state alcohol sales deliveries and shipments makes southern Indiana Liquor Store Owner Todd Antz uneasy. Overall, Antz said delivering to Louisville is something he would consider if the law were to change, as long as proper regulation was in place to protect both consumers and retailers.
"You still need some regulation to protect it," Antz said. "What's to say some giant out-of-state or out-of-country, even conglomerate, could come in, and pretty soon, you've wiped everyone out of business."
Antz believes consumers need to be protected from some outside sources.
"When you come into a retailer, what you're buying came in from a wholesaler and then goes to the consumer," Antz said. "As opposed to getting things through the mail, you really don't know sometimes where you're getting your stuff from. Could someone be bootlegging alcohol? Could someone be illegally producing something and shipping it to you?"
Copyright 2019 WDRB Media. All Rights Reserved.