LOUISVILLE, Ky. (WDRB) -- Appearing before a Metro Council committee Tuesday, Louisville Metro Police Department Chief Steve Conrad didn't mince his words.
"I would liken it to a slow train wreck," he said of the budgetary predicament baffling LMPD and other city departments. "This isn't going to happen overnight."
He testified in front of the Metro Council Government Oversight and Audit Committee to illustrate how devastating potential budget cuts would be.
"I anticipate slower response times to calls of service, delayed investigations, delayed response to narcotics complaints, fewer opportunities for people in our community to interact with officers at outreach events, and, inevitably, I anticipate an increase in crime," he said.
LMPD is just one Metro department struggling with a harsh reality of a $35 million pension obligation next fiscal year that could cause it to bleed its budget severely. Conrad said the city asked him to slash $17 million from his next year budget, but he could only muster about $8 million in cuts.
"Units such as our mounted patrol and the community policing unit, along with our school resource officer program, would be eliminated," he said. "We will be reducing the Ninth Mobile Division by more than 20 percent, the full-time SWAT team by 25 percent, narcotics by 30 percent, our training division by 40 percent, the chief's office by 30 percent and our administrative bureau by almost 40 percent."
He later added that LMPD even considered selling its helicopter but eventually decided it's a resource that is too valuable to part with.
The departmental realignments are necessary because Conrad said he'll need those specialized officers patrolling the streets, because he'll have to cancel three upcoming recruiting classes, roughly 100 officers, to save money. If the cuts hold, the upcoming June recruit class wouldn't be hired.
"This reduction effectively means that there will be no new police officers in our community for almost 18 months," he said.
Conrad said that number will only grow as the budget hole becomes bigger over the next four years.
"So, essentially, our current sworn staffing, which is about 1,250 officers, would shrink to less than 1,000 over the course of those four years," he told the committee members.
Conrad, however, is optimistic Mayor Greg Fischer and Metro Council can still escape this crisis.
Tuesday night, Councilwoman Madonna Flood reminded her colleagues simply blaming Frankfort or Fischer won't work.
"'It's his fault! It's his fault over there!' No, we're complicit in it too," she told them. "Our hands are the last ones to see the budget."
Nocolai Jilek, president of the River City Fraternal Order of Police, said the possibility of cuts to the police department should be on the minds of every Louisville resident.
"You should be worried," he said. "You should be worried this is going to affect you in your daily life."
Fischer spoke about the cuts for the first time publicly Tuesday, touting what he said is a possible solution.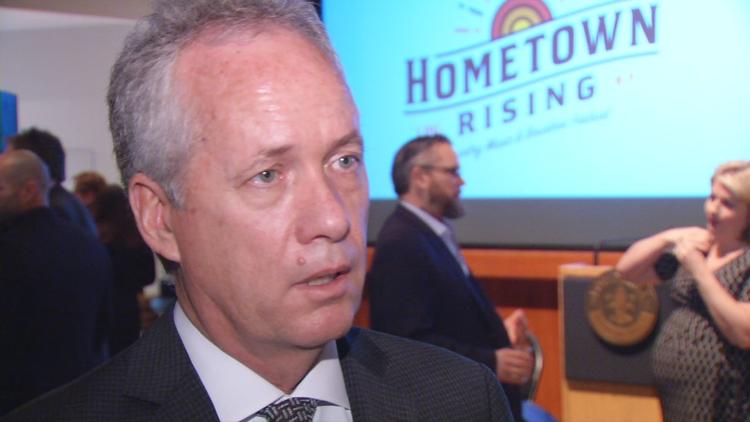 "Tomorrow, I'll be introducing a revenue solution," he said. "If people want to say, 'We don't want the cuts. We want to maintain the momentum of the city that we have right now, and here's a revenue option.'"
Louisville Metro Council President David James said cuts could begin at the top.
"I think there are several departments within Metro government which are top-heavy," James said. "The police department, for example. You will find that we have one supervisor for every 3.8 officers. That doesn't seem to make sense to me."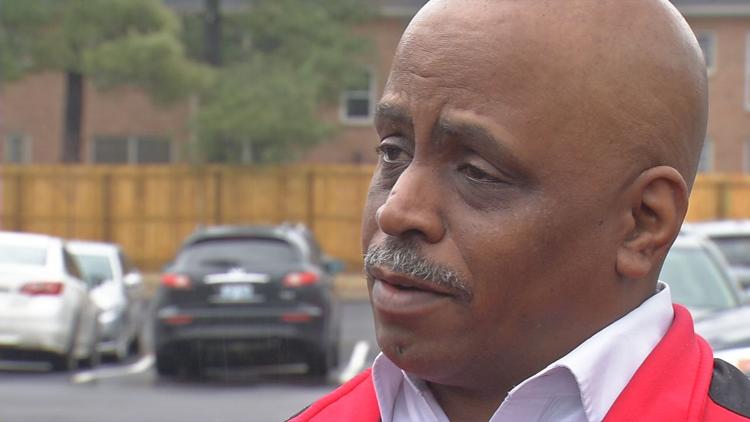 While efficiencies can be gained, James said it's still not enough cuts to prevent a tax increase to pay for pensions.
"One of the taxes we're looking at is the insurance premium tax," he said. "If we do that choice, then we have to notify the state by March 22, which means we have to have an ordinance on the table very soon."
Jiliek said all the talk about city dollars needs to make sense for public safety.
"I think it will certainly affect our ability to deal with crime," he said.
Related Stories:
Copyright 2019 WDRB Media. All Rights Reserved.