LOUISVILLE, Ky. (WDRB)-- A Louisville grandma has won hundreds of blue ribbons for her pies. Now her baking has earned her a national commercial, and she's sharing her recipe for success.
Lynn Rupley-Smith knows what it takes to be a winner.
"I've learned to make a pie crust in four minutes or less," said Rupley-Smith.
She pumps out pies in her Louisville kitchen, which has earned her hundreds of Kentucky State Fair blue ribbons.
"I entered one coconut pie in the fair and I won a blue ribbon. And I was hooked!" she said.
Now, she has her very own commercial. She was picked out of 500 people nationwide to be featured in an ad for Country Crock Plant Butter. The spot is airing all over the country featuring the Louisville grandma and all her awards.
"I just don't see anything special about me. I do make pies and I do have a lot of blue ribbons, but there are a lot of other people who do too. But there was something about me that they liked," said Rupley-Smith.
But before she could do the commercial, she had to see if the butter made from plants actually worked. She swapped out dairy butter for country crock in this year's Kentucky State Fair baking competition.
"I'd never heard of plant butter, but I thought what have I got to lose. I'll try it," she said.
When it comes to making her pie crusts so good, she says it all comes down to temperature.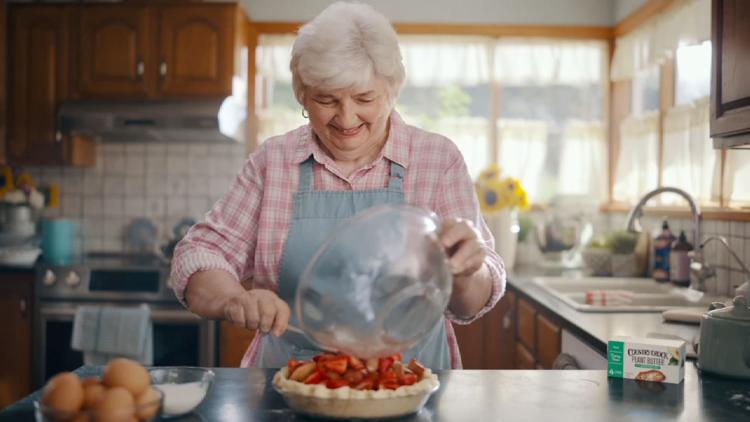 "A lot of people think that you need an ice cold butter to make it and I decided to heat it just a little and get it soft," said Rupley-Smith. "I put it in the microwave for eight seconds and just get it soft and it works fantastic then!"
She entered 16 pies and won several more blue ribbons.
"It turned out better than ever."
When it came time to film the commercial, she headed up to Vancouver, Canada with her step-granddaughter where they got the star treatment.
"They just waited on me hand and foot," said Rupley-Smith.
Of course she did have to do some work.
"If I didn't do the lines exactly right they'd do it over," she said.
Now the commercial is on TVs across the nation and Smith can't believe how far her baking has taken her.
"It was wild! Plant butter just took me everywhere this year," she said.
As for what's next, she's back in the kitchen, pumping out pies like always with no plans to stop.
"I do it all the time. I love it. It's fun. I could bake pies every day."
You can watch the whole commercial here.
Copyright 2019 WDRB Media. All Rights Reserved.