LOUISVILLE, Ky. (WDRB) -- Louisville's health department says it's already ramping up COVID-19 vaccinations across the city.
During a weekly virtual meeting Tuesday morning, officials with the city's health department said they're currently preparing plans for when the city gets more doses and is able to vaccinate more people every day.
"Our approach is to build the infrastructure to get everyone to step up to the table to be part of this community-wide vaccination solution so that we're never in a position where there are more vaccines than our ability to deliver with it, to deliver those vaccines," said William Altman, an executive consultant with the Louisville Metro Public Health Department. 
On Monday, Gov. Andy Beshear identified new phases for vaccine distribution, which included Phase 2 that involves vaccinating everyone over 40.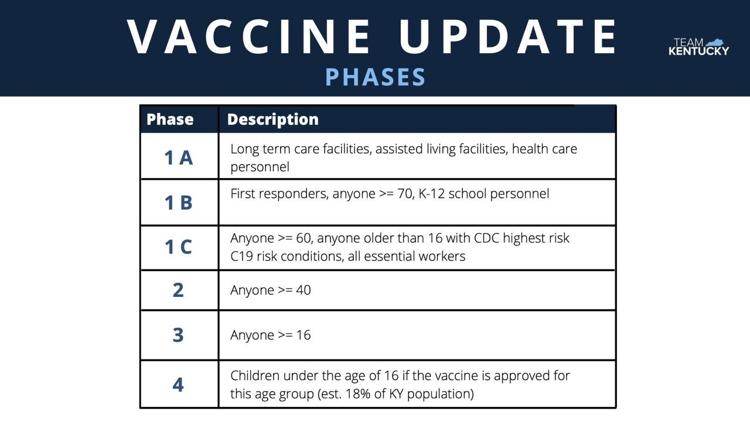 During Mayor Greg Fischer's COVID-19 update Tuesday, the health department detailed its Phase 2 plan, which includes anyone 18 and older. Louisville's Vaccine Distribution Task Force, which handles those phases, will have its first full meeting Wednesday to discuss more in depth how the phases will look.
They'll also plan out which healthcare partners will be able to administer vaccines and at what capacity.
Officials from Norton Healthcare joined the mayor's morning update, and say right now its hospitals can give around 7,000 shots of the COVID-19 vaccine, but can scale up as soon as more doses are available.
As of now health officials say vaccine distribution solely depends on the amount of doses the city gets.
They say it's unlikely there will be another vaccine approved before March, which means those in the later phases for vaccinations in Louisville likely wouldn't have access to shots until fall or winter.
Copyright 2021 WDRB Media. All rights reserved.