LOUISVILLE, Ky. (WDRB) – As Mayor Greg Fischer's office continues to withhold the findings of a special investigation into a sex scandal in the police youth Explorer program, his administration is concealing other public records that might reveal who was interviewed and other details about the probe.
Invoices from special investigator Kerry Harvey, who wrapped up the investigation in March, show he interviewed Fischer and his chief of staff Ellen Hesen during his work that began in March 2017.
But the Fischer administration, citing attorney-client privilege, blacked out the names of other people Harvey interviewed – presumably even including Louisville Metro Police Chief Steve Conrad -- in copies of the investigator's bills turned over to WDRB News under the Kentucky Open Records Act.
The city also redacted the names of people Harvey called and descriptions of the types of many documents he reviewed.
For example, one entire group of invoices, from April 5 through April 10, 2017, in which Harvey billed the city more than $3,000, was blacked out.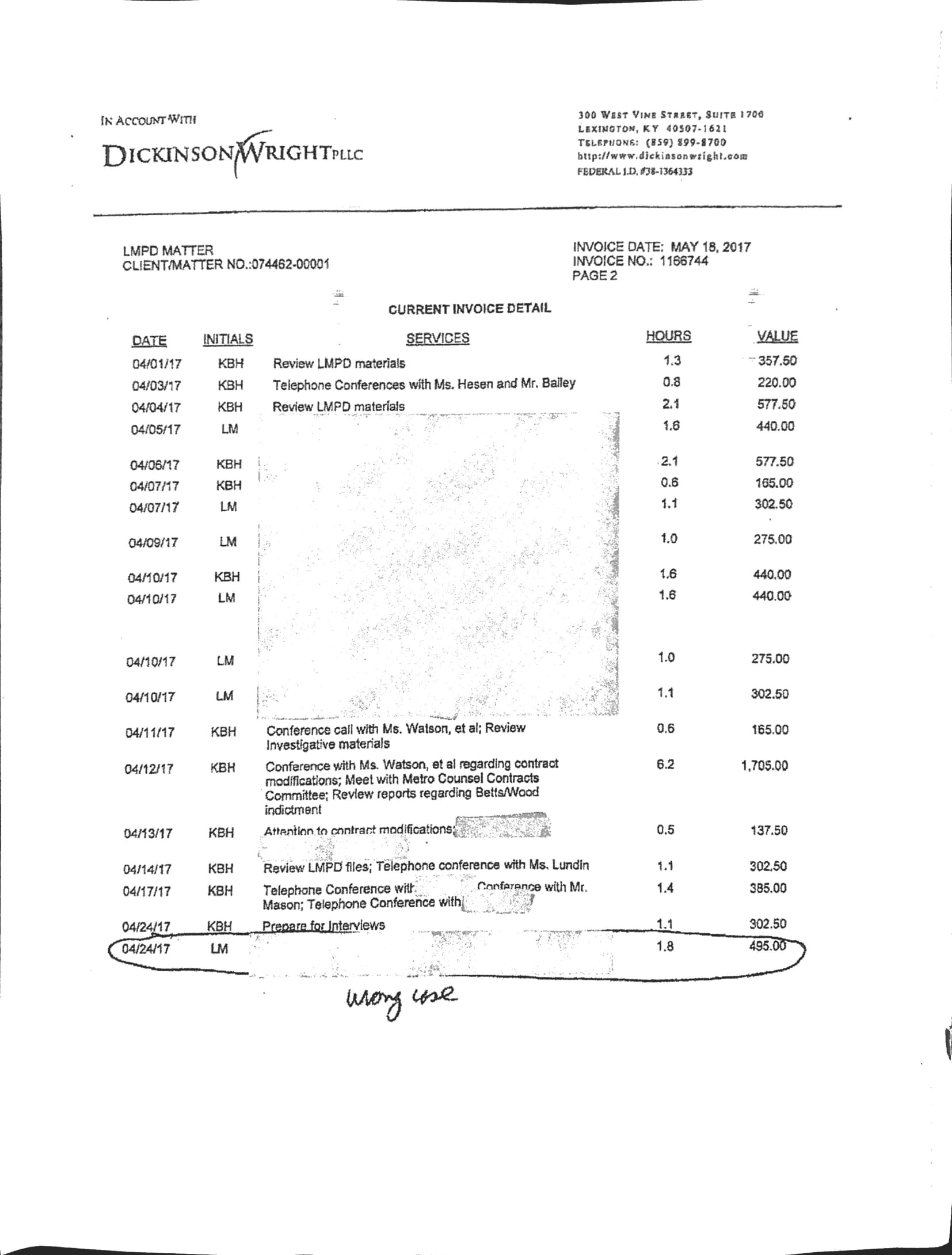 Metro Council President David James, who has seen copies of the unredacted invoices, reviewed what the city turned over to WDRB and said there was no reason that most of the information should have been hidden.
 "I don't understand why some of the things that are redacted are actually redacted," he said. "It clearly goes well beyond anything related to a victim. I don't have a reason for why that is."
The Jefferson County Attorney's Office, which represents the mayor and Louisville Metro government, told WDRB that redactions were made because some information was deemed attorney-client privilege; and other info was exempt from disclosure due to pending criminal investigations and because a judge handling civil lawsuits against the city has ordered some evidence sealed.
James, a Democrat, argues that Harvey was hired as an investigator, not an attorney, "so I'm not sure the attorney-client privilege exists," but even if it does, the redactions the city made in the invoices are excessive.
And he said the information the city redacted would have no effect on the civil or criminal litigation involving the Explorer scandal.
"It just simply listed who he had conversations with and who had been interviewed, whether it said Chief Conrad or David James," he said. "Unless it has a victim's name in it, I don't see any reason to redact any of it."
WDRB first requested the invoices in early April, after Harvey had finished his investigation. Fischer's administration was supposed to release the investigation to Metro Council and the public in April, but it has been delayed.
The administration has said the report is not being released because officials are working to determine what information needs to be redacted, including the names of victims and any evidence that might affect the ongoing criminal investigation and civil litigation.
Harvey's initial contract for $50,000 – which included a stipulation that the report be released within 30 days after the conclusion of the investigation – was amended in December to $70,000..
However, the invoices show that the amended cost has been eclipsed and now stands at at least $71,000 through late April.
The Harvey invoices document the work he and another investigator did each day and how much their firm, Dickinson Wright, billed the city. The invoices were supposed to be turned over to WDRB by April 30 but officials did not meet that deadline, saying more time was needed to make redactions. A second deadline of May 31 was also missed.
On Friday, the documents were released after the station appealed the delay to Kentucky Attorney General Andy Beshear. In addition, an outside attorney now representing the Metro Council to give legal advice on the sex abuse scandal wrote a letter to the Jefferson County Attorney's Office urging the release of the invoices.
The invoices start on March 17, 2017, with Harvey charging the city about $2,700 to travel to Louisville, meet with Fischer and his staff and conduct an interview with The Courier-Journal. A third item on that day was redacted.
Over the next few weeks, Harvey reviewed media reports, had a conference call with LMPD representatives, talked with Hesen, Fischer's chief of staff, and reviewed police documents.
At other times, the invoices are vague. On April 28, 2017, for example, Harvey billed the city $2,420 to prepare for and conduct five interviews, though no one who was spoken with is identified.
The first time the invoices show Harvey interviewed Fischer was near the end of the investigation.  On March 8, Harvey interviewed Fischer, Hesen and another person whose name has been redacted. The interviews were part of 2.5 hours Harvey spent also preparing and reviewing witness summaries.
As part of his investigation, according to the invoices, Harvey and another investigator working with him have reviewed evidence in ongoing Explorer criminal cases, looked through personnel files, met with Metro Council members, reviewed police policy and procedure, read witness statements and created a timeline.
Meanwhile, it is unclear when the mayor's office will release the Harvey report.
James said the attorney hired by the Metro Council, Jonathan Ricketts, is scheduled to meet with Harvey and an attorney for the mayor to "hopefully expedite" the release of the report.
At least six lawsuits have been filed against the city, LMPD, Boy Scouts of America and former police officers, concerning accusations of sexual abuse and cover-up in the Explorer program.
In addition, former officers Kenneth Betts and Brandon Wood have been indicted for sexually abusing teens. Another LMPD officer, Brad Schuhmann, is under investigation and on administrative leave. And the former commander of the program, Curtis Flaherty, is accused in several lawsuits of covering up the crimes.  
Harvey's investigation is supposed to shed light on, among other questions, how police handled a 2013 investigation of Betts sending inappropriate texts and talking lewdly to a 16-year-old female Explorer.
Betts was accused of sending the girl shirtless pictures of himself and asking her to "make out."
During the course of that investigation, a male teenager told police investigators that Betts offered him money for sex. The teen also said Betts offered to take care of a speeding ticket in exchange for sexual favors. And the male told police he often spent the night with Betts and Wood.
There was never an investigation into what the male teen said, and Conrad closed the Betts case "by exception" when the officer resigned in 2014. Conrad wrote in a memo that "no further action was needed." 
Fischer has said multiple times that he first learned of sexual abuse allegations in the program in October 2016 – just before the scandal became public knowledge.
But in a deposition in November, Conrad said he first told Fischer's chief of staff, Ellen Hesen, about the allegations of sex abuse in the program in 2013 and 2014, when Betts was under investigation.
Hesen has testified that she doesn't have "an independent recollection" of Conrad talking to her about the investigation. 
Copyright 2018 WDRB News. All Rights Reserved.