SHELBYVILLE, Ky. (WDRB) -- Students' learning loss as a result of the coronavirus pandemic is a concern, but it's about more than just grades and test scores. Schools are helping kids regain some of the social skills lost over the past year.
Being at school isn't just learning from textbooks, kids learn to grow as people by being with their peers and teachers.
Many students have experienced a backslide in social and emotional learning during the pandemic, with students spending most of the last year isolated at home.
"The pandemic has exploited the need for social, emotional learning like we've never seen before," said Yasmine Fleming, principal of Clear Creek Elementary in Shelby County. "It's really those life skills that I think sometimes we assume that you just have, but really, they're taught."
It's why Shelby County Public Schools is celebrating Social Emotional Learning Week this week, culminating with International Social Emotional Learning Day on Friday, March 26.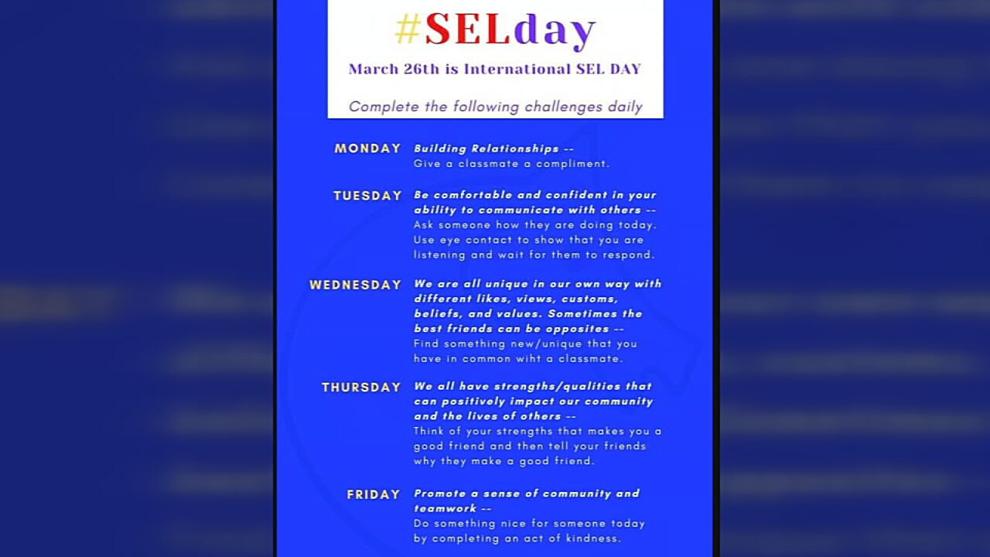 Fleming is giving her students a list of daily challenges to help build their social skills.
The challenge starts small with giving classmates a compliment, building up to intentional acts of kindness and finding things in common with people who are different.
"It's teaching students and everyone really how to recognize, manage their emotions and regulate them. Teaching them that its okay to feel these emotions. It's okay to be angry, just like it's okay to be happy," said Fleming. "It's just what we do afterwards that is key."
Shelby County Superintendent Dr. Sally Sugg said a national study showed alarming projections for about a fourth of students nationwide, underscoring the need to focus on students' learning needs.
"About 75% of our students, within the course of several months, they will get back to normal," said Sugg. "That other 25%, that don't have those supports at home, they are going to be, statistics say, feeling the affects of the trauma of dealing with the pandemic and being isolated for at least three years and beyond."
It's why the social building lessons will continue beyond this week and this year.
"We cannot let up on this, even when things to back to whatever the 'new normal' is going to be," said Fleming. "Our kids need this."
Copyright 2021 WDRB Media. All Rights Reserved.