LOUISVILLE, Ky. (WDRB) -- Hope and well-wishes are pouring in from around the world for a dog left outside a Louisville shelter. 
Staff at the Kentucky Humane Society found the dog, believed to be around 3 years old, in the parking lot around noon Friday. The dog was so malnourished and neglected that staff members were shocked he was still alive.
"His temperature was not even registering on the thermometer, so he was probably hours from death," said Dr. Emily Bewley, a veterinarian on staff. "He was in one of the worst conditions I have ever seen in an animal that was still alive."
The Humane Society on Monday shared video of the dog, who has since been named Ethan, taking a few steps with the help of a staff member. Until then, Ethan could not even hold his own head up.
Ethan currently weighs about 35 pounds but should be closer to 80 pounds. He still cannot feed himself. In an update Sunday, vets said they were "cautiously optimistic that he may survive this."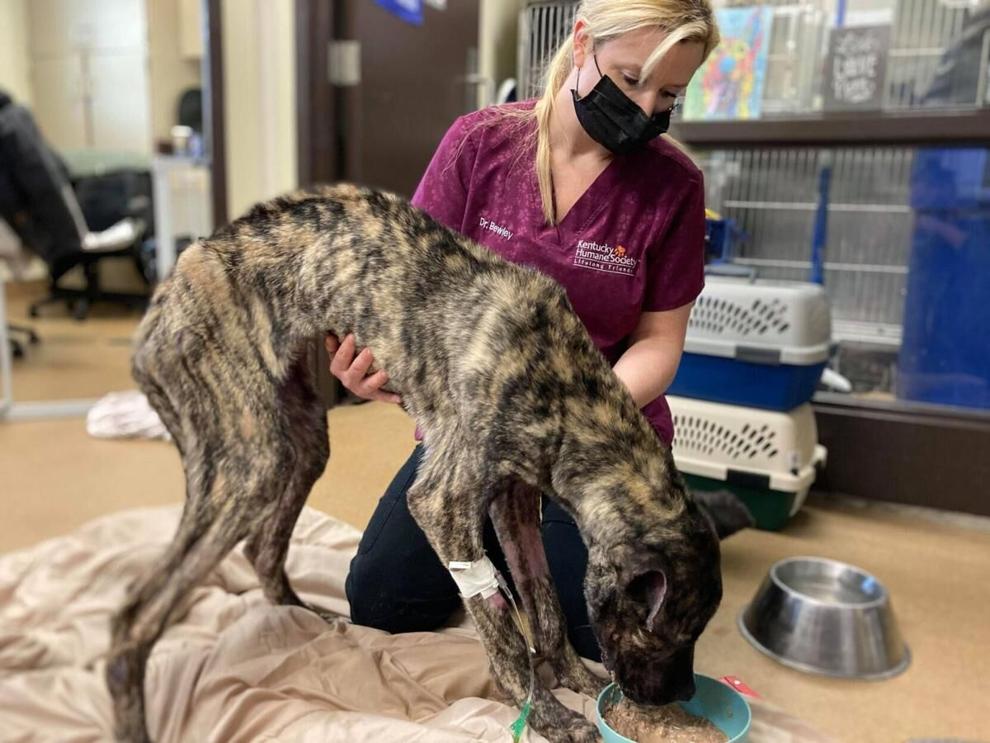 "It can be very dangerous if you feed too much too fast or give too many fluids too fast," Bewley said. "It could go the wrong way, so you have to be very careful." 
Since Friday, the Humane Society's social media posts about Ethan have been shared tens of thousands of times. More than 100 people have asked to adopt him, but Humane Society officials said that can't happen any time soon. Staff are caring for the dog at an undisclosed hospital due to the amount of calls coming in from around the world. 
"We're not taking any applications at all," said Andrea Blair, a spokesperson for the Kentucky Humane Society. "Everything we're trying to do right now is to make sure he's stays alive and that he can thrive."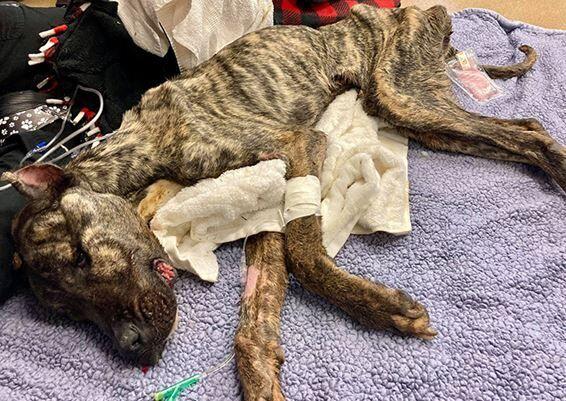 Bewley can't give Ethan any vaccinations because his immune system is too fragile, she said. Fortunately, he has a very strong heartbeat and a huge appetite. His tail is has started to wag, and his head twitches have calmed down — all signs of progress.
"I think he is just a really strong, tough dog," Bewley said. "If he survives this, that will be why. Everybody is rooting for him."
There are still no answers as to how Ethan got into this situation — or who is responsible. Anyone with information that could help with the investigation is asked to contact Louisville Metro Animal Services at 502-473-PETS (7387).
Related Stories: 
Copyright 2021 WDRB Media. All Rights Reserved