NEW ALBANY, Ind. (WDRB) -- It's completely legal in Indiana to light off fireworks any day of the year, but that might soon change in New Albany.
State law says it's legal to light fireworks year round from 9 a.m. to 11 p.m., unless limits are set by local ordinances. New Albany city leaders are working to set limits.
"Other than the Fourth of July and New Year's Eve, I think they ought to be outlawed," said Melisse Downs, who lives in New Albany. "You wonder, 'Was that a gunshot or was that fireworks.'"
If passed, fireworks use would only be allowed June 29 through July 9 from 5 p.m. to 11:30 p.m. The Fourth of July would be an exception. Fireworks would be allowed from 10 a.m. on July 4 to 12:01 a.m. on July 5. Fireworks would also be allowed Dec. 31 to Jan. 1 from 10 a.m. until 1 a.m.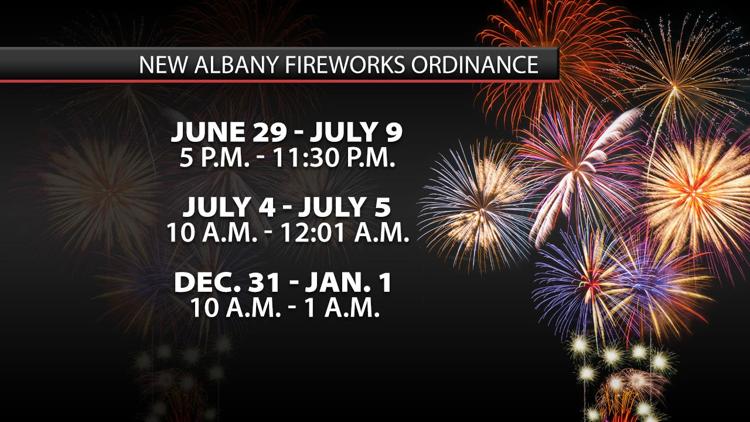 Councilman Al Knable said he received more calls this year on fireworks complaints than he has the past few years in office. He said he hears three types of complaints.
"It's interfering with my sleep, and I've got to get up and work the next day," Knable said. "Second, my dog's going crazy. Not just a little bit, but the dogs are beside themselves."
As an Air Force veteran, Knable also heard from military veterans. He said he never saw combat himself but knows it can leave a lasting impact.
"Members of the veterans' community who were dealing with post-traumatic stress disorder and the more erratic, unpredictable timing of the fireworks was detrimental to their mental status," Knable said.
A first violation would cost someone $150, $300 the second and $500 for a third violation.
Council will vote on the fireworks ordinance at 7 p.m. Thursday.
Copyright 2019 WDRB Media. All Rights Reserved.