LOUISVILLE, Ky. (WDRB) -- St. Matthews Police arrested 29-year-old Thor Wiljanen this afternoon and charged him with felony terroristic threatening for Twitter posts about Trinity High School Wednesday, prompting administrators to cancel Thursday's classes.
A bond has not been set for Wiljanen. He's scheduled to be arraigned Friday morning
"This was not a threat," said defense attorney Ted Shouse, who is representing Wiljanen along with co-counsel Keith Poynter. "This was an attempt at humor, an attempt at satire - a poor attempt - but it was meant unseriously and it is not a threat to the community or to the school."
Wiljanen, who lives in Louisville, goes by the Twitter handle "PROUD CLARION."
St. Matthews police said in an email Thursday afternoon that Wiljanen "provided a full confession as being the Twitter sender known as 'Proud Clarion' and the sender of the Tweets of concern in reference to Trinity HS."
Wiljanen was taken to Louisville Metro Corrections at around 2:45 p.m., police said.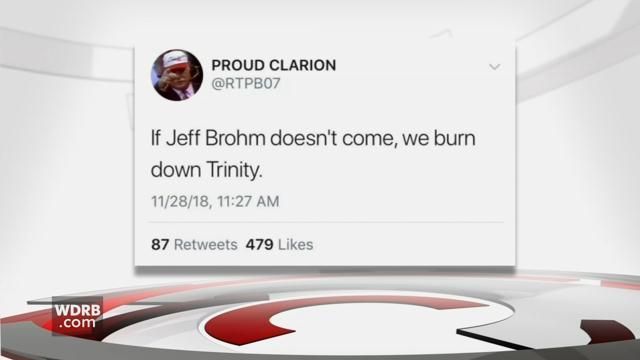 Attorneys first contacted police at 7:30 a.m. Thursday, and Wiljanen was arrested after a 2 p.m. meeting at the lawyers' office, Shouse said.
In a news conference Thursday morning, St. Matthews Assistant Police Chief Maj. Tony Cobaugh told reporters that Louisville Metro Police contacted them Wednesday evening about messages on Twitter that threatened to burn down the school.
According to a release on the school's website, the threat was made "due to Jeff Brohm deciding to remain at Purdue." Brohm was a star quarterback at Trinity before playing at the University of Louisville and in the NFL.
Cobaugh said the posts contained the words "gas can" and "matches."
One tweet read: "If Jeff Brohm doesn't come, we burn down Trinity."
Screen shots were taken before the tweets were deleted. The picture on the account is an image of former U of L football coach Howard Schnellenberger.
"In today's world, the St. Matthews Police Department has no choice but to take threats like this seriously, especially when it involves a school in our own community," Cobaugh said.
Trinity administrators were immediately contacted and made the decision to cancel classes on Thursday. St. Matthews Police called for assistance from the FBI and Louisville Metro Police to investigate, and police have been patrolling the property since the threat was made.
FBI special agent Christie Curtis joined Cobaugh for the news conference. It's unclear if investigators are obtaining the user's screen name and information directly from Twitter, and declined to identify the investigative techniques being used to track down the person responsible for the threats.
Curtis said the FBI is working closely with LMPD and St. Matthews Police.
Cobaugh said "no one at this point has any idea who this person is, where they are, what's their station in life, what's their walk in life right now," but said the person will be charged with terroristic threatening, a Class D felony.
Cobaugh said Det. Mark Richardson is leading the investigation, and closed the news conference by encouraging the person who made the threat to come forward.
Trinity said Thursday that school will be held as normal Friday.
"We appreciate the attention given this situation by the St. Matthews Police Department," School President Dr. Rob Mullen said in a news release. "We take the safety and well-being of our students, faculty and staff with the utmost seriousness."
Copyright 2018 WDRB Media. All rights reserved.