SCOTTSBURG, Ind. (WDRB) -- A southern Indiana World War II veteran has been overwhelmed with cards as his 100th birthday approaches.
Box after box of cards, gifts and packages have been coming in on a daily basis to the Hampton Oaks Senior Living Facility in Scottsburg.
Bethel Killman's family posted a photo of the World War II veteran on Facebook asking for 100 cards for his 100th birthday.
In the last week, they've received more than 9,000, and his birthday isn't until Sunday.
"We're opening at least 2,000 cards a day," said Lori Smith, Killman's stepdaughter. "Store-bought cards, homemade cards, type-written letters and hand-written letters."
They've also gotten gifts — and lots of them. Wooden plaques from other veterans, banners with hundreds of signatures, stuffed animals and mementos from police agencies around the country have been filling up the mail room.
Even personalized letters from military generals, members of congress, Gov. Eric Holcomb and former President George W. Bush have been sent, many of which are already framed above Killman's bed.
And the love and gratitude is not just coming from people.
"We've had paw prints put on cards saying that the animals have wished him a happy birthday and thank you for your service," Smith said.
Killman is turning into quite the celebrity in Scottsburg.
"Every day [they say], 'How many cards do we have?'" said Hampton Oaks Executive Director Brandy Royalty said. "It's just exciting."
So far, cards have come in from every state, except Alaska, and even several countries in Europe.
But it's the messages inside that Killman's family said mean the most.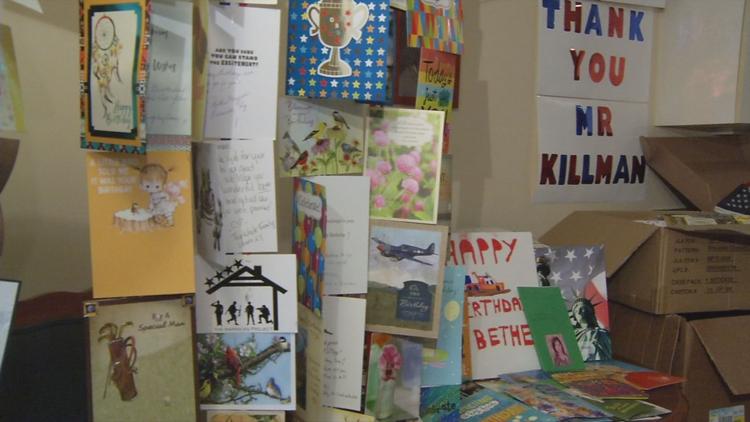 "Some of the stories they have written and shared … I can't even put it into words," Smith said.
Killman's family is planning a 100th birthday bash for him Sunday.
Related Stories:
Copyright 2019 WDRB Media. All Rights Reserved.