LOUISVILLE, Ky. (WDRB) -- It's the latest craze on social media: speeding up the clock on your photos and finding out what you might look like in your old age.
Reports say 150 million people download the FaceApp and, at the same time, gave away their pictures and names to be used in any way the company sees fit.
A closer look at the legal language in the FaceApp terms of service shows when you use the artificial intelligence software, you also give its Russian developer access to all of the pictures on your device, as well as permission to use both them and your name however it wants.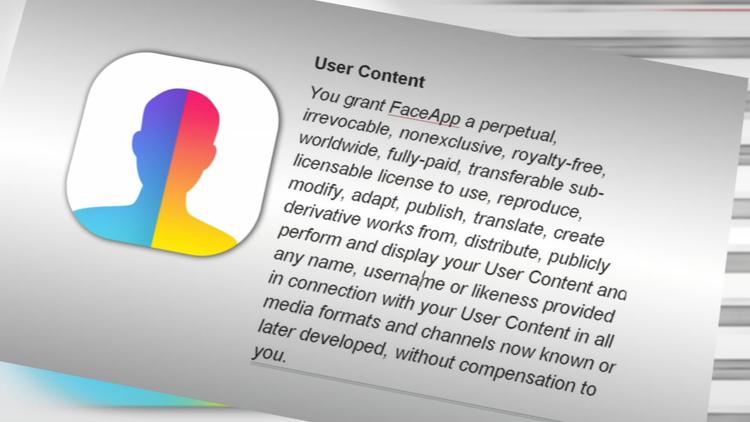 "Russia is the key word right now," said Roman Yampolskiy, a professor in the University of Louisville J.B. Speed School of Engineering. "Anything Russia is scary. But they actually store information on American servers. So it's Amazon cloud servers, and they don't upload anything to Russia. There's no evidence of nefarious processing. They take one picture, do their magic, and they delete it within 48 hours."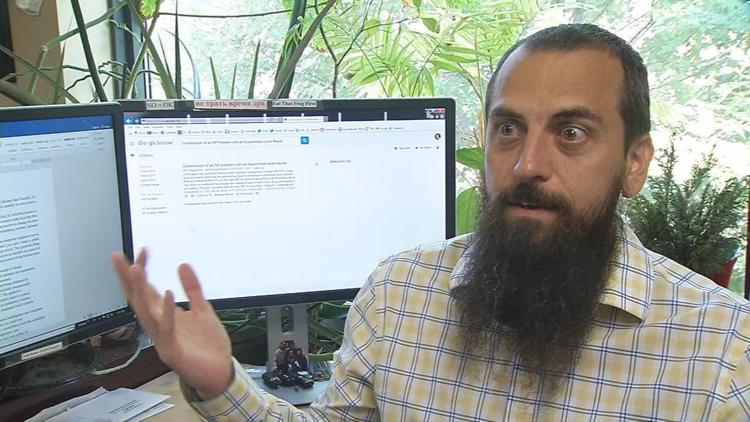 Yampolskiy runs the cyber security lab in the Speed School. He's so unconcerned about FaceApp that he used it himself. Here's why: Most Americans have already given away this private and sensitive information. In fact, parts of the FaceApp user agreement are identical to user agreements for Facebook and Twitter.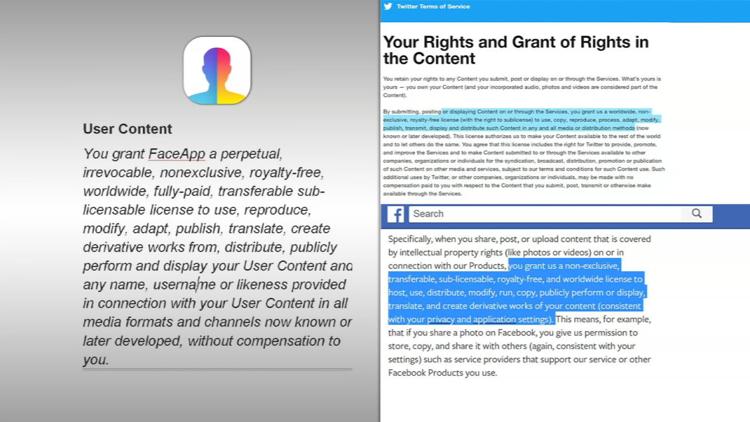 FaceApp launched in 2017 and shot to viral popularity this week as many Facebook users challenged friends to show what they would look like in 30 years. Celebrities like NBA star Dwayne Wade, actor Terry Crews and singer Carrie Underwood all shared their photos. 
"I just was intrigued," FaceApp user Langston Gaither said. "I saw everyone else's pictures, and I wondered what I'd look like." 
"I was like, 'Oh that's like the 75-year-old, 80-year-old Kellye, and I'm not ready for that," FaceApp user Kellye Cunningham added.
Of course, it was all in good fun, and people raced to the app to see how they might look in grey hair, wrinkles and false teeth. The images provided groans, squeals and lots of laughs.
But as quickly as the app went viral, both Gaither and Cunningham deleted it. 
"Everyone scared me after reading all the posts yesterday," Langston said. "I've never seen an app burn it's light out so fast. It was hot for 24 hours"
According to reported interviews with FaceApp's CEO, there is one way to erase your data from the app's servers:
Click on the app's "Setting" gear icon in the upper left-hand corner.
Click on "Support."
Click on "Report bug and send logs."
In the log, type "Privacy, request to delete all my user data."
"It's not a position you want to be in, but reality these days is your information is out there," Gaither said.
Democratic U.S. Senate leaders asked the FBI and Federal Trade Commission to investigate FaceApp, specifically looking into whether or not images could be shared with foreign governments like Russia.
"I'm not losing sleep about it," Cunningham said. "The damage is probably already done any damage that there's to be had." 
Gaither and Cunningham said they wont wait and worry. They kept those aged pictures and ssaid y they'll face any troubles head-on.
Copyright 2019 WDRB Media. All Rights Reserved.