LOUISVILLE, Ky. (WDRB) -- Old training materials used by Kentucky State Police included quotes from Adolf Hitler and advocated for "ruthless" violence, according to a report from student journalists at Louisville's duPont Manual High School. 
The training materials, which authorities say are no longer used by the agency, came in the form of a slideshow first reported by Satchel Walton and Cooper Walton of ManualRedEye.com. The presentation was obtained through an open records request by attorneys as evidence in a lawsuit against a KSP detective who shot and killed a man in Harlan County in 2018, according to the Manual RedEye report. 
One of the slides, titled "Violence of Action," features a quote from Hitler that says, "The very first essential for success is a perpetually constant and regular employment of violence," according to the report. The same slide advocates for the use of violence described as "ruthless without anger" and "a mindset void of emotion." It also instructs troopers to, "Be the loving father, spouse, and friend as well as the ruthless killer. 
Another slide includes a quote from Confederate General Robert E. Lee, the Manual RedEye report shows.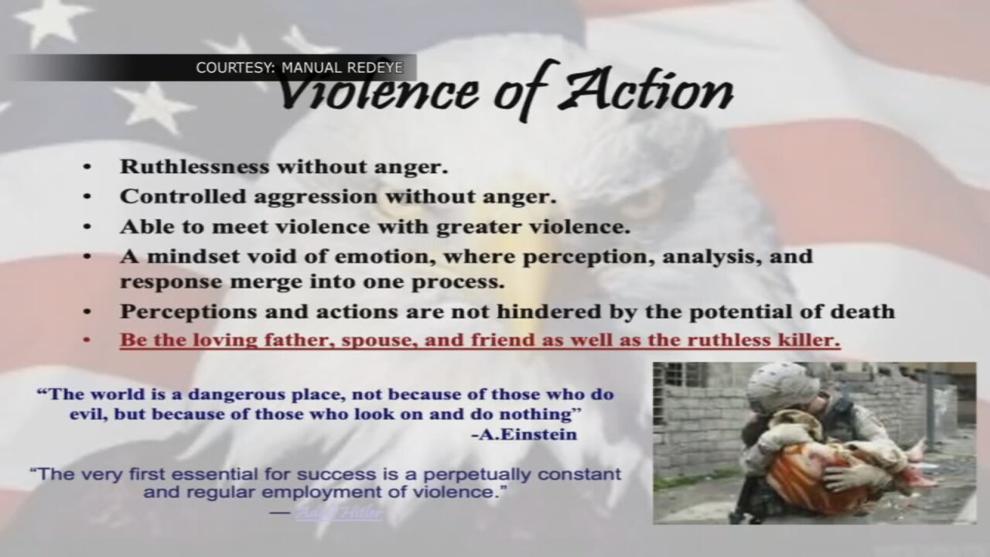 The report prompted outrage from Kentucky Gov. Andy Beshear, who said the presentation "is absolutely unacceptable."
"It is further unacceptable that I just learned about this through social media," Beshear said in a written statement Friday evening. "We will collect all the facts and take immediate corrective action."
In a statement to the RedEye reporters, KSP spokesperson Lieutenant Joshua Lawson said, in part, "The quotes are used for their content and relevance to the topic addressed in the presentation," according to the report. 
It's not clear how many troopers were trained using the slideshow. According to a statement from the Kentucky Justice and Public Safety Cabinet, "The material is not currently a part of any training materials and was removed in 2013." 
"It is unacceptable that this material was ever included in the training of law enforcement," spokesperson Morgan Hall said in the statement. "Our administration does not condone the use of this material."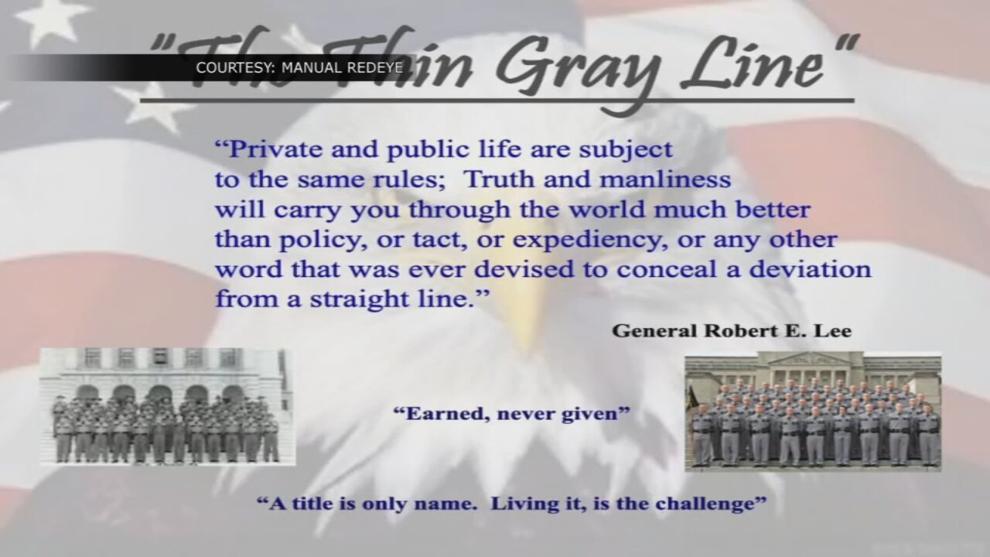 Former KSP Lt. Curt Hall's name appears on the first slide of the presentation published in the Manual RedEye report, which says the officer taught "warrior mentality" trainings at the KSP Academy. Curt Hall, who has retired from KSP, served as the assistant commander at the academy from 2005 to 2015 before becoming commander of internal affairs, according to the report. 
In response to the report, U.S. Rep. John Yarmuth, D-Ky., said he was "angry and embarrassed" as a Kentuckian. 
"As a Jewish American, I am genuinely disturbed that there are people like this who not only walk among us, but who have been entrusted to keep us safe," Yarmuth said in a tweet. "There needs to be consequences." 
The American Civil Liberties Union of Kentucky applauded the student journalists' work, calling the training material, "appalling."
"The training materials from Kentucky State Police urging cadets to be 'ruthless killers' and including quotes from Adolf Hitler are repugnant and completely unacceptable," the organization said in a written statement. "Any cadet who trained with the KSP while these materials were used should be retrained immediately, and the agency should take proactive measures to ensure this type of material is never used when training law enforcement officers."
On Saturday, members of Louisville's Jewish community condemned the training materials.  
"It's appalling. It's frightening," said Sara Klein Wagner, CEO of the Jewish Community of Louisville. "It's really unbelievable to hear that that's happening in our commonwealth, even in the past few years, and I think the first question that really comes to mind for all of us is: 'How did that happen?'"
The Jewish Community of Louisville released the following statement on Sunday:
"The Jewish Community of Louisville is shocked at outraged that quotations from Adolph Hitler's Mein Kampf were used in a Kentucky State Police presentation. Adolph Hitler is the worst mass murderer in modern times, responsible for murdering millions of innocent people and absolutely nothing of useful purpose can be or should be inferred from anything he wrote or said. The law abiding citizens of the Commonwealth of Kentucky expect our police will protect us and keep us safe without regard to race, ethnicity, or religions affiliation. Using quotations from this source is inconsistent with these expectations.
Governor Beshear must conduct an immediate and comprehensive investigation to determine how such an egregious and offensive use of this material could have happened and address and underlying culture among law enforcement agencies that sanctions these types of beliefs. We insist that action be taken to prevent something like this from happening again."
To read the Manual RedEye report in full, click here. 
Copyright 2020 by WDRB Media. All rights reserved.