LOUISVILLE, Ky (WDRB) -- This may be news to some of you, but WDRB's Chris Sutter is in the middle of a years-long feud with a celebrity.
It started with this story in 2016 when William Shatner took a trip to Bardstown Road for some pampering. 
We figured Shatner would never see the story, or if he did, he wouldn't care. Turns out, he got tagged, was not too pleased and blocked Chris on Twitter.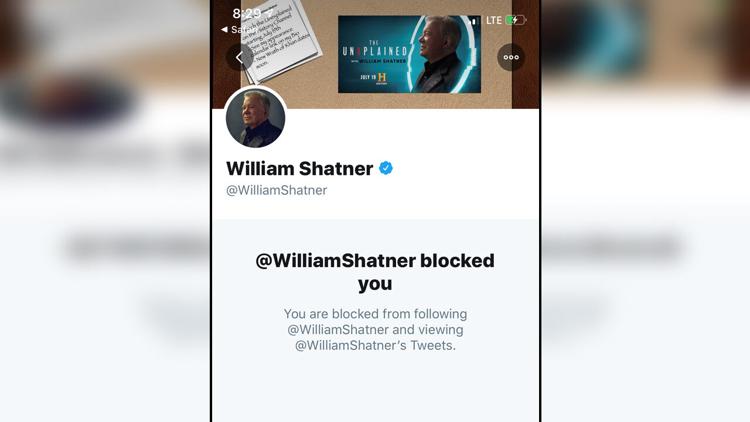 Chris did not care too much that he was blocked by an A-Lister but a so-called Treky in the WDRB Newsroom took it upon himself to see if Shatner would unblock Mr. Sutter.
Well, the Hollywood star did respond the other day with a challenge.
😳Sporto, "Keeping the Peace" means he stays blocked.🤷🏼‍♂️ That's ☮️. You were sent on a diplomatic mission. 🙄I don't unblock. However if you look here: https://t.co/YNwy5RJ9lj you will see that for a $500 donation to my charity; I will. *IF* he has 100 friends🤔🤷🏼‍♂️; it's $5 each. https://t.co/Lg3Y32aFEr

— William Shatner (@WilliamShatner) October 9, 2020
Shatner wrote on Twitter that if Chris had 100 friends donate $5 to his Hollywood Charity Horse Show he would unblock him.
Challenge accepted!
WDRB has set up a GoFundMe with the goal of raising $1,000 for the Hollywood Charity Horse Show. 
The annual horse show brings together world-class reining horses and riders in breathtaking slides and spins as they compete for top honors in their respective classes. An online silent auction raises money for a variety of children's and veteran's charities.
Copyright 2020 WDRB Media. All Rights Reserved.