LOUISVILLE, Ky.(WDRB) -- Cameron and Jessica Howell had their little girl, then Sadie got her little brother. It was a picture perfect pregnancy.
"Brooks came home happy and healthy," Jessica said.
But a ride in the car, not long after birth, changed everything.
"(Jessica) like, 'He's not breathing! He's not breathing!'" Cameron Howell said.
The Howells got baby Brooks to the hospital and were sent home, only for it to happen again.
"I was holding him basically lifeless," Jessica Howell said.
This time, it was worse. A police cruiser escorted Brooks' ambulance to Norton Children's Hospital. Doctors tried their best to get to the bottom of what was happening.
"Within about a week, they diagnosed him with a floppy airway," Jessica Howell said. "Basically his airway would suck closed when he got upset."
Doctors wanted to see why it was happening. In February, when Brooks was just 4 months old, genetic testing revealed the baby boy had Spinal Muscular Atrophy with Respiratory Distress, an extremely rare disease with only about 100 known cases.
"He won't really be able to walk," Cameron Howell said. "He'll be in a wheelchair. He'll be on the ventilator. As far as him being able to talk, that's to be determined."
The family, who dealt with day after day of bad news, wondered if they'd ever be able to go home with their boy.
A collapsed lung and viruses kept him under medical watch, and he only responded well to hospital ventilators.
"You can't go home on a hospital ventilator," Jessica Howell said.
That's around the time the Howells were introduced to VOCSN. Not only does the medical machine breathe for Brooks, he likes it, and it helps with coughing, oxygen and suction.
"Instead of having five different machines to do all these things, we have one," Jessica Howell said.
It allowed him to go home after being in the hospital since November. The send-off from the hospital was touching.
"I knew it was going to emotional leaving, but I didn't know how emotional it was going to be," Jessica Howell said.
A new family picture will have to be taken soon, one that includes all the people who helped bring baby Brooks home.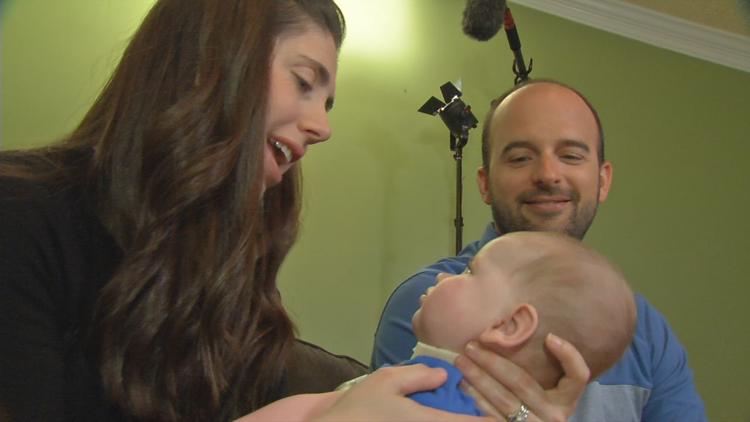 People with Brooks' condition have a shorter life expectancy. It's rare for them to make it to 30.
But the Howells are hoping gene therapy research could change that. To donate to the cause, click here. 
Copyright 2019 WDRB Media. All Rights Reserved.