LOUISVILLE, Ky. (WDRB) -- Tiger Woods was seriously injured Tuesday when his SUV crashed into a median, rolled over several times and ended up on its side in suburban Los Angeles, authorities said. The golf superstar had to be pulled out through the windshield, and his agent said he was undergoing leg surgery.
Woods was alone in the SUV when it crashed into a raised median shortly before 7:15 a.m., crossed two oncoming lanes and rolled over several times, authorities said at a news conference. No other cars were involved. Woods was alert and able to communicate as firefighters pried open the front windshield to get him out.
The airbags deployed, and the inside of the car stayed basically intact and that "gave him a cushion to survive the crash," Los Angeles County Sheriff Alex Villanueva said. Both of his legs were severely injured, county Fire Chief Daryl Osby.
Images showed the SUV on its side, with its front end heavily damaged, just off the side of a road near a hillside. An ambulance took the 45-year-old to a hospital, authorities said.
"Tiger Woods was in a single-car accident this morning in California where he suffered multiple leg injuries," said his manager, Mark Steinberg. "He is currently in surgery and we thank you for your privacy and support."
They said there was no immediate evidence that Woods was impaired. Authorities said they checked for any odor of alcohol or other signs he was under the influence of a substance and did not find any. They did not say how fast he was driving. Weather was not a factor in the crash.
The two-lane road he was on curves through upscale LA suburbs, and the northbound side that Woods was driving on descends steeply enough that signs warn trucks to use lower gears. The speed limit is 45 mph.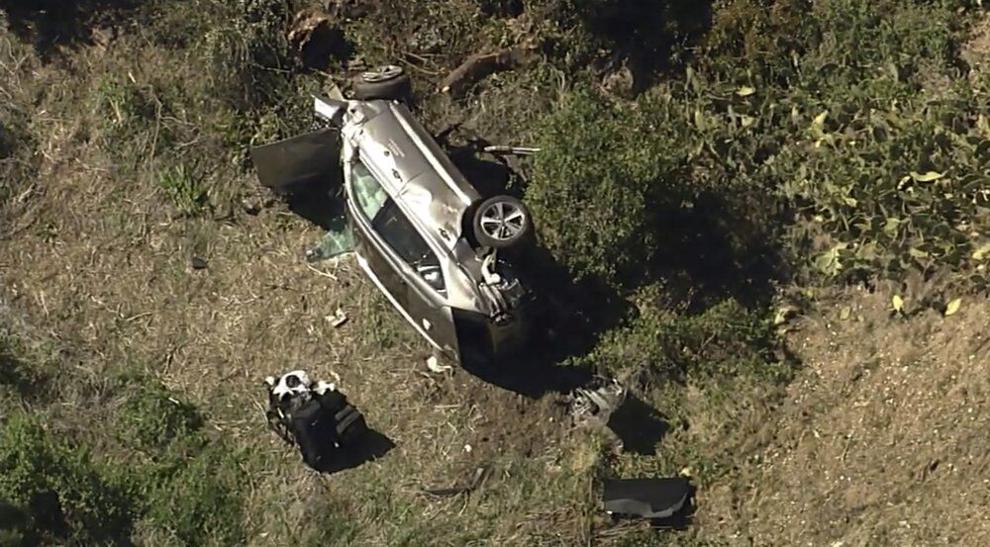 Barbara Ferraro, a councilwoman in the community of Rancho Palos Verdes, said the road where Woods crashed is not winding like other stretches but it's steep and not far from a gravel runaway truck lane that was ahead before the next traffic light.
"It's easy to pick up speed," Ferraro said. "Even if you're not speeding, unless you're actually putting on the brakes, you'll pick up speed."
Woods was in Los Angeles over the weekend as the tournament host of the Genesis Invitational at Riviera Country Club, where he presented the trophy on Sunday. He was to spend Monday and Tuesday filming with Discovery-owned GOLFTV, with whom he has an endorsement. A tweet Monday showed Woods in a cart smiling with comedian David Spade.
According to Golf Digest, also owned by Discovery, the TV shoot was on-course lessons for celebrities, such as Spade and Dwyane Wade, at Rolling Hills Country Club.
Related Stories:
Copyright 2021 WDRB Media and The Associated Press. All Rights Reserved.