LOUISVILLE, Ky. (WDRB) -- Tuesday, May 14, marks 31 years since the worst drunk driving crash in United States history -- and it happened in Kentucky.
Twenty-seven people -- 24 of them children -- died on May 14, 1988, when a drunk driver collided with their bus in Carroll County, Kentucky. A church group from Radcliff was driving back from Kings Island just outside of Cincinnati, when a drunk driver going the wrong way on I-71 crashed head-on into the bus.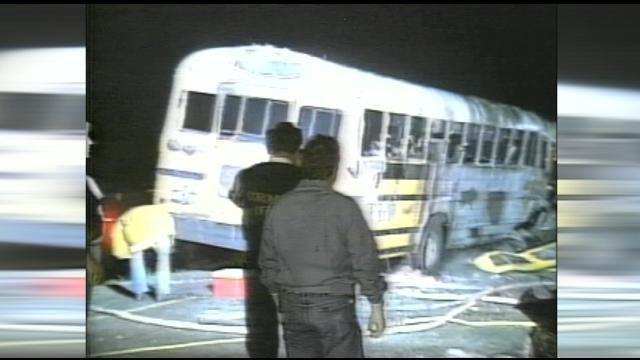 The driver, Larry Mahoney, served nearly 11 years in prison for the crash.
"It gets easier through the years, but there are days that are so very difficult that you just don't feel like you can even get out of bed," Karolyn Nunnallee said in an interview in 2018. Nunnallee lost her 10-year-old daughter in the crash.
"We've battled through life, but we're still here," said Quinton Higgins at a ceremony marking the anniversary last year.
Higgins, who was 15 years old, survived the crash but says he is haunted by the memories. "You have flashbacks constantly," he said. "This is something you can't get rid of even if you want to. It just comes."
Higgins says he remembers getting out of his seat and passing out.
"I laid on the floor for I don't know how long," Higgins said. "And I remember taking like a last breath, then something told me to get up."
Somehow, he made it to the back of the bus.
As for Mahoney, Higgins has found peace with him.
"I forgive him," Higgins said. "He didn't intend on getting up and killing 27 people. He made a bad choice."
Related:
Copyright 2019 WDRB News. All rights reserved.