LOUISVILLE, Ky (WDRB) -- A popular Louisville park is in the middle of a million-dollar refurbishment, but it hasn't been without some snags.
Construction at Tyler Park off Baxter Avenue has been going on for months with renovations of the bathrooms, sidewalks and playground.
"Once it will be complete, I think that this park will definitely be popping like it was before," said Anna Bryan, who drives nearly 30 minutes once a week to play tennis at the park.
The 109-year-old tennis courts are in needs of a major fix. Four of the six at the park have several large cracks.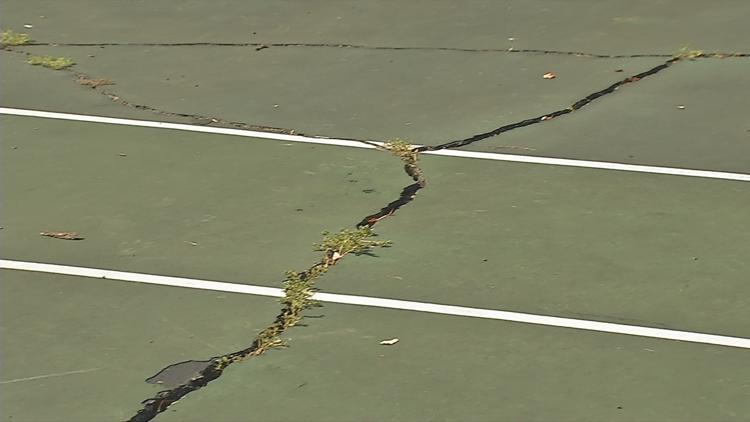 "There are cracks in the tennis court that are big enough to fit your shoe in," said Shawn Reilly, vice president of the Tyler Park Neighborhood Association.
The park is in the middle of a $1.1 million renovation with help from the city and the Olmsted Parks Conservancy. However, higher than expected contract bids are putting a halt on the tennis court redo for now.
"There is a lot of construction going on in the city right, and so they had to make a decision on what to cut from this initial project, and the tennis courts took a hit," Reilly said.
Signs describing the situation are displayed by the court entrance along with envelopes where people can donate to support the refurbishment.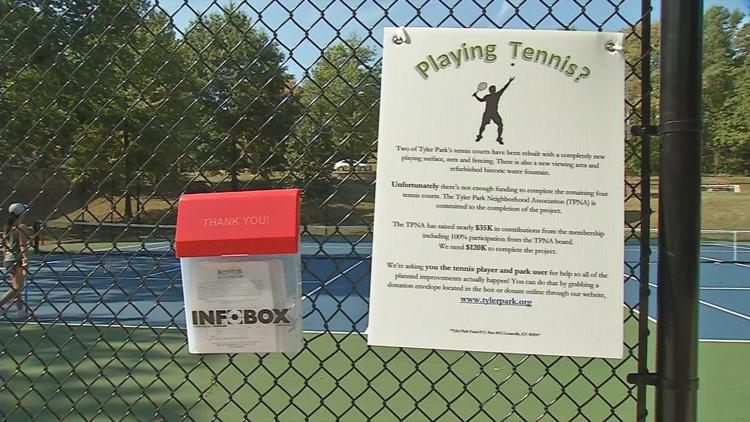 The children's spray area was briefly delayed after a storage unit containing several valuable parts for it was broken into. A computer part worth $35,000 was stolen. Reilly said the construction company's insurance is fortunately covering it, and a replacement part is already on the way.
Due to construction, the annual Tyler Park Jazz Festival — which is usually all four weekends in September — will now be held from 2-6 p.m. Sunday, Sept. 22, on the east side of the park.
"It will actually be really close to the tennis courts that need to be refurbished, so we are going to be doing a lot of fundraising efforts during the jazz festival," Reilly said. "We're going to have tents set up for information for people."
The additional costs of the courts will be close to $120,000. The neighborhood association and donors have already raised $35,000.
Reilly said the first phase of construction should be completed by the end of November.
"We are ready for it to be done, but we also want to make sure we get a really project," Reilly said. "We don't want to rush them. We want to make sure everything is top-notch."
For more information on the project or to donate, click here. 
Copyright 2019 WDRB Media. All Rights Reserved.