LOUISVILLE, Ky. (WDRB) -- In college football, the postseason is preceded by the regular season, which follows training camp, which follows talking season, which follows list season.
That's where we sit in mid-May. Waiting for the preseason yearbooks to arrive. Waiting for the conference media day extravaganzas.
And looking at lists. Making our own lists. Tilting an eyebrow at lists that other outlets shared.
Today, eyebrows twitch at a top 25 list from Tom Fornelli of CBSSports.com. Not because he did anything outrageous or upsetting. He didn't.
He simply compiled votes from a panel of writers and analysts at their CBS website and 247Sports, ranking the 65 Power Five football coaches: the guys in the ACC, SEC, Big Ten, Big 12, Pac-12 and (drumroll!) Notre Dame.
You make a list like that to get people talking, Let's talk.
1. The ACC Needs Star Power
Two ACC coaches cracked the top 25: Dabo Swinney (No. 2) of Clemson and Mack Brown (No. 12) of North Carolina.
The four other Power Five leagues all had at least double that amount. The Big Ten had eight representatives, the SEC six — with four guys in the top 10.
Ouch.
Swinney and Brown need somebody in the ACC to make them sweat, especially Swinney. He's been on top in the ACC Atlantic Division too easily for too long.
The third-highest-ranked ACC coach, at 26, was Virginia's Bronco Mendenhall. He would have made my top 25. The Cavaliers won the Coastal division in 2019 and finished strong last season, winning four of their last five.
Dave Clawson (No. 28) of Wake Forest and David Cutcliffe (No. 29) at Duke were also close.
But let's be honest: The two guys the ACC needs to deliver are Manny Diaz (No. 32) of Miami and Mike Norvell (No. 44) of Florida State.
The ACC needs more juice from its programs in the Chinstrap State, the places that have won eight national titles — Miami five and FSU three. There is no acceptable excuse for the Florida schools to be irrelevant. None.
2. Scott Satterfield Took A Hit
After winning ACC coach of the year in 2019, Satterfield was on the brink of cracking the CBS top 25, ranking 31st a year ago.
Lose a game to Georgia Tech. And another to Pittsburgh. And two more to the Virginia schools.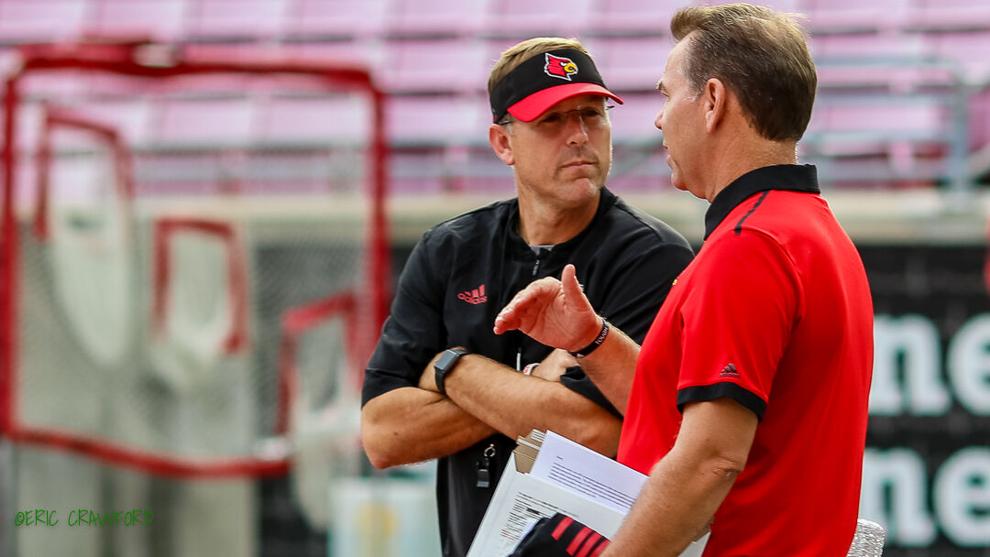 Next thing you know, you're 4-7 and No. 45 on the CBS list, behind Jeff Hafley of Boston College and Lance Leipold of Kansas (link to coaches ranked 26-to-65).
Fornelli wrote that the drop might be too severe. But Satterfield needs to get back on the right side of .500.
3. Mark Stoops is Mark Stoops
A losing record (5-6) would likely knock most coaches down in rankings like this. Not Stoops. He repeated 22nd, even though the Wildcats needed to beat South Carolina and North Carolina State to avoid a major step backward.
Here is the news: Kentucky has a coach ranked ahead of the coaches at Auburn, Tennessee, South Carolina and five other SEC schools.
4. All Eyes on Tom Allen
Nobody jumped higher than Allen, who improved from 61 in 2019 to 46 in 2020 to 20 in 2021.
CBS ranked Allen sixth in the Big Ten — ahead of Michigan's Jim Harbaugh, media darling P.J. Fleck of Minnesota and Bret Bielema of Illinois.
Allen and I spoke for 30 minutes earlier this week. One thing I asked him about was the challenge of dealing with higher expectations at IU.
"Earmuffs and blinders," Allen said, defaulting to his general position on outside chatter. "Earmuffs and blinders work for the positive stuff as well as the negative."
5. Who's Missing?
My choice for the biggest omission from the top 25 has to be Chip Kelly of UCLA.
When Kelly ruled the Pac-12 at Oregon, he was a consensus pick as a top -0 coach. Maybe top-five.
When Kelly left the NFL to return to college, his name was mentioned for a string of major jobs.
CBS ranked him No. 39. In three seasons in Westwood, Kelly's record is 10-21. He's yet to win a non-conference game.
Mike Leach of Mississippi State (No. 33), Steve Sarkisian of Texas (No. 46), Scott Frost of Nebraska (No. 47) and Justin Fuente of Virginia Tech (No. 49) have work to do.
I don't have to tell you who leads the list: Nick Saban of Alabama followed by Swinney.
Who's on the bottom of the list?
First-year South Carolina coach Shane Beamer.
Copyright 2021 WDRB Media. All Rights Reserved.