LOUISVILLE, Ky. (WDRB) -- I could have been 1-6. Or 0-7.
It can always be worse than ringing up a 2-5 record picking college football games against the spread and getting owned by Eric Crawford and my dog.
Hey, if Lynn Bowden Jr. had wiggled free of one more tackler, Kentucky would have covered the number against Arkansas last Saturday. And I finished a half-point on the wrong side of Louisiana State and Florida.
And … excuses are for losers, right?
On to this week's games.
1. Clemson at Louisville (+24), Saturday, noon, ABC, Cardinal Stadium.
Tigers' coach Dabo Swinney probably isn't worried that the Tigers have dropped to third in the human polls and to fifth in several computer polls, but he should be concerned. The overall lack of strength by the ACC gives the Tigers no margin for error if they lose one of their next six regular-season games or the ACC title game … the Tigers pounded Florida State last week, winning 45-14 and outgunning the visitors by 299 yards after they were criticized for a dull effort against North Carolina … Clemson quarterback Trevor Lawrence sits fifth in the ACC in quarterback rating and has thrown sixth interceptions, tied for the most in the league … both teams are 4-2 against the spread.
Eric: Clemson 49, Louisville 21
Rick: Clemson 42, Louisville 20.
Ruby coin flip: Clemson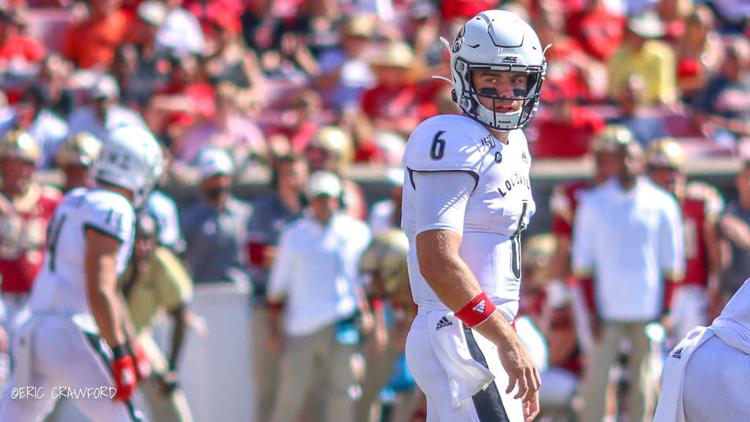 2. Kentucky at Georgia (-25), Saturday, 6 p.m. ESPN, Sanford Stadium, Athens.
The Bulldogs' offensive mojo has been questioned this week after they managed only a pair of touchdowns in an overtime loss to South Carolina … there have been whispers about whether the Bulldogs let their best quarterback get away with UGA transfer Justin Fields starring at Ohio State, where he has thrown for 18 touchdowns and run for eight … Mark Stoops continues to play the guessing game at quarterback, holding open the option of using Sawyer Smith even after Bowden was recognized for his stellar play in leading UK to its comeback victory over Arkansas … Kentucky ran for 330 yards against the Razorbacks, but Georgia has the top run defense in the SEC, allowing only 440 yards in six games … Georgia is 3-3 against the spread while the Wildcats are 3-2-1.
Eric: Georgia 45, Kentucky 17
Rick: Georgia 42, Kentucky 14
Ruby coin flip: Georgia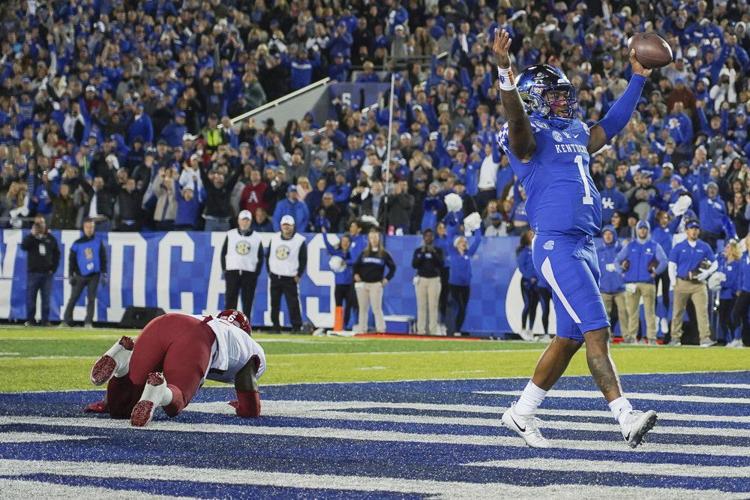 3. Indiana at Maryland (+3 1/2), Saturday, 3:30 p.m., Big Ten Network, Maryland Stadium, College Park.
The Hoosiers (4-2) inched to within two wins of bowl eligibility by dispatching Rutgers, 35-0, last Saturday, but getting the last two wins has been Mission Impossible for Tom Allen in his two seasons … the Hoosiers have yet to defeat a team ranked in the Top 100 of Jeff Sagarin's computer rankings and must play four of their last six on the road … Maryland will be without several key players. Receiver DJ Turner and cornerback Tino Ellis will miss the remainder of the Terps' season … Maryland ranks last in the Big Ten is passing defense, allowing nearly 280 yards per game while the Hoosiers rank second in passing offense at 302 ypg … IU is 4-2 against the spread this season, while the Terps are 3-3.
Eric: Indiana 35, Maryland 31
Rick: Maryland 27, Indiana 24
Ruby coin flip: Maryland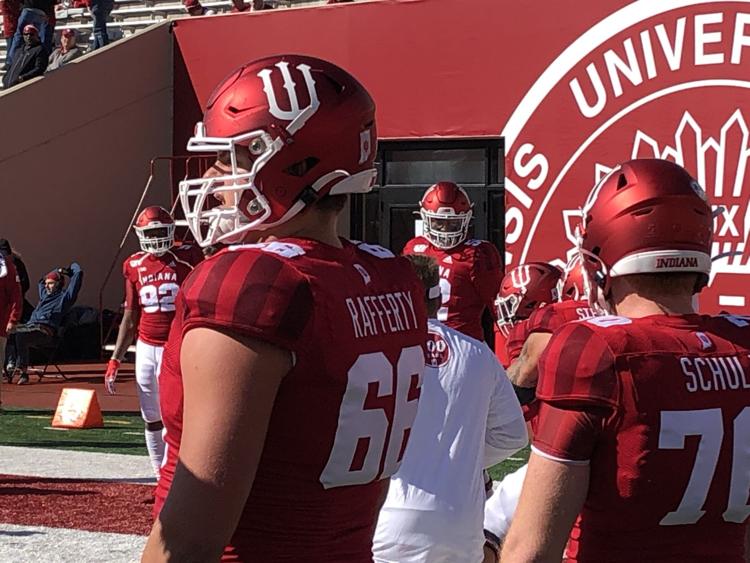 4. Charlotte at WKU (-9 1/2), Saturday, 4 p.m., ESPN+, Houchen-Smith Stadium, Bowling Green.
The Hilltoppers are on a roll, stuffing Army last week for their third consecutive victory and fourth in fifth games … the teams have one common opponent: Florida International. FIU handled Charlotte, 48-23, last week, but WKU defeated the Panthers, 20-14, during the second week of the season … WKU ranks second in Conference-USA in total defense, allowing 287.5 yards per game … the Hilltoppers have allowed only 24 points in their last three games … WKU is 4-2 against the spread while Charlotte is 2-4.
Eric: WKU 31, Charlotte 21
Rick: WKU 35, Charlotte 21
Ruby coin flip: WKU
5. Duke at Virginia (-3 1/2), Saturday, 3:30 p.m., ACCNetwork, Scott Stadium, Charlottesville.
After sprinting to four wins, the Cavaliers have stumbled in back-to-back weeks, losing at Notre Dame (understandable) and at Miami (questionable) … Virginia does have a quality win over Pittsburgh, which won at Duke two weeks ago … Virginia has won its last four games against Duke, but the Cavaliers will be without Bryce Hall, its all-ACC cornerback who is lost for the season with an injury … Duke is 3-2-1 against the spread, while Virginia is 2-3-1 and has failed to cover three straight weeks.
Eric: Duke 27, Virginia 24
Rick: Duke 27, Virginia 21
Ruby coin flip: Virginia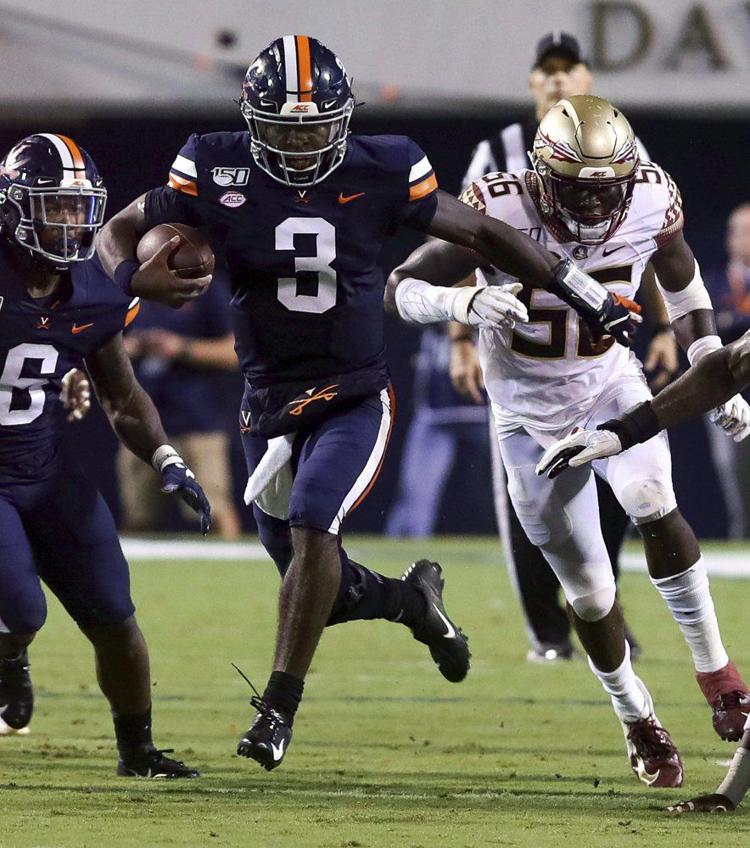 6. Florida State at Wake Forest (-2), Saturday, 7:30 p.m., ACC Network, BB&T Stadium, Winston-Salem, N.C.
Wake Forest's defense and unbeaten season collapsed last Saturday against Louisville as the Demon Deacons allowed 62 points, and they were also ravaged on special teams … a closer look at Wake's season reveals its only win against an FBS opponent with a winning record came against Utah State in the season opener … Florida State, meanwhile, gave up at least 31 points for the fourth time in its not-as-close-as-it-looks 45-14 loss at Clemson … FSU is 2-3-1 against the number, the same performance as Wake.
Eric: Wake Forest 41, Florida State 38
Rick: Florida State 31, Wake Forest 28.
Ruby coin flip: Wake Forest
7. Michigan at Penn State (-8 1/2), Saturday, 7:30 p.m., ABC, Beaver Stadium, University Park, Pa.
The Wolverines have rallied from their three-touchdown loss at Wisconsin to defeat Rutgers, Iowa and Illinois, but they face back-to-back games against the seventh-ranked Nittany Lions and No. 8 Notre Dame … Penn State has not allowed more than 13 points in a game this season and ranks second nationally in scoring defense and fourth in total defense … The Wolverines routed Penn State, 42-7, last season and have won four of the last five in the series … Penn State is 3-2-1 against the spread, while Michigan is 2-4.
Eric: Penn State 28, Michigan 17.
Rick: Penn State 21, Michigan 10.
Ruby coin flip: Penn State.
Last Week
Eric: 5-2
Rick: 2-5
Ruby coin flip: 5-2.
Season totals
Eric: 25-23-1 (.524)
Rick: 22-26-1 (.459)
Ruby coin flip: 18-16-1 (.529)
Copyright 2019 WDRB Media. All Rights Reserved.