LOUISVILLE, Ky. (WDRB) -- Confession: I'm a Joe Lunardi fan.
I like Lunardi because he loves college basketball as much as I love college basketball. I like Lunardi because he was the first person to popularize NCAA Tournament bracketology, teach a class about the subject in Philadelphia and also write a book about how to forecast the NCAA men's field.
But I'm writing this Ode to Joe for selfish reasons: Lunardi has provided content for columnists who are college basketball junkies. He shared an updated bracket for the 2023 NCAA Tournament.
We're 299 days from Selection Sunday. Rosters are shaking out. A string of top college players are in Chicago for the NBA Draft Combine, trying to decide if they should remain in the draft or return to school. The transfer portal is stuffed with names.
Who needs an updated bracket?
We do, right?
NCAA Bracketology - Projecting the 2023 March Madness men's field. 🏀🏀 Good morning!! https://t.co/qie3gvBcWo

— Joe Lunardi (@ESPNLunardi) May 17, 2022
So Lunardi provided one at 7 a.m. Tuesday.
You will love what Lunardi forecast if you are a University of Kentucky fan. The Wildcats are his overall top seed, booked to play in Columbus, Ohio, and then the South Regional at the KFC Yum! Center in Louisville.
That's an interesting call, Joe. The Wildcats should return two starters (Oscar Tshiebwe, the national player of the year and point guard Sahvir Wheeler) from the team that failed to beat Saint Peter's in the first round of the NCAA Tournament — and Lunardi identified Kentucky as the top overall seed.
North Carolina will return four starters from the team that handled Saint Peter's by 20 points and then led Kansas by 15 at halftime of the national championship game before the Jayhawks rallied for a three-point victory.
North Carolina is Lunardi's No. 2 overall seed, despite the presence of Armando Bacot, Caleb Love, R.J. Davis and Leaky Black.
His other No. 1 seeds are Baylor and Houston.
You'll be disappointed in what Lunardi projects for the University of Louisville: another season outside the 68-team field during Kenny Payne's first season as the Cardinals' coach.
Lunardi projects that six Atlantic Coast Conference teams will make the party: North Carolina; Duke (a No. 3-seed); Virginia (5-seed); Miami (10-seed); Notre Dame (11-seed) and Florida State (11-seed).
Time out, Joe. We need to talk.
Notre Dame will lose freshman Blake Wesley, Mike Brey's most talented player. Paul Atkinson, a guy that veteran write Tom Noie ranked Notre Dame's most valuable player, is also gone. So is guard Prentiss Hubb. And forward Jordan Lazewski has yet to decide if he plans to use his super senior season.
Notre Dame is always an interesting team. The Irish scored two nice wins in the NCAA Tournament. But Brey has work to do in South Bend.
Lunardi delivered a vote of confidence for Mike Woodson. He identified Indiana as a No. 5 seed in Woodson's second season. The arc of Indiana's 2023 season will be determined in the next two weeks.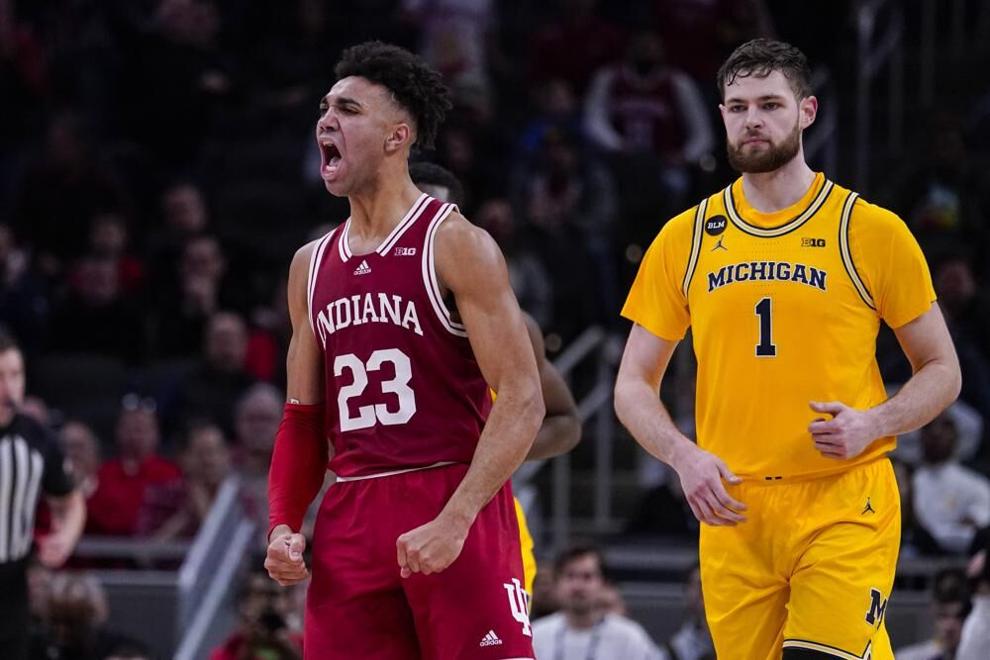 Trayce Jackson-Davis has until June 1 to decide to remain in the draft or return to Bloomington for his fourth season. Last month, Jackson-Davis told Jeff Rabjohns of peegs.com that if he projects as one of the top 35 picks, he will remain in the NBA Draft. He said that if he was likely to be taken after the first 35 picks that he would "probably come back to school." After several weeks of training in Southern California, Jackson-Davis will participate in games and interviews in Chicago this week before making his decision. Most mock drafts do not put Jackson-Davis in the first 35 picks, but it only takes one team to promise a player they will select him to rattle a draft.
With Jackson-Davis, Woodson will have four returning starters while adding a top-10 recruiting class. Without Jackson-Davis, Indiana will be without its leading scorer, rebounder and shot-blocker.
As far as other local flavor in Lunardi's work?
UAB, not Western Kentucky, is his pick from Conference USA.
Drake, not Murray State, is his pick as the Racers make the move from the Ohio Valley to the Missouri Valley Conference.
But there is good news for Darrin Horn and Northern Kentucky: Lunardi picked the Norse to win the Horizon League and earn a No. 15 seed. Lunardi put the Norse against Gonzaga in their NCAA opener.
Thanks goodness for Lunardi. There is never a bad time to talk college basketball.
Copyright 2022 WDRB Media. All Rights Reserved.