LOUISVILLE, (Ky.) — There are the two players Chris McIntyre coached who pitched their way to the major leagues, one with the Kansas City Royals, the other with the Baltimore Orioles and Washington Nationals.
They were two of the 16 New Albany Bulldogs who earned Division I baseball scholarships under McIntyre.
There are the six Hoosier Hills Conference championships, 11 Indiana high school sectional titles and one regional championship that McIntyre, 53, won at New Albany.
Don't forget the 581 victories and winning percentage of nearly 69%, which earned McIntyre his 2021 induction into the Indiana High School Baseball Coaches Association Hall of Fame, a year before he announced his retirement last week.
That is the McIntyre resume. Here is the McIntyre achievement:
Twenty-eight seasons of making a difference in the lives of teenagers at New Albany High School.
"It's nice you would write this, but I'm not sure I'm that newsworthy anyway," McIntyre texted me last week after we finished an interview.
Sorry, Chris. I'll give you a lineup of people who disagree, and it runs longer than a 9-player batting order. I'll start with the 18 players, including a dozen surprise arrivals, who showed up for your Hall of Fame induction in Indianapolis last year.
In time, they understood that you showed up early and you stayed late, when it was icy in March and sweltering in June.
When they were 17, they did not grasp that you had to arrange for the umpires, the travel, the uniforms, the equipment, the scheduling and other things that I'm probably forgetting (like dealing with parents). They do now.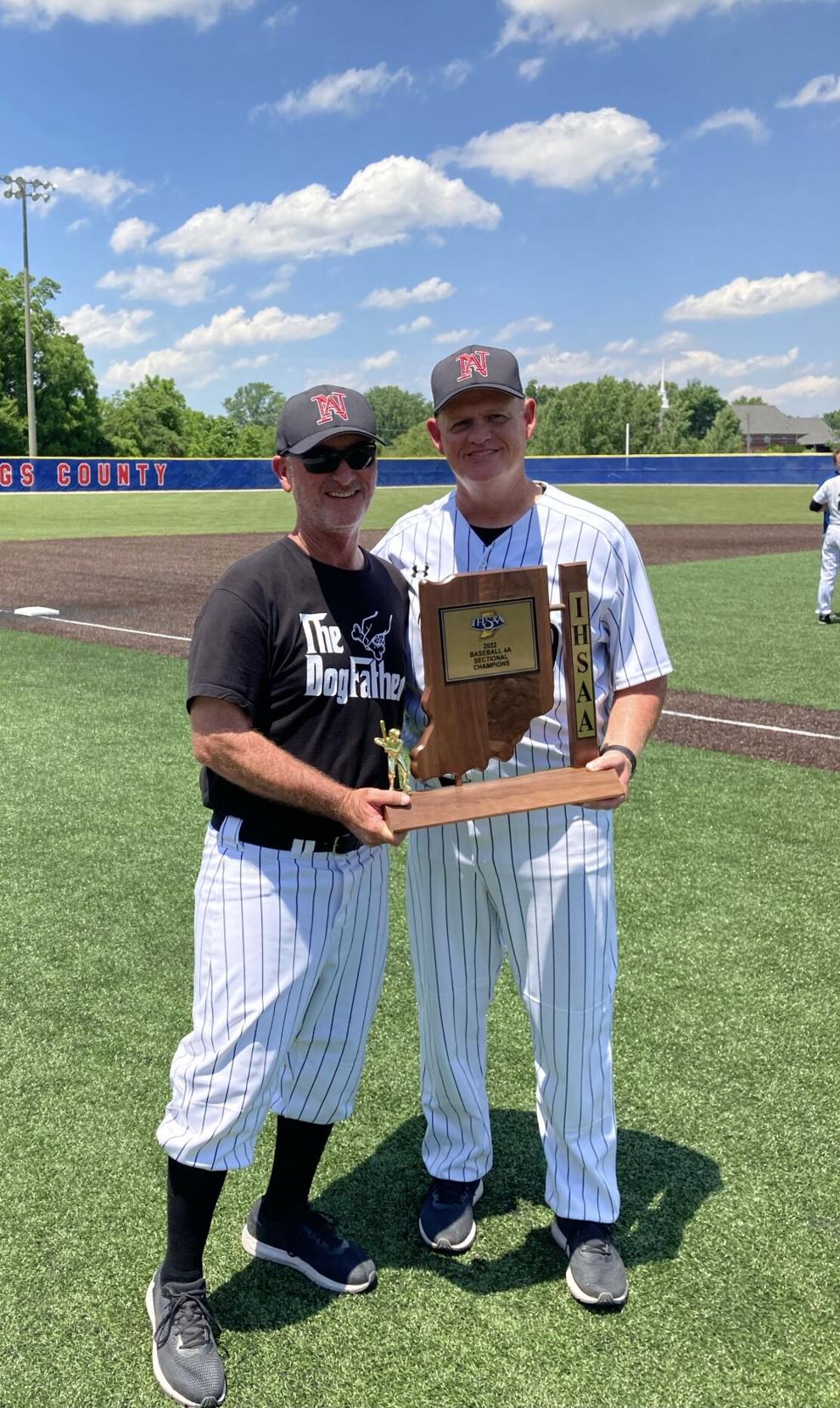 McIntyre also teaches math at New Albany High School. He's teaching it now, during a summer session. I didn't ask him how much money he earned coaching baseball for the Bulldogs.
I knew that answer: Not enough.
Nobody who coaches high school sports does it for the money. You hope that most coaches do it to invest in the community of young people.
That's what McIntyre did. He successfully crossed the mammoth divide of transitioning from former Jeffersonville High School graduate and player to prominent face in Bulldog Nation.
He's even embraced rival Floyd Central High School. He and his wife, Shannon, sent one of their two sons to school there. In southern Indiana, that's truly a man for all countries.
"The thing about Coach Mac is he really did care about us as a people, not just as baseball players," said Josh Rogers, the former Bulldog and University of Louisville left-handed pitcher who is currently on injury rehab with the Nationals in his fourth big-league season.
"When you're a younger player there were days when you thought of him as a tough coach, a guy who was hard on you. You didn't understand why. You thought he was just being tough.
"But as you got older you realized that he just wanted the best for you and wanted you to reach your goals.
"He's become a very good friend."
Those are not empty words to fluff up a feature story about a coach who said the best explanation he could give for retiring was "that it wasn't one thing, it was a lot of little things. It was just time. Time to do some different things. In this job, there was very little off season."
When McIntyre took his final New Albany team to the Indiana High School regional in Jasper several weeks ago, Rogers called ahead to the well-known Schnitzelbank Restaurant and paid for the team's dinner the night before their opening game.
Of course, when Rogers pitched his first big league game for the Orioles on Aug. 28, 2018, McIntyre drove the nine hours from New Albany to Camden Yards to cheer for all 85 pitches Rogers threw while beating the Blue Jays.
Then when Rogers battled back from injuries to return to The Show with Washington last summer, McIntyre made another nine-hour trek to watch Rogers defeat the New York Mets at Nationals Park.
Rogers is not the only former Bulldog that McIntyre has tracked. His former players have performed at U of L, Western Kentucky, Ball State, Indiana State, Xavier, Kent State, Chicago State and IUPU Fort Wayne, as well as multiple Division II and III programs. He said that more than 40 of his former Bulldogs played college baseball.
McIntyre said that he was surprised (and delighted) by how many of them called, texted or wrote e-mails as they learned about his decision last week.
"You don't even realize some of the kids you reached," he said. "I heard from a few that I didn't think liked me. It's been very neat."
Most guys aren't going to make the big leagues like Rogers or Steve Stemle, another former New Albany pitcher who had a short run with the Royals. Most aren't going to reach college baseball, like former U of L starters Daniel Burton and Drew Haynes.
That's one message McIntyre tried to impart to his players. The most important lessons you're going to learn playing baseball are not going to get you to Yankee Stadium. They're going to make you a successful employee, a better Dad or husband or a dependable friend.
"Baseball is like life," McIntyre said. "You have to learn to wait your turn. You have to learn to master the little things.
"You have to learn to get along. You might have a teammate that you don't like but you have to learn how to connect with them for the betterment of the team. You'll have that same situation all through your life.
"Those are some of the things I tried to make sure that my players took away."
Over 28 remarkable seasons, they certainly did.
Copyright 2022 WDRB Media. All rights reserved.