LOUISVILLE, Ky, (WDRB) — Is it college basketball season yet?
Don't get upset with me. Blame the wonderful folks at FanDuel in New Jersey. According to this article at CBSSports.com, FanDuel released its projected season win totals for every FBS program on Tuesday.
They're not pretty. Somebody is going to be upset. Actually, a lot of people are going to be upset.
Here are the numbers. Read them and send your cards and letters to FanDuel.
Louisville: 4 wins.
Kentucky: 6 wins.
Indiana: 6 wins (OK, the Hoosiers might celebrate a half-dozen victories and a bowl trip.)
Western Kentucky: 5 wins.
Purdue: 8 wins (the expected major step forward from Jeff Brohm, Rondale Moore and friends).
Quick thoughts:
Four wins by Louisville would be a 100% increase over last season when the Cardinals were buried week after week after week. Reasonable people should give Scott Satterfield time to get to four victories and beyond, but nobody has ever charged college football fans with being reasonable. Louisville needs major, major help on the offensive front — and somebody to emerge at quarterback.
Six wins by Kentucky is an insult to what Mark Stoops has accomplished in Lexington. He's recruited well. He's upgraded the speed, strength and size of his roster on a yearly basis. He's developed a winning culture. I understand that teams like Florida, Tennessee and South Carolina are expected to be improved. But six wins should be a minimum for the Wildcats considering Kentucky has won seven, seven and nine regular-season games the last three seasons.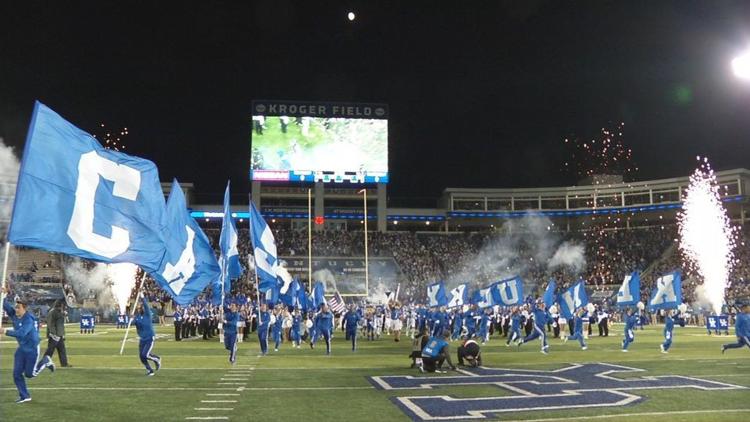 Six wins by Indiana happens once or twice a decade. Nine Big Ten games makes getting to six a major issue for the Hoosiers, especially when five of the league games are on the road. According to Phil Steele, Indiana is 9-60 in its last 69 Big Ten road games. If six is the floor for Kentucky, it is the ceiling for Indiana, unless the Hoosiers finally develop a dynamic quarterback.
Five wins for WKU would have been a number to laugh at during the Jeff Brohm Era. Not anymore. The Hilltoppers went 3-9 last season and were beaten by double figures five times. New coach Tyson Helton helped create the fireworks of the Brohm Era but Brandon Doughty and Mike White aren't walking through that door.
Copyright 2019 WDRB Media. All Rights Reserved.