LOUISVILLE, Ky. (WDRB) -- The Indiana University football team started the 2021 season ranked 17th in the nation and third in the Big Ten. The Hoosiers will visit Michigan on Saturday as the only team winless in Big Ten play.
Lists have been circulating with explanations about why Indiana flipped from 6-2 last season to 2-6 this season.
Injuries abound, especially at quarterback. IU figures to start a freshman against the Wolverines who started the season as the third-teamer. The offensive line cannot deliver a consistent run-blocking push. The pass protection has not been much better.
Receivers have dropped balls. The running back room lacks experienced depth. The play-calling creates furrowed brows and demands for a new coordinator and offensive line coach.
Defense started the season as a team strength. IU has allowed 1,037 yards and 92 points in IU's last two games. Questions have emerged about the new defensive coordinator.
The defense intercepted 17 passes in eight games last season. Skeptics warned that was unsustainable. They were right. IU has four interceptions in eight games this season. Injuries abound, especially in the secondary.
Special teams have been blah, highlighted by a miserable effort on a kickoff return that contributed mightily to a loss against Cincinnati. The Hoosiers could have won that game against the No. 2 Bearcats during Week 3 and changed the arc of their season. They didn't.
A dismal Illinois team won at Penn State. An inconsistent Purdue team toppled Iowa. Indiana hasn't had the spark to beat anybody. The Hoosiers are 0-5 in Big Ten play, outscored by an average of three touchdowns per game.
It's been an incredibly imperfect storm of misplays, mistakes and falling short. It was ignited by a schedule that forced IU to play five of its first seven games against top-20 opponents.
Until further notice, Indiana should start every season by scheduling three guaranteed non-conference wins. Use the old Bill Snyder Kansas State playbook.
The Hoosiers did not do that. The analytics at Jeff Sagarin's web site say IU has played the most difficult schedule in America. Terrible idea.
All of that is true. So is this:
If you're going to make an accurate list of what ails Indiana football, you'd better include Bill Orwig, Paul Dietzel, Ralph Floyd and any other former IU athletic director who allowed Indiana football to shrug at mediocrity for ... wellll, for a long, long, long time.
Chew on this statistic: IU is listed as a 20-point underdog at Michigan. According to the data at PhilSteele.com, IU has not been favored against the Wolverines since 1980, a stretch of 33 games.
Indiana took its seat miles behind Ohio State, Michigan, Michigan State, Wisconsin, Iowa and the rest of the Big Ten many years ago.
In facilities. In recruiting. In game-day atmosphere. In expectations.
In intolerance of losing. Indiana let Lee Corso coach 10 seasons while producing two winning records. It hired Gerry DiNardo, who coached like he was more interested in running a restaurant than beating Purdue.
The two solid seasons that current coach Tom Allen delivered in 2019 and 2020 created a narrative that the Hoosiers were on their way. Allen earned national coach of the year recognition.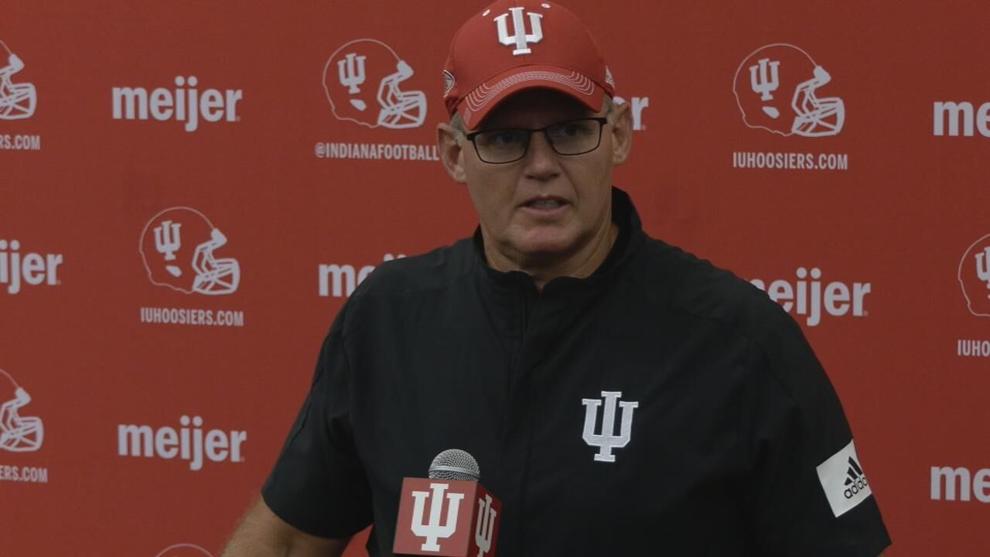 Recruiting appeared to improve. Players transferred in from USC, Auburn, Michigan, Florida State, Ole Miss and other higher-profile programs. There was talk that Indiana had closed the gap with the Big Ten programs that truly obsess over football.
Maybe a little, but the Hoosiers have not closed it sufficiently to stop this brutal slide back to the bottom of the league where they lived so comfortably for many years.
Indiana has existed over much of the last 50 or so years without demanding excellence or even reasonable competitiveness from its football program.
I'm not talking about Ohio State or Penn State good. I'm talking about Iowa or Wisconsin good.
When you look at the population, demographics and the high school football of Iowa and Wisconsin, there is no reason for those two schools to be consistently better than Indiana in football — other than the Hawkeyes and Badgers hired athletic directors and coaches who demanded winning many years ago.
Indiana did not do that until Fred Glass took over 13 years ago. Athletic Director Scott Dolson, who succeeded Glass last year, thinks about football the way Glass thought about football: that a healthy, entertaining, winning football program is essential to the overall success of the entire athletic department. Basketball cannot pay all the bills.
Glass is the guy who understood that Indiana had to upgrade Memorial Stadium, its locker room, its weight-lifting area, its complete coaching and training staff, and its game-day atmosphere.
All those items are better at Indiana. But they are still not where they need to be in comparison to the rest of the Big Ten. It's a process. An expensive and exhaustive process.
Two years of modest success did not signal that Indiana football arrived — or even advanced to the next tier.
The rest of the Big Ten isn't interested in giving Indiana anything. This season, the rest of the league has shown how quickly it can push the Hoosiers back to the spot where the program allowed itself to languish for too many years.
Copyright 2021 WDRB Media. All Rights Reserved.