LOUISVILLE, Ky. (WDRB) -- The word that Dino Gaudio and Luke Murray would not return as men's basketball coaches at the University of Louisville leaked into the news cycle March 18.
That was eight days after the Cardinals ended a puzzling and uneven 13-7 season without sufficient credentials to make the 2021 NCAA Tournament. That was also 34 days ago, and there's as much mystery about the departure of two of Chris Mack's most trusted assistants now as there was in mid-March.
The blanks have not been filled in. And when the blanks don't get filled in, the stories about what fueled the breakup rage between a simple change of direction to a conflict between guys the coaching world considered friends.
If you go to the Cardinals' website, GoCards.com, you'll discover Gaudio and Murray listed on the coaching staff with glowing tributes from the head coach.
Gaudio is described as a "home run ... trusted, loyal ..."
Similar praise was showered on Murray, who followed Mack from Xavier to U of L.
"Luke Murray is a superstar," it reads. "No detail goes unnoticed with Luke."
The superstar has departed. So has the home run. Neither assistant has talked to the the media about why they will not return for year four with the Cardinals. Gaudio declined to answer the phone or respond to two messages from me. Murray did not return one phone call.
"It's a strange situation," one former Division I head coach said. "Dino is a great guy. Everybody likes Dino. Everybody. Luke was considered an up-and-comer. Now they're gone."
Without explanation — other than Atlantic Coast Conference basketball is a results-oriented business, and the results at U of L last season were underwhelming.
Gaudio has reportedly returned to North Carolina. Some wonder if he'll resume his previous job as a television analyst at ESPN, where he did solid work for eight seasons.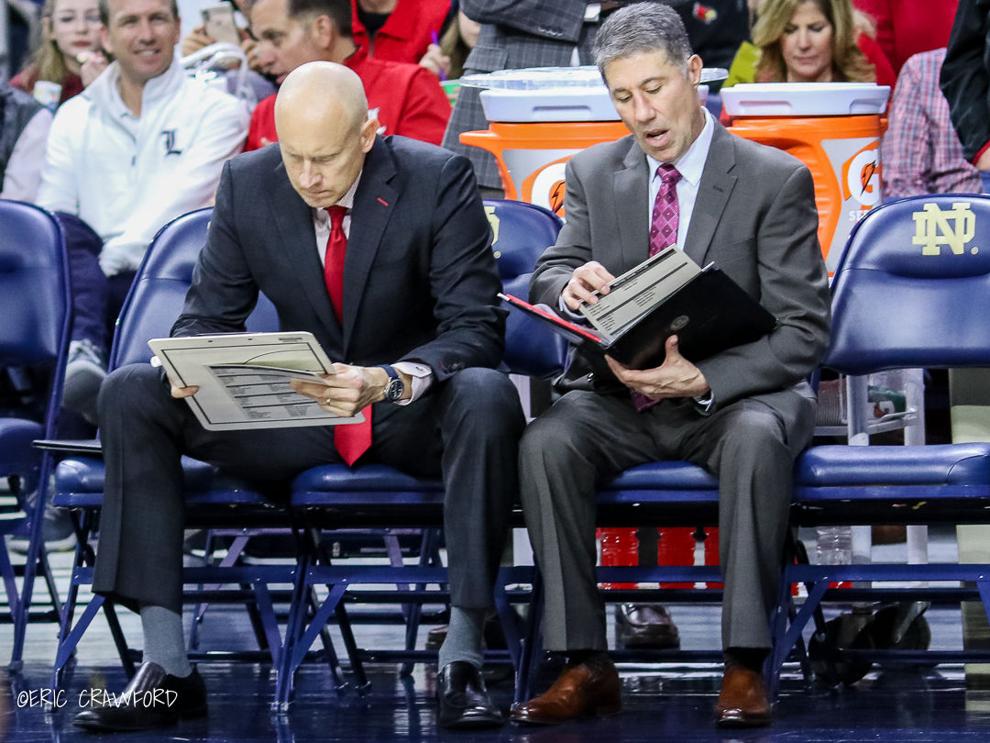 A source told me Murray was pursuing opportunities as an assistant. Murray had been listed as a candidate for head coaching positions at the College of Charleston and Fordham.
He did not land either job. Losing his position at Louisville during the decision-making process didn't enhance his credentials. Although if you click back on GoCards.com, you'll see Murray pitched as "one of the most organized, detailed and high-energy recruiters that (Mack has) ever been around."
Hmmmm. No wonder the coaching grapevine is humming 34 days later.
The picture does not seem as strange when you realize that departing U of L players like Josh Nickelberry, David Johnson, Charles Minlend and Aidan Igiehon are listed on the Cards' basketball website roster.
Although many schools scrub information about departing coaches as soon as they are gone, my expectation is Louisville will remove the information about Gaudio and Murray after their contracts expire April 30. Expect a quiet exit hidden in a mound of Kentucky Derby coverage next week.
On Wednesday, Louisville announced that Kahil Fennell was promoted from director of operations to assistant coach. He will be entrusted with responsibility recruiting as well as working with players.
A source said Fennell's relationship with current U of L players is considered a strength. But the announcement from U of L about that move said Mack and Fennell will be available to discuss the decision after Mack settles on the third assistant, who will form the staff with holdover Mike Pegues.
Until then ... well, this hasn't been like Mick Cronin getting the Murray State job, Kevin Willard departing for Iona, Billy Donovan heading to Marshall or Tubby Smith leaving for Tulsa, the kind of jumps we saw with Rick Pitino's former assistants at Louisville and Kentucky.
This was two guys not having their contracts renewed after three seasons with no NCAA Tournament victories — and no conversation about any of it.
Two guys that the basketball world respected — and the blanks still have not been filled in.
Copyright 2021 WDRB Media. All Rights Reserved.