LOUISVILLE, Ky. (WDRB) – Churchill Downs has essentially banned horses trained by Bob Baffert, the winningest trainer in the history of the Kentucky Derby, from qualifying for Kentucky Derby or Kentucky Oaks as long as he is under suspension at the iconic track.
The announcement came in a release from the track on Friday, as it rolled out its 2021-22 "Road to the Kentucky Derby" points program for qualification to the 148th running of the Derby next May.
Churchill said in a statement that no horse trained by anyone suspended by the track could be awarded qualification points for the 148th Kentucky Derby. The points system is going into its 10th year. No trainer has ever been banned from accumulating points, let alone a Hall of Fame trainer with Baffert's track record in the famous race.
"Effective Sept. 30, 2021, points from any race in the 'Road to the Kentucky Derby' will not be awarded to any horse trained by any individual who is suspended from racing in the 2022 Kentucky Derby or any trainer directly or indirectly employed, supervised, or advised by a suspended trainer," the release said. "Should a horse trained by a suspended trainer, or any trainer directly or indirectly employed, supervised, or advised by a suspended trainer, finish in a position that would have earned points in a 'Road to the Kentucky Derby' race occurring after Sept. 30, 2021, the points associated with that finish position will be vacated."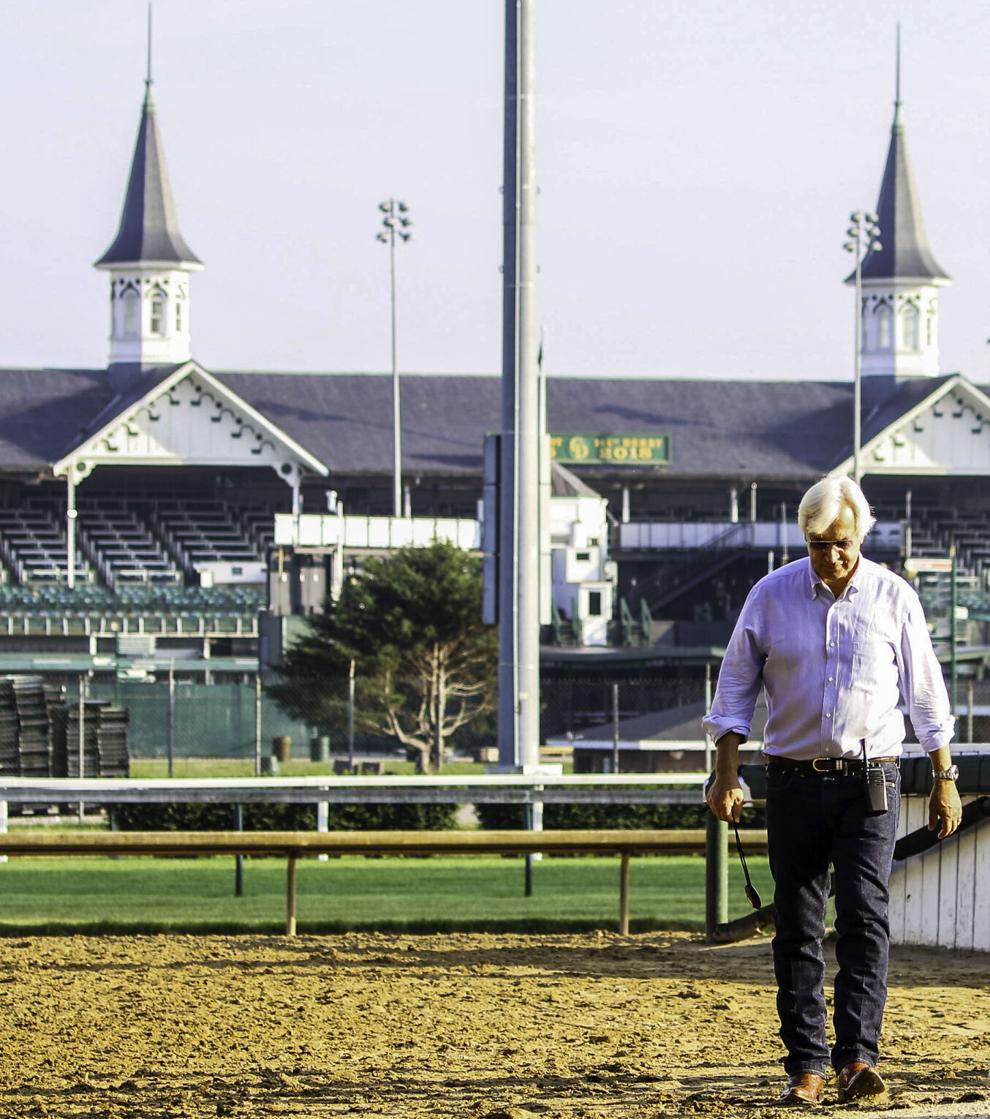 At the moment, Baffert is the only trainer suspended from racing at Churchill Downs, having been suspended originally on May 9 after his 2021 Kentucky Derby winner, Medina Spirit, was found to have a banned substance, betamethasone, in post-race blood tests. When the split sample also returned with the banned substance, Churchill suspended Baffert for a term of two years, beginning on June 2.
Churchill officials cited an agreement Baffert and his veterinarian signed to not administer any race-day banned substances while stabled at the track. Baffert and his attorney have since claimed that the drug, an anti-inflammatory steroid, was given as a topical ointment to clear up a skin condition and was not injected into the colt, and that state racing commission rules bar only the injection of the drug, not its topical administration.
That issue is tied up in court, in labs, and with the Kentucky Racing Commission, which has yet to give Baffert a hearing. Both sides are waiting for the return of testing on a raceday urine sample, which Baffert's legal team argues could prove that the trainer administered the drug as an ointment.
Whether that matters to the racing commission is unclear. What is clear is that it does not matter to Churchill Downs, which moved to suspend Baffert even before the racing commission's hearing and investigation.
On the strength of Churchill's move, the New York Racing Administration also barred Baffert's horses from competing until the outcome of Kentucky's disciplinary process was known. That decision was reversed by a federal court, which ruled that as a state entity, NYRA was bound to give Baffert due process before making such a move. On Friday, NYRA charged Baffert with conduct detrimental to the best interests of racing, health and safety of horses and jockeys and the organization's business operations. It set a video hearing for Sept. 27.
Meanwhile in Kentucky, no date has been set for a racing commission hearing, as the sides wait for results of a urine test that the New York Equine Drug Testing and Research laboratory says have been delayed as it waits for a substance to conduct the test to be synthesized by outside labs.
If the racing commission finds that Medina Spirit was in violation of its rules, the colt could be disqualified from the 2021 Kentucky Derby, and second-place Mandoloun moved up to the winner's position.
But with that process now looking as if it could drag into the winter, Churchill moved to clear up the status of Baffert horses as regards the Kentucky Derby and Kentucky Oaks – they will not be able to earn points for qualification, even if they are eligible to run in out-of-state points races.
The first points race for next year's Derby is the Sept. 18 Iroquois Stakes, which will be run under the lights as part of Churchill Downs' "Downs After Dark" nighttime racing card. It kicks off the 21-race prep season, which features foundation-building races over a minimum of one mile between mid-September and mid-February. Points awarded in those races are worth 10-4-2-1 to the top four placings, respectively, except for the Nov. 5 Breeders' Cup Juvenile (GI) at Del Mar, which is worth twice as much (20-8-4-2).
The 16-race "Championship Series" follows those races in a series of tests that often bring the 3-year-old picture into sharper focus. First leg races offer 50-20-10-5 points to the Top 4 finishers: the Risen Star (Fair Grounds), Rebel (OaklawnPark), Fountain of Youth (Gulfstream Park), Gotham (Aqueduct), Tampa Bay Derby (Tampa Bay Downs), San Felipe (Santa Anita) and Sunland Derby (Sunland Park). The most meaningful races are worth 100-40-20-10: the UAE Derby (Meydan Racecouse), Louisiana Derby (Fair Grounds), Florida Derby (Gulfstream Park), Arkansas Derby (Oaklawn Park), Jeff Ruby Steaks (Turfway Park), Wood Memorial (Aqueduct), Blue Grass (Keeneland) and Santa Anita Derby (Santa Anita). Additionally, the Lexington (Keeneland) offers points on a scale of 20-8-4-2 to the first four placings. 
Copyright 2021 WDRB Media. All Rights Reserved.