No. 3 Louisville 78, No. 2 Connecticut 69
CRAWFORD | After years of trying, this time Louisville is too much for Connecticut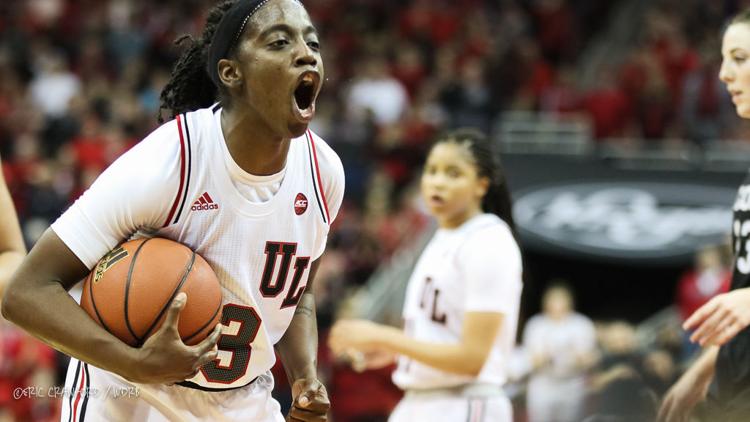 LOUISVILLE, Ky. (WDRB) – This one was a long time in the making. Through a trip to the NCAA championship game in 2009. Then another one in 2013. Through years of trying to carve into conference and college basketball domination by the Huskies. Through years of Louisville recruiting classes, through All-Americans, through losses, 17 straight of them.
It came down to a team that understood it had to be better than its individual parts, even if its individual parts are pretty darn good. And of course, it didn't hurt to have the best player on the court.
Asia Durr scored 24 points, the No. 3-ranked Cardinals got career-best performances from multiple players and Louisville finally got the best of No. 2 Connecticut, 78-69, before a crowd of 17,023 in the KFC Yum! Center.
With 1:52 left, Dana Evans drilled a three-pointer to put U of L up 70-59, and the crowd erupted. Connecticut was too good to go away, but on this night, Louisville was too good to be caught.
Durr, after going scoreless in the first quarter, finished with 23 points. Sam Fuehring had 12 valuable rebounds. Jazmine Jones played the best game of her Louisville career, with 13 points and 12 rebounds. Evans was unflappable, with 20 points and five three-pointers.
And lest you discount Arica Carter for 1-of-8 shooting, remember that she had three rebounds, three assists, and played post defense on players six inches taller all night.
It was a consummate, tough minded, team effort. Connecticut made some big threes late and Louisville missed some big free throws, but it also grabbed enough rebounds and showed enough heart that it overcame any shortcomings.
This start was better. A year ago, Louisville trailed 19-0 on the way to a 23-6 deficit at the end of the first quarter against UConn. On Thursday, even without Durr scoring a point, the Cards were tied 21-21 after a breakneck first half.
If the start was the key, credit Durr for being patient, and her teammates for being aggressive. Jazmine Jones played some of the most poised basketball of her career for six points in the opening period, and Dana Evans added five off the bench.
Just 2 ½ minutes into the second quarter, Louisville took its largest lead, when Durr hit her third straight three-pointer.
IMAGES | Scenes from the Louisville women's basketball win over Connecticut
Photos from No. 3-ranked Louisville's 78-69 victory over No. 2 Connecticut on Thursday night in the KFC Yum! Center.
Sustained momentum against UConn, however, is difficult to come by. The Huskies, within five minutes, were back up by one. The Cardinals led at the half behind 14 points in the second quarter from Durr, 40-38.
Louisville started fast again in the third quarter, making three of their first five shots to go up by five. With 4:02 left in the quarter, Louisville ignited its crowd with a fast break that included behind the head dish from Durr to Arica Carter, who made a fingertip grab and dished a touch pass to Sam Fuehring. Her layup put U of L up 50-45, and forced an Auriemma timeout.
"There was a five-minute stretch of the third quarter where I thought it got away from us," Auriemma said. "They stepped up, and we lost our composure."
Louisville wasn't finished. After a timeout by Auriemma, Durr and Evans hit back-to-back three-pointers, and after a baseline jumper in the waning seconds of the third quarter by Durr, Louisville held a 58-51 lead with one quarter to play.
Copyright 2019 WDRB Media. All Rights Reserved.