CRAWFORD | No. 2 Louisville women eager for shot at top-ranked Notre Dame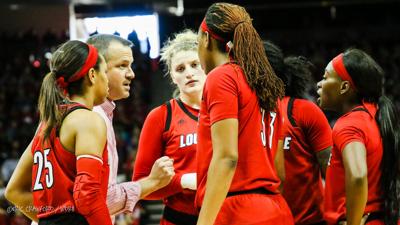 LOUISVILLE, Ky. (WDRB) – If you're looking for Louisville women's coach Jeff Walz to overhype Thursday night's game at top-ranked Notre Dame, you're asking the wrong guy.
It will be the first time U of L has ever played in a No. 1 vs. No. 2 game. It's the first 1-2 matchup in the nation not to feature UConn since 2012 when Baylor beat Stanford. If Louisville wins, and could beat Georgia Tech this weekend, it could be No. 1 for the first time in program history. But Walz said he's nowhere close to thinking about that.
Instead, he's remembering when a depleted Notre Dame team visited the KFC Yum! Center last season and lost 100-67. It was a great night for Walz's program. Notre Dame wasn't worried too much about it when it hoisted the NCAA championship trophy several months later.
"It's one of those, if we can get beat by 30 and end up having a chance to win a national championship like Notre Dame did (last season), I'll take that," Walz said. "I mean, I'll be happy to go up there and lose by 33 if we're able to reverse the script. I don't think (Notre Dame coach) Muffett (McGraw) said, 'Oh my gosh, we have to quit. . . . Our year's over.' It's one game. You can't get too excited, and you can't get too high or too low. You go into it, do we want to win? Of course we do.. . . We could have a shot at being ranked No. 1 in the country. It's never been done here. But that's not my ultimate goal in January. Our ultimate goal is to hopefully be able to win a national championship in April."
The challenge Louisville faces is considerable. Notre Dame's Joyce Center is sold out for the ESPN game, billed as a "Green Out" by the school. The Irish are 102-3 at home in the past 105 games. All three losses were to UConn. They also will have significant motivation after losing to Louisville twice last season.
Notre Dame puts five 1,000-point scorers on the court at the same time. They are exquisite passers. Against Georgia Tech last week, they scored 34 field goals and 30 came off assists. They are outscoring opponents 52-37 in the paint.
They're skilled and deep, and have been aided this season by the return of 6-3 graduate student Brianna Turner, who is averaging just over three blocks per game over the past half-dozen games.
"She's a great rim protector, she scores, she's a great athlete," Walz said. "It just gives them more depth, a player of the year in the league. I think Myisha (Hines-Allen's) sophomore year she was coaches pick for player of the year and Brianna was media pick. So you've got a very talented player back. Mikayla Vaughn (a 6-3 center) is back. You've got lot of depth that they might not've had last year. But they're all very talented. So we're quite aware of what we have to do. We're going to have to play a great basketball game. We're going to have to be on point defensively, we're going to have to take care of the basketball and we're going to have to find a way to rebound."
For his part, Walz brings a team to South Bend that has been road tested. Many of them faced Connecticut on the road last season, and have played in a Final Four environment. They play in front of big crowds at home. From an atmosphere standpoint, they should know what they're in for.
They also have experience with Notre Dame. The beat the Fighting Irish twice last season, including a five-point win in the ACC Tournament championship game.
"We know it's going to be a great atmosphere and a great opponent," point guard Arica Carter said. ". . . This game will be a great test. We haven't played a great team like Notre Dame yet this season."
Walz said he feels good about his team's ability to score, but that it will have to generate more scoring chances from its defense and hit the boards hard to compete against Notre Dame.
"We've got to take care of the basketball," Walz said. "We had been doing a really nice job of that before the break, and now our first two league games we're back up to about 15 turnovers a game. We've got to get that down to about 9 or 10, I really believe, if we want a chance to win. We've talked about rebounding the entire year. And, we're not terrible at it, but what I tried to explain to our kids is, if we're going to turn the ball over, then we have to rebound, because you have to get your possessions back. If we can limit our turnovers, then all of a sudden we're going to get the same number of shots."
Regardless, Walz said he's interested to see how his team handles the challenge. Regardless of the outcome, he will learn something about this group that has opened the season 14-0.
The Cards know they have one of the nation's top players in Asia Durr, and she'll have to play like it. But they'll also need big games from Sam Fuehring, Kylee Shook and Bionca Dunham down low, and contributions on both ends from Arica Carter and Jazmine Jones.
Walz isn't worried about the hype or the atmosphere. He just wants to see his team execute. Louisville has beaten a No. 1 team only once – an NCAA Tournament upset of Baylor in 2013. Otherwise, they're 0-10 against No. 1-ranked UConn.
"It's great to be able to know you're going into a sold-out environment," Walz said. "We're very blessed and fortunate here that when we come to our home games we're getting 8,000 to 10,000 every single game. Notre Dame has the same type of fan base. It makes every game you go play exciting. These kids love to play in front of people. I'd rather go play in front of a packed house, win or lose, and it's great for our players and their players to get that opportunity. It's an ESPN game. It's going to be talked about. Now we have to do our part and go up there and play well."
Copyright 2018 WDRB Media. All Rights Reserved.