LOUISVILLE, Ky. (WDRB) – Nobody is going to confuse Kentucky with Quarterback U. Despite the program's success in recent years, in fact, it has been more like Quarterback Who?
Terry Wilson brought some stability to the position, went 17-8 as a starter, won games at Florida and Tennessee, and became the first QB in program history to throw for 3,000 yards and run for 1,000.
So what's the problem? Well, his health, for one. After rehabbing an injury for much of 2019 he couldn't get things off the ground in 2020, and wound up transferring to New Mexico after the season.
He left his two backups – Beau Allen and Auburn transfer Joey Gatewood – to battle for the position, then Will Levis transferred from Penn State to join the competition.
UK hasn't produced an NFL starting quarterback since Tim Couch. No team in the league has gone longer. What the Wildcats have had is fantastic talent, at times, at receiver and running back, and some impressive offensive lines.
That's not likely to be enough for the program to take its next step, from the middle rung of the SEC's Eastern Division to the top. That's why head coach Mark Stoops overhauled his offensive staff in the offseason, bringing in a new coordinator, Liam Coen, who spent the past three seasons with the Los Angeles Rams, the last of those as assistant quarterbacks coach.
With the consistency Stoops has built on defense, Kentucky doesn't need America's Next Great Quarterback. It just needs a pretty darn good one.
Stoops, at the moment, just hopes to find the right one. And it should come as no surprise to fans or anyone else that he has not set a tight deadline for doing that.
"It's more important to get it right than to be in a hurry," Stoops said at Friday's annual media day at Kroger Field. "Is there a benefit (to naming a starter more quickly)? Yes, I believe there is. There's a benefit to getting reps. That's part of the negative to having a lot of talented players at any position, but it seems like it's obviously much easier to rotate guys in throughout practice and preseason at other spots than quarterback. We do feel like there is quality depth maybe for the first time. You go all the way down and have four or five guys that you feel confident that could play football at this level, and getting them reps is a concern, and we will work that as best we can."
While Kentucky is looking to get more production through the air, Levis comes to Penn State with a reputation for his running, too. Levis, a grad transfer, played in 15 games in three seasons with the Nittany Lions, completing 61 of 102 passes in 15 career games for 644 yards and three touchdowns, with two interceptions. He also carried 133 times for 473 yards and six touchdowns.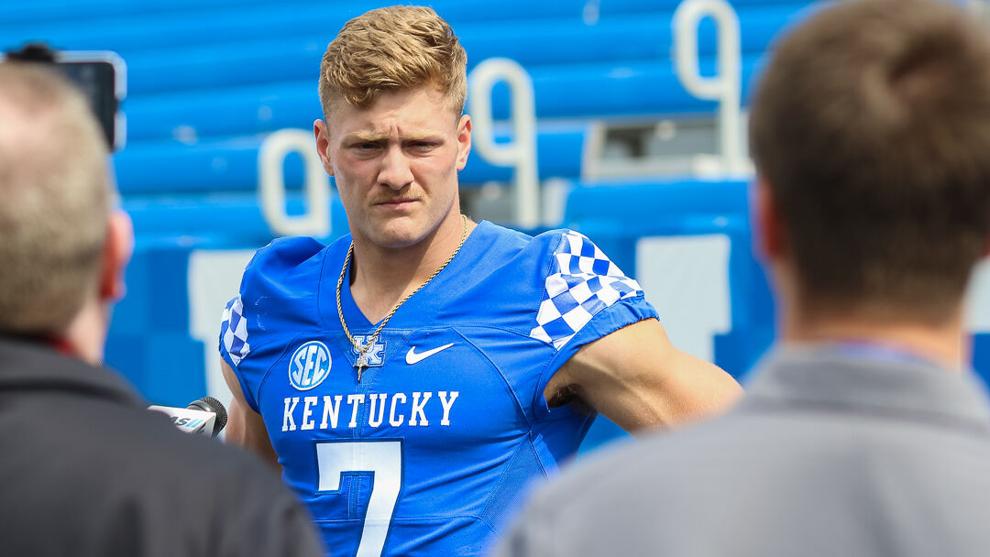 "He's obviously an intelligent, bright kid that can pick up on the scheme pretty quickly, which is nice," Coen said. "All of the kids did a nice job in the spring of picking up the offense. Now he's a bit behind because he's got to learn and rep the basics before we can take it to the next level, which is the goal."
In his media day remarks, Coen wasn't going to tip his hand on a starter.
"Anybody could be at this point," he said. "We're not in a hurry. We want to make this decision right and pick the best player to lead our offense. The quarterback should be the face of your program. It's a process. It should be fun to watch."
Gatewood may have separated himself a bit in the spring with his downfield accuracy, but it's tough to call anyone a favorite as fall camp opens.
"He did a great job pushing the ball down the field in the spring," Coen said. "His accuracy over 20 yards was pretty nice to see in terms of down-the-field accuracy and getting the ball out on time. We were in plenty of blitz and third-down situations that we need to continue to get better at. Progression reads, moving past your first and second reads, what do you do when you don't have a clean pocket? Free blitzer in your face and what do you do? There's a lot of those scenarios that probably haven't come up yet through 15 spring practices...that will be nice to see how guys do. How do we react to some more game-like situations?"
In addition to the three main contenders, Kentucky also has freshman Kaiya Sheron, fresh off a state championship at Somerset, and Nik Scalzo in the quarterback room.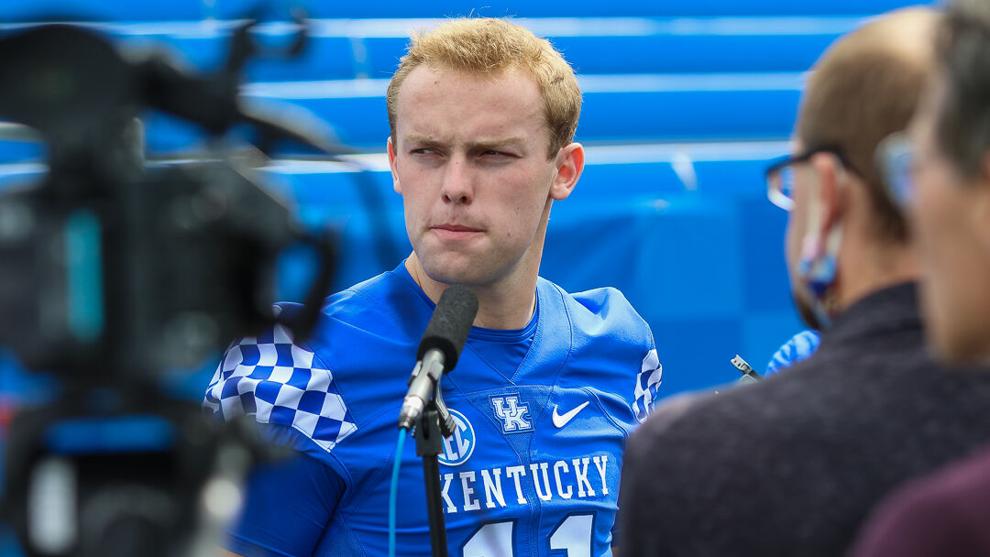 Coen says that over the next few weeks, the choice will become clear. But if it doesn't, some little things could determine the decision.
"It really depends on how close it is," Coen said. "Your tape is your resume as a football player. … At the end of the day I think it takes care of itself in a lot of situations, but if it is close, who gives us the best chance to not turn the ball over, to keep the chains moving? Who has been more successful in the red zone? It comes down to those situation parts of the game that probably will determine who the quarterback is. And leadership, do the leaders do want to play for him and with him?"
Regardless, with more depth than Kentucky has had in a while, Stoops and his staff are hoping fans won't be saying Quarterback Who once the season gets going.
Copyright 2021 WDRB Media. All Rights Reserved.