LOUISVILLE, Ky. (WDRB) -- The Kentucky Horse Racing Commission upheld a decision by executive director Mark Guilfoil to deny Bob Baffert a stay of the 90-day suspension handed down by stewards Feb. 21.
The suspension effectively bans Baffert from participating in races across the nation. It was imposed by Kentucky stewards for multiple substance positives in a one-year span on the day that they also disqualified Medina Spirit as winner of the 2021 Kentucky Derby for the presence of betamethasone, a drug banned on race days in Kentucky, in a post-Derby blood test.
Baffert was seeking a stay of the suspension while he appeals the stewards' decision. His attorney, Clark Brewster, argued that the refusal to delay the suspension while an appeal is held is virtually unprecedented in Kentucky and would deal a "virtual death blow" to Baffert's stable and be an an unfair denial of livelihood to the trainer and those he employs while a matter is still being adjudicated.
Baffert also has filed suit in Franklin Circuit Court, asking a judge to order the KHRC to grant a stay. The suspension is set to begin March 8 and run through July 5. It is separate from a two-year ban placed on Baffert by Churchill Downs at all of its racing properties. Baffert filed suit against Churchill Downs on Monday.
In Friday's special hearing of the KHRC, commissioners were not moved by Brewster's arguments. The vote was 10-0 against granting a stay, with three abstaining because of conflicts of interest.
Jennifer Wolsing, general counsel for the racing commission, argued that Kentucky regulations ban betamethasone regardless of the form in which it is administered and said that the state's experts say that the drug, once in a horse's bloodstream, has the same impact regardless of whether it was administered by injection or topically.
"Maybe this betamethasone did come from OTOMAX (ointment), maybe it didn't," Wolsing said. "But when you look at our regulations, that doesn't make a difference. And when you look at the science, it doesn't make a difference, either."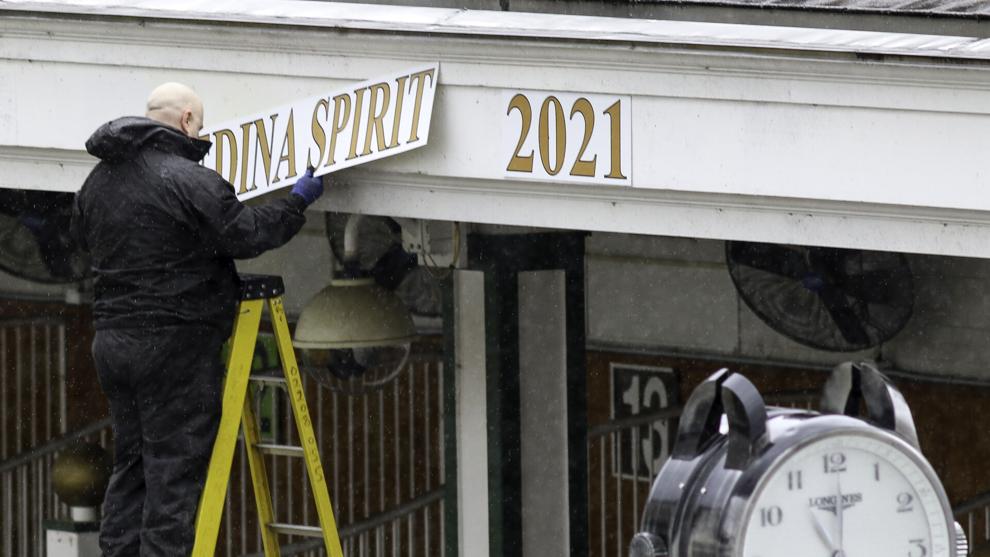 Wolsing said the best reason for not granting a stay was to protect the sport of horse racing and the betting public. She said Baffert had not made good on promises to hire a new vet and enact more stringent oversight of his horses after two positive tests for lidocaine on Arkansas Derby Day in 2020.
She also pointed to a series of interviews Baffert gave after he first disclosed Medina Spirit's positive test, which she claimed damaged the sport.
"Mr. Baffert did not take responsibility, but instead began to hold press conferences, advancing conspiracy theories, stating that there was a unnamed problem in racing, but it was not Bob Baffert, and shifting his story as to the source of the medication positive," she said. "The effect of this was to diminish confidence in an entire industry, breeding, racing and sales."
She said that the courts have upheld the commission's right to enact suspensions immediately before appeals, citing the Fourth Circuit Court of Appeals, "which stated that medication violations are quote, 'so serious and the consequence is so severe, and absolute protection to the horse and to public, is fully warranted until the matter can be formally resolved.' The public is entitled to protection from the continuing danger, that one who participates in drugging his horse will do so again, and that one who fails to protect his horse from drugging by others will repeat his negligence. Do we want to give Mr. Baffert an opportunity to repeat his negligence?"
Brewster said that stewards were so vague in their ruling that finding of fact is nearly impossible to ascertain, and that imposing such a serious penalty on that basis is unfair and unlawful.
"This is an overreaction, I believe," Brewster said. "But without the factual findings set forth we don't know what the stewards thought. ... No reviewing court would give it deference by virtue of the fact that there's no findings of fact."
After the hearing, Brewster confirmed that he will press these same points again court very soon.
"KHRC's decision is a sudden, arbitrary departure from its own 100-year precedent and from the general practice of courts everywhere in the United States," he said. "Let's be clear: This is part of a continuing coordinated attack against Bob by powerful forces that are rife with ethical and business conflicts and that want to keep Bob's horses from competing against theirs at the track. We look forward to obtaining a stay in an impartial, unbiased court of law."
Meanwhile, at least one animal advocacy group applauded the decision from KHRC.
"Bob Baffert is the Lance Armstrong of horse racing, and has riddled the sport with scandal after scandal unchecked for years," said Marty Irby, executive director at Animal Wellness Action. "We applaud the Kentucky Horse Racing Commission for upholding Baffert's suspension, and believe making an example of America's most embattled serial violator can be a key turning point for U.S. horse racing. Just like the cockfighters indicted earlier this week in Kentucky, Baffert has gone far too long without facing the consequences of his actions against the welfare of the voiceless we all care so deeply about."
Copyright 2022 WDRB Media. All Rights Reserved.