GREENSBORO, N.C. (WDRB) – When Kentucky faces Kansas State on Sunday afternoon with a berth in the NCAA Tournament Sweet 16 on the line, it will be a bit of role reversal from the last time the teams met in the NCAA Tournament, in 2018.
Kentucky was a No. 5 seed coming into that game, and was favored to win, but Kansas State scored a 61-58 upset of the Wildcats. On Sunday, K-State likely will be a slight favorite (it was a 1-point favorite in the opening point spreads).
KSU (24-9) is the No. 3 seed in the East Region. Kentucky (22-11) is No. 6.
Both teams are the Wildcats. But the similarities pretty much end at that point.
"It sounds like they got a big guy at every position, and we got a little guy at every position," Kansas State coach Jerome Tang said. "So we're going to have to figure something out."
Some nuts and bolts on the matchup, plus the best quotes and notes to get you ready for the game.
BROADCAST INFO: The game is the second game of the Greensboro session on Sunday, scheduled to begin at 2:40 on CBS, with the broadcast team of Ian Eagle, Jim Spanarkel and Evan Washburn. (Tom Leach and Jack Givens will have the radio broadcast on the UK Radio Network). But don't be surprised if the start time drifts a bit later.
COACHES: Kentucky's John Calipari is in his 31st season, 14th at Kentucky. His overall on-court record is 832-252 and his record at UK is 387-112. Kentucky is 32-9 in the NCAA Tournament under Calipari, who is 57-20 in the tournament all time. Tang is in his first season at Kansas State, and just won his first NCAA Tournament game in Friday's 77-65 win over Montana State.
SERIES: Kentucky leads the series 9-1 and is 2-1 in NCAA Tournament play. The lone loss in the series came in the 2018 Sweet Sixteen.
ALL-TIME LEAD IN PLAY: With North Carolina falling short of this year's NCAA Tournament, Kentucky has a chance to tie UNC for the record for all-time tournament wins with 131 – in the Tar Heel State, no less. UK is 130-53 overall in NCAA games.
KEYONTE JOHNSON, COMEBACK PLAYER: K-State forward Keyonte Johnson drew national attention a year ago when, as a player for Florida, he collapsed on the court coming out of a timeout in a game against Florida State. Johnson says he passed out, and that doctors still aren't sure what caused the incident. After a transfer to Florida State, he leads the team with 17.7 points and 7 rebounds per game.
JOHNSON AND OSCAR TSHIEBWE ARE FRIENDS: One of the players who reached out to Johnson after his on-court collapse was Kentucky's Oscar Tshiebwe.
"I'm real cool with Oscar, so it's going to be a good matchup," Johnson said after Friday's win. "He was one of the guys that reached out and prayed for me with my situation, so much respect to him. . . . We have just been close since then. I text him. He texts here and there, probably once every two months or something. But we are real cool, like one of my brothers."
Tshiebwe said, "Yes. He is my boy. I knew him since high school, so when he went through everything, I just reached out to him, and I told him I'm keeping you in my prayers. Just keep praying. Let's just keep trusting in God. God is going to bring you better than you were before.
That's how our friendship is good. I reach out sometimes, check up on him once in a while to see how he is doing."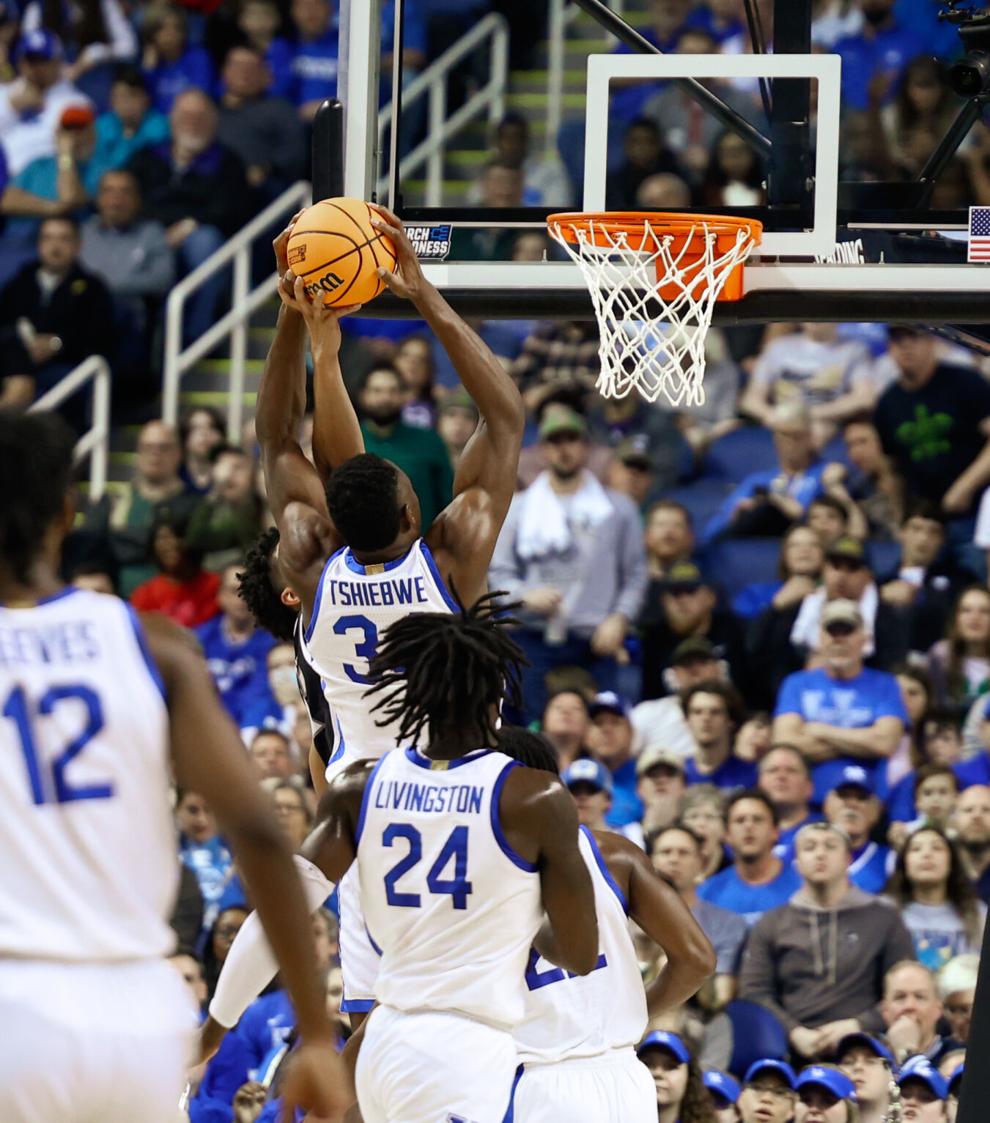 THE ART OF THE REBOUND: Having just pulled down more rebounds than anyone in an NCAA Tournament game since 1977, Tshiebwe is getting lots of questions about rebounding. Here's what he said about his approach to rebounding.
"First thing is a read the ball most of the time, and I position myself where the ball sometimes I don't need to jump," he said. "It's just going to come in my hands. It needs a lot of effort and a lot of fights. I use my body a lot when I'm jumping to put some people back so I can get the rebound. I use my body a lot."
TANG AND TSHIEBWE: The K-State coach faced Tshiebwe in the Big 12 when he was an assistant at Baylor.
"I don't have to look at Oscar on film," he said. "We recruited him really hard when he was coming out of high school, then watched him play for two years and competed against him at West Virginia. You know, I've seen it up close and personal. He does have that 'it' factor. Oscar gets double-doubles. We will try to make it difficult for him, but guys like that do what they do."
Tang said Kentucky doesn't resemble any Big 12 team his players faced.
"We have individual comps," he said. ". . . We were unable to find a comp for Oscar."
K-STATE'S NOWELL EMULATES KENTUCKY'S ULIS: At 5-8, Markquis Nowell is always answering questions about his height. On Saturday, someone asked if there were any advantages to being shorter.
"When I fall, I'm closer to the floor, so that's an advantage," he quipped.
Nowell is averaging 16.8 points per game and leads the team with 3.7 assists per contest. His 3-point range may be deeper than anyone Kentucky has faced this season.
But among those he has patterned his game after is Tyler Ulis, a 5-8 point guard from Kentucky for 2015 to '16, who went on to become the 34th overall pick in the NBA Draft. Ulis is back with the Wildcats as a student assistant coach as he works to complete his degree.
"Tyler Ulis, before I even knew he was playing at Kentucky, I studied him," Nowell said. "I watched him in his college days on what gained him success. Just his defense and play-making ability, I watched and studied over the course of the years and tried to implement that into my game. It's just so crazy to see that he's now on their sideline."
HOME-COURT ADVANTAGE? It's tough to imagine Kentucky with a home-court advantage in North Carolina, but with no home teams in the Greensboro pod this year Kentucky had more fans than anyone in the arena for Friday's games, and likely will again.
Asked about the numbers of blue fans versus those wearing purple expected for Saturday's game, Tong said, "I'm color blind. It all looks purple to me."
POST CHALLENGE: Kansas State doesn't use a traditional post player, which means Tshiebwe and Kentucky's other post players are going to have to get out on the perimeter and guard. Asked about that matchup challenge, Calipari said he's hoping his team poses a challenge of its own.
"You're going to have to go out and play those guys," he said. "But the other side of it is that they've got to play us, too. So it's, OK, we are coming at you and they do a great job of trapping the post and creating opportunities to steal balls and be disruptive."
Tong said, "You can't wrestle with Oscar, right? You're going to lose that. We don't have anybody on our team that can go into a physical wrestling match with him, so we're going to have to use our speed and our quickness to make it difficult for him, and then we're going to have to gang rebound."
K-STATE IS CONFIDENT: Asked about whether facing a different style of play from its own that Kentucky figures to present, Johnson said he's not worried.
"I feel like if we just focus on ourselves we'll be fine," he said. "I mean, we are still watching film, still learning them, but I feel like we played in the toughest conference in the country, so we faced different teams and how different teams play. We faced an SEC team before, so, I mean, I don't think it will be anything hard that we can't contain, really."
Added Nae'qwan Tomlin: "I don't think it will be something that will be much of a challenge besides Oscar."
CAUTION -- GRAPHIC CONTENT: A look at the shooting charts from the first-round games for UK and KSU is instructive. Both are most effective around the rim, but K-State was a lot more efficient in getting opportunities there. Rim protection will be at a premium on Sunday.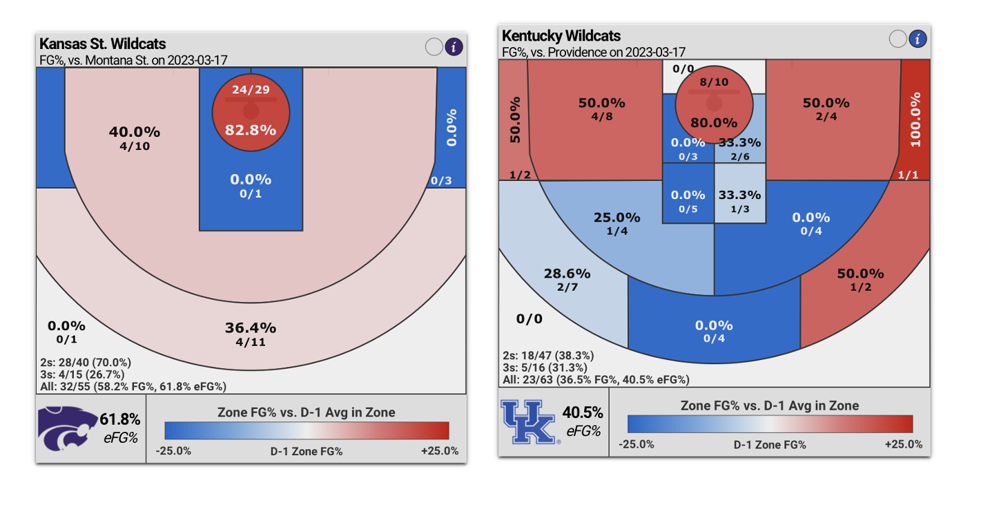 Copyright 2023 WDRB Media. All Rights Reserved.