LOUISVILLE, Ky (WRB) -- 1969! That's the year Charlie Harden first walked into the Brown Forman Cooperage to build bourbon barrels. He was 19-years-old.
How many barrels do you think you have made over the years?
"There's no telling. Sometimes, I've done 600 barrels a day," said Harden.
The same year Charlie started working; Neil Armstrong became the first man to walk on the moon. Woodstock was happening and the Beatles released the album, Abbey Road.
The now 69-year-old is just two months away from retiring after 50-years of service.
He's done just about every job you can do at the cooperage and currently mans the slicker wheel.
He takes each stave, puts it on a grinder, and creates a rough edge. That helps hold the barrels together.
"If I don't do my job the right way, the barrels will leak. We will have some bad barrels," he said.
His first love is raising barrels. It was one of his first jobs when he started. It's like putting together a complicated puzzle, one piece of wood at a time.
Charlie doesn't do this job anymore, but he wanted to show us that he still has what it takes to keep up with men half his age.
"I used to spot a guy 18 staves and I would beat him to 31 staves. A lot of guys tried to high raise me, but they couldn't. I would be doing my job and laughing at them at the same time," he said.
In a matter of days, Charlie will slick up his last stave.
"I will miss the slicker wheel and my co-workers. I have met a lot of good people," he said.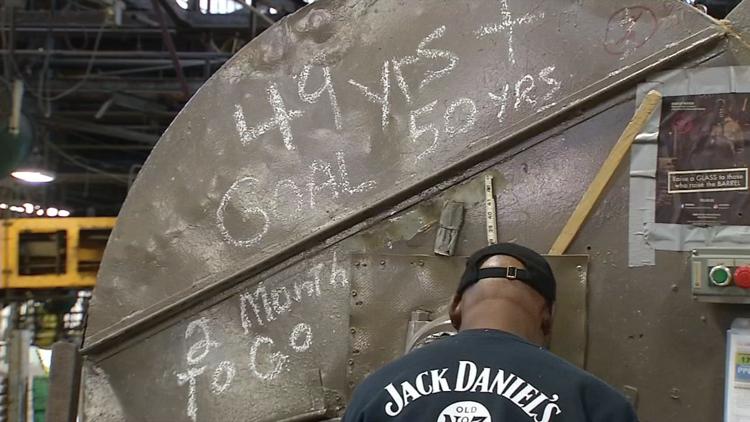 What do you plan to do when you retire?
"My granddaughter thinks I'm going to be a babysitter, but I don't think I'm going to be a baby sitter. I probably won't do anything," he said.
Charlie Harden walked in the building a teenager and will walkout with the respect of everyone in the building. That's something money can't buy. It can only be earned at the price of extremely hard work.
Copyright 2019 WDRB Media. All Rights Reserved.