Due to uncertainty surrounding the coronavirus pandemic, online education has become a priority for students in Kentucky and around the world. But even well before the current health crisis, Indiana University was positioning itself as a leader in distance education by offering an array of courses, programs, and degree types that students could access at home. IU Online has been educating students online for longer than many online schools have existed. The institution began cataloging courses online in the 1990's before most people even had access to the internet in their homes. In the decades since, IU has fine-tuned the process of tailoring an online education to mirror what students receive in a classroom.
"We have a heritage that comes with doing this for a long time," says Chris Foley, Associate Vice President and Director, Office of Online Education at Indiana University. "We have a lot of experience with making sure online classes are in sync with our traditional education. We've been adding probably 10 to 15 degrees online every year for the last few years, and I think that's going to increase faster as people get more familiar with online education in the current scenario."
IU Online boasts over 150 programs, from certificates and bachelor's degrees to doctorates, a portfolio befitting a comprehensive research university.
"There's something out there for everybody to take a look and see what options we might have for them," Foley says. And because of the increased interest in online learning, "we're continuing to see growth. Over the next 12 to 18 months, I think it's quite possible that we could be close to 200 options for students to complete their degrees online. We're exploring how we can deliver even more in the online space."
 Business, technology and beyond
Degrees offered by IU Online range broadly — from classic programs like literature and political science, to those that prepare students to work in health- and technology-related fields, to business-oriented tracks like analytics and management, to niche pursuits like philanthropy and sustainability. Many programs provide the skills needed to weather the current climate best, particularly in fields related to business and healthcare.
"Businesses are certainly having to retool, so our degrees in undergraduate and graduate business are very valuable right now," Foley says. "Undergraduate and graduate business degrees also complement leadership programs, which are highly valued. And while I understand that folks who would typically pursue healthcare degrees are busy right now treating coronavirus patients, we have an RN to BSN program, a medical imaging technology program, and public health degrees — all of which are very valuable at this particular time."
To fill the public need during the COVID-19 crisis, IU Online has delivered courses in social work and other related fields so graduates are prepared to help their communities. Degrees in data analytics and informatics have become popular among students looking to widen their career prospects. And IU Online also offers various certificates that can help students acquire new skills.
"The most popular ones are very much tied to professional tracks — I work in the insurance industry and I want to learn about business analytics, or I have a degree in liberal arts but I want something in applied informatics," Foley says. "Human resources development is another popular one. These certificates are beneficial to people on their resumes, showing that they've acquired new skills for their professional life."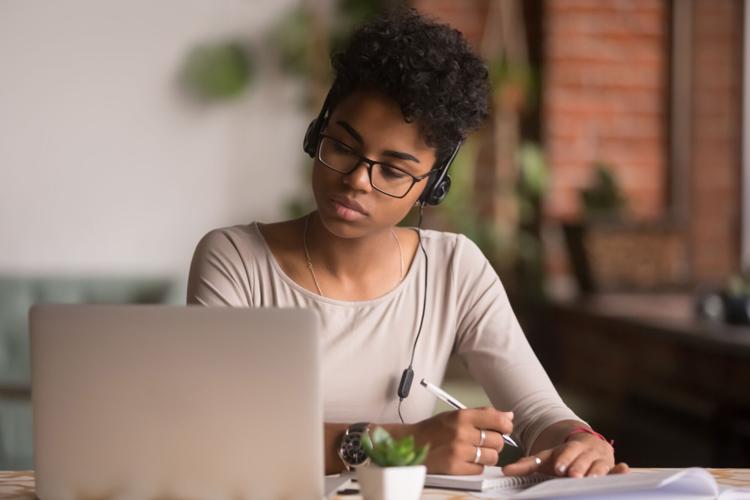 Online that mirrors on campus
Most online educational providers are not well-known research universities with a 30-year track record and more than 150 programs of study with more being added every semester. When researching online opportunities, it's important to realize that while all degrees may look similar on paper, they aren't viewed that way by prospective employers.
"Degrees can really vary a lot between one institution or another," Foley says. "I'm not saying that they're always better or worse; sometimes they're different, and they meet different needs. But when you get into the online world, there's a broader spectrum of quality. There has been a lot of questionable activity in the online space over the past 10 to 15 years. That leads some people to be somewhat suspicious of online education, but it also means someone who is looking at online education really needs to do their homework to understand not only what the program is like, but how it's going to be viewed by their employer or the person they're interviewing with."
IU Online students may be eligible for financial aid, and those living in several Kentucky counties are eligible for tuition reciprocity for students taking programs through IU Southeast. And because IU Online is part of an established state university, its students know their education closely reflects what students receive in person on campus.
 "We make sure that online education is not separate from a traditional education. They lead to the same IU degree," Foley says. "Those are really powerful things to take into consideration. Other institutions have different ways of delivering education, different accreditation, maybe different needs. I don't mean some are inferior or superior, but I am saying our education in the online space aligns very closely to our traditional education, and that's not always the case at other institutions."
Interested in learning more about IU Online, or the courses it has to offer? Call (844) 948-4863, fill out their online form, or visit their website at Online.IU.Edu for further information.