LOUISVILLE, Ky. (WDRB) – One of Amazon's two massive e-commerce warehouses in Shepherdsville, Ky. closed Monday for a 48-hour break after three cases of COVID-19 were confirmed "at the site," according to a voicemail message sent to employees and obtained by WDRB.
In the message, the speaker identifies himself as Matt Greene, the general manager of the Shepherdsville warehouse known as SDF-9, and says the closure started at 5 p.m. Monday. Operations are to resume with the night shift scheduled for Wednesday, March 25.
Greene said the associates who tested positive for the disease caused by novel coronavirus "are receiving medical care while in quarantine and we are supporting them at this time."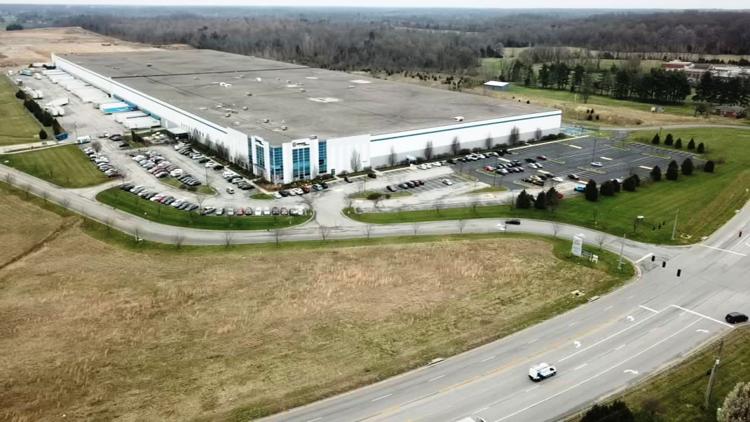 "They won't be allowed back into the building until they are symptom-free," Greene said in the employee message.
Amazon is following U.S. Centers for Disease Control & Prevention guidelines in identifying other people with whom the infected may have had contact and notifying them, "if needed," Greene said in the voicemail. 
In a statement not attributed to any individual, Seattle-based Amazon said: "We are supporting the individuals who are now in quarantine and recovering. We are following all guidelines from local officials and are taking extreme measures to ensure the safety of employees at our site. Out of an abundance of caution, and in addition to our enhanced daily deep cleaning, we are temporarily closing the Shepherdsville, KY site for additional sanitization."
Jennifer Bohannon, who works at SDF-9, said she was "appalled and disappointed" to learn that the warehouse is shutting down for only two days.
"The concern is, how many are walking around (the building) now, asymptomatic?" she said, referring to employees who may be spreading the virus without knowing it.
Amazon last week confirmed its first COVID-19 case in its shipping network at a facility in Queens, New York, according to a report by Bloomberg.
Last week Amazon announced it wants to hire 100,000 workers and is boosting pay by $2 an hour as it receives a surge of orders because many physical stores are closed.
The SDF-9 facility mainly processes returns, Bohannon said.
In a letter to employees on Saturday, Amazon founder and CEO Jeff Bezos said the company plays a critical role in getting needed supplies to people and businesses during the pandemic.
"People are depending on us," Bezos said in the letter.
Bezos acknowledged that "much of the essential work" Amazon does cannot be done from home.
"We've implemented a series of preventative health measures for employees and contractors at our sites around the world — everything from increasing the frequency and intensity of cleaning to adjusting our practices in fulfillment centers to ensure the recommended social distancing guidelines," Bezos said in the letter. "We are meeting every day, working to identify additional ways to improve on these measures."
Despite that, Bohannon said there still several places in the Shepherdsville warehouse where employees congregate, such as break rooms, bathrooms and entrances and exits.
Ada Shortridge, who works at the nearby Amazon warehouse known as SDF-4, said she was upset not to have been told about the SDF-9 closure because the two facilities share employees on a daily basis depending on which has a labor shortage.
She said if SDF-9 has a coronavirus problem, SDF-4 may have one as well.
"People work in both of these buildings," she said. "People carpool together."
This story has been updated to reflect Amazon's response received midday Tuesday, March 24.