LOUISVILLE, Ky. (WDRB) – School choice supporters should "insist" that state and federal policymakers back measures like public charter schools and scholarship tax credits amid the COVID-19 pandemic, U.S. Education Secretary Betsy DeVos said Monday.
"I think the urgency around change has become ever more clear in the last few months than ever before previously," DeVos, a longtime school choice advocate, said during a roundtable event hosted by the Kentucky Pastors in Action Coalition.
"I know in all of the years that I have advocated for state-level policy empower parents, never before have we had an environment like we have today, and so I believe that now is the time to raise voices more loudly than ever before and to insist on policy changes that need to take place."
During her remarks, DeVos noted that Kentucky lawmakers passed a charter school bill but have not offered permanent state funding. None have opened since the law passed in 2017.
Scholarship tax credits have also failed to gain traction in Kentucky's General Assembly thus far.
David Patterson, communications director for the Kentucky Education Association, said DeVos should focus on helping public school districts weather the COVID-19 pandemic, which has "spiked to its highest peak ever" in the state.
"Instead, she drops in for a day to push a political agenda that has been proven disastrous in states and school systems all across the country," Patterson said in a statement. "Betsy DeVos has a habit of visiting Kentucky and discussing education without ever actually meeting with the public educators who teach 88 percent of all K-12 students across the commonwealth."
DeVos also lamented that school districts like Jefferson County Public Schools have only offered distance learning options for families. DeVos and President Donald Trump are among those pushing schools to reopen during the COVID-19 pandemic.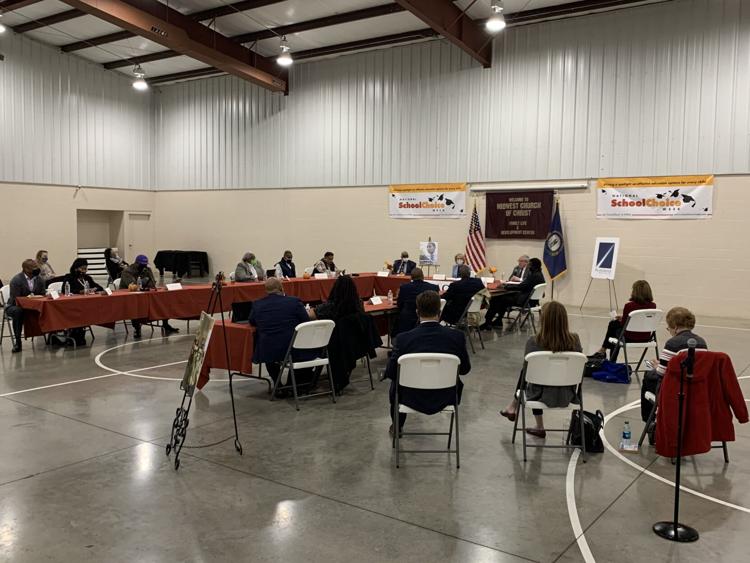 For DeVos, allowing students to return to classrooms is "absolutely critical" as long as schools have plans on how to handle "a real spike in coronavirus cases."
"This notion that schools just stay closed down and only offering distance learning for months and months and months is not the right answer for so many kids, and my heart breaks for them," she told reporters after the event.
JCPS has been closed since the onset of the COVID-19 pandemic in March, and the district extended nontraditional instruction until the local caseload drops.
Jefferson County is currently in the red category of the state's COVID-19 incidence rate metric with 33.1 new daily coronavirus cases per 100,000 residents based on a seven-day rolling average as of Sunday, and state guidance directs school districts to transition to virtual learning and cancel sports and extracurricular activities when their counties hit red.
Education Sec. @BetsyDeVos taking part in a school choice round table at the Midwest Church of Christ in west Louisville. pic.twitter.com/FrElcCtgLF

— Lawrence Smith (@LASmithReports) October 26, 2020
JCPS Superintendent Marty Pollio said Friday that high school teams not competing in postseason play will suspend games this week.
DeVos said she could not speak to local COVID-19 numbers, but she reiterated her stance that families need in-person learning options for their children.
Reopening classrooms should be "an important and primary option" for schools throughout the U.S., she said.
"We know that for a variety of health measures, that's the right thing for all kids," she said.
But Gov. Andy Beshear disagreed, saying in-person instruction isn't safe "when you have uncontrolled community spread."
"Everybody wants kids in school, but there is just a level when the spread is simply too much," he said during his daily COVID-19 press conference.
Whether another COVID-19 aid package passed by Congress includes more federal money for school districts throughout the U.S. remains to be seen.
The $2.2 trillion Coronavirus Aid, Relief, and Economic Security Act included more than $13 billion for K-12 schools, but DeVos said Monday that less than 12% of those dollars have been spent at the local level.
JCPS, for instance, planned to buy health and sanitation supplies and Chromebooks with its millions in CARES Act funding. The district received $35.6 million from the federal stimulus, though a portion must be shared with private schools in Jefferson County.
Pollio was among more than 60 leaders at the nation's largest school district who pressed Congress for more than $200 billion in additional COVID-19 relief funding for schools throughout the U.S.
Congress has not passed a second stimulus package since its initial offering.
Senate Republicans' proposal in September included a two-year federal tax credit scholarship program worth $5 billion annually and $105 billion for an education stabilization fund to help school districts with pandemic-related expenses, according to Education Week.
Talks between the Trump administration and Democratic House Speaker Nancy Pelosi are ongoing. The House passed its proposed $3 trillion stimulus plan, which includes $90 billion for an education stabilization fund, in May. 
"We have continued to advocate to ensure that schools have the resources that they need, and in fact the Trump administration has advanced a notion of support for up to $150 billion in additional funding for K-12 schools," DeVos told reporters. "But I go back to the fact that there's a lot of resources that have not yet been utilized either."
Toni Konz Tatman, communications director for the Kentucky Department of Education, said $33.9 million of the $203.9 million, or 16.6%, of stimulus money received for K-12 schools has been reimbursed for districts throughout the state.
Several reasons, such as districts waiting on orders to be fulfilled, may explain why federal stimulus dollars haven't been spent, she said.
"We are confident that our local school leaders will use these much-appreciated federal dollars to help offset the unexpected costs of the pandemic in a time and way that is best for their individual students and their community," Tatman said in a message to WDRB News.
DeVos announced Monday that charter schools can now be connected to religious institutions based on a recent federal court ruling.
She also praised a U.S. Supreme Court decision that legalized scholarship tax credits, ultimately reversing bans on public financial support for church-affiliated schools in state constitutions like Kentucky's.
"The days of discriminating against students who want to pursue a faith-based education are mercilessly over," she said during the event.
Copyright 2020 by WDRB News. All rights reserved.