LOUISVILLE, Ky. (WDRB) -- Jefferson County Public Schools Superintendent Marty Pollio said he's "very confident" that classrooms in Kentucky's largest school district will reopen during the 2020-21 school year as thousands of teachers and support staff get their first COVID-19 vaccinations.
Twelve-hundred JCPS teachers and support staff from 25 schools rolled up their sleeves Friday for the first dose of Moderna's COVID-19 vaccine, potentially allowing the district to reopening schools later this school year pending the Jefferson County Board of Education's approval. JCPS school nurses have already received their initial vaccine doses.
"Now we get to see the light at the end of the tunnel," Pollio said. "... It gets brighter each week."
Gov. Andy Beshear, who joined Pollio and others Friday at Broadbent Arena's drive-thru vaccination site, said every teacher and school district employee who signed up for COVID-19 vaccines will likely get the initial doses by Feb. 5, adding that Kentucky will likely be the first state in the U.S. to inoculate teachers and school staff.
"This is what the path to victory over this virus looks like," Beshear said as cars lined up for vaccinations behind him.
Initially, the governor predicted vaccinations for K-12 personnel would start near the beginning of February.
"It's pretty good to beat your goal even before you thought the program was going to start," he said. "... This is going to help us safely get our kids back in school faster than just about any other state, and it's going to allow us to do it without risking the health of those that come in to serve those children."
More than 13,000 JCPS teachers, support staff and contractors have signed up for COVID-19 vaccinations at Louisville's Broadbent Arena drive-thru site. Throughout Kentucky, more than 82,000 teachers and district employees have requested shots, according to the Kentucky Department of Education.
"I'm very excited to have this opportunity to keep myself protected and my family and my friends as well as my students so that we can get back into the classroom and get learning going the traditional way," said Briawna McKinley, a kindergarten teacher at J.B. Atkinson Elementary School.
"It gives me hope that we'll be back in school soon," she said after chatting with Beshear, who handed out Team Kentucky facemasks to teachers and staff waiting in the drive-thru line for vaccinations.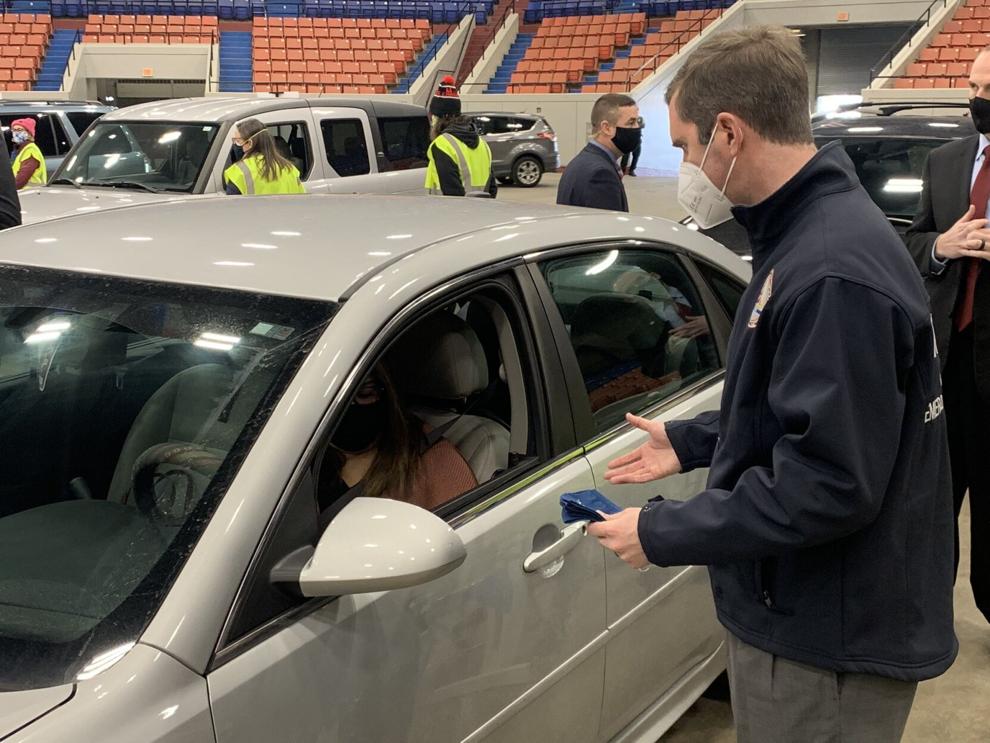 Dr. SaraBeth Hartlage, interim medical director for Louisville Metro, said about 5,400 JCPS teachers and staff members, 1,400 Archdiocese of Louisville workers, and hundreds of private-school employees will be vaccinated at Broadbent Arena next week.
Louisville Metro is working with area hospitals as the second group of vaccine recipients, which includes school employees and residents 70 or older, register for appointments, she said.
"The metro area continues to receive allocations of around 10,000 doses per week for this population, and we have at least 10 times that many people who are seeking vaccination in that (70 or older) demographic," Hartlage said.
Classrooms at JCPS have been closed since mid-March in the COVID-19 pandemic's early days and remained shuttered as the 2020-21 school year began.
Jefferson County has been in the state's "red zone" for COVID-19 transmission for months, and the local incidence rate was 56.7 new daily cases per 100,000 residents as of Thursday. That's more than twice the "red zone" threshold of 25 new cases per 100,000 residents each day based on a seven-day rolling average.
Exactly when JCPS reopens its classroom doors depends on the school board, which voted 5-2 Tuesday to allow winter sports practices and competitions to begin after an emotional debate on the safety of such a move. Previous timelines presented to the board show a 28-day wait before Moderna vaccine recipients can get their booster shots followed by another seven-day waiting period.
Pollio has invited Dr. Sarah Moyer, Louisville Metro's chief health strategist, and Dr. Connie White, the state's deputy public health commissioner, to attend the board's Feb. 2 meeting to discuss the latest COVID-19 health information at the time and answer any questions members have.
A recommendation and vote on reopening schools could come "a couple of weeks later," Pollio said.
"I'm confident that they will do what's best for children," he said, adding that he's "very confident" schools will reopen. The exact timing also depends on how quickly vaccine doses can be allocated, he said.
"Once we know that for sure, we'll be able to propose a date to our board," Pollio said.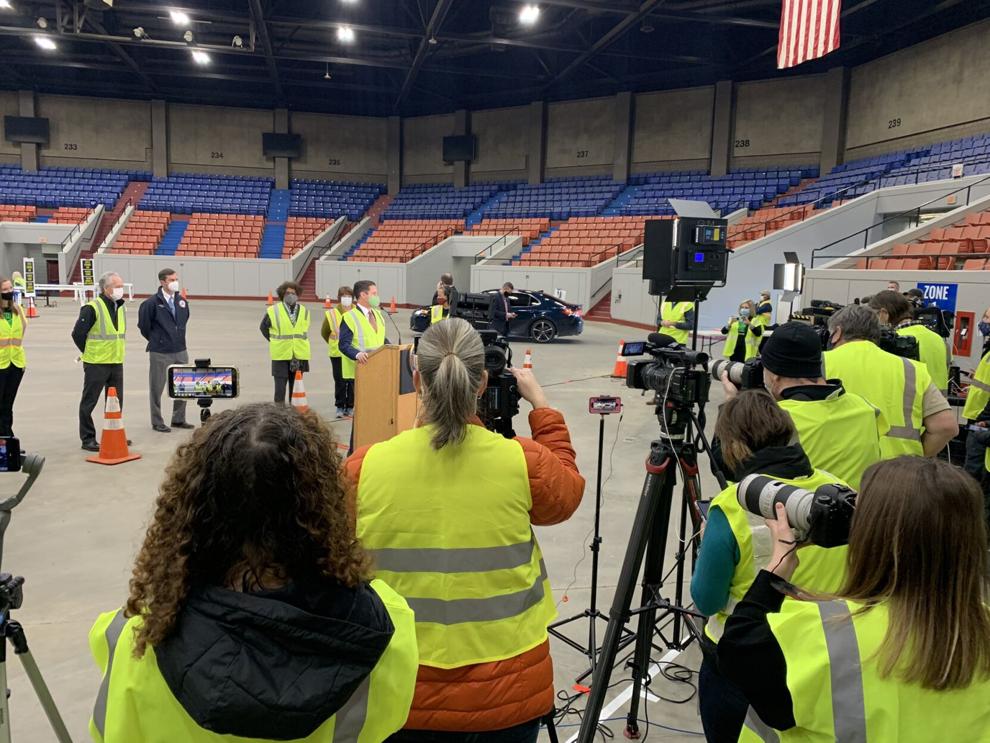 Moyer said most school-based COVID-19 cases have originated with teachers in Louisville Metro's experience. While JCPS has been closed for more than 10 months, Louisville-area private schools have offered in-person instruction during the 2020-21 school year.
"We think that this will really decrease the threat in the classroom," she said of vaccinating teachers.
The state is also poised to "significantly" relax its color-coded school guidance for schools based on community transmission of COVID-19 once teachers and staff are fully vaccinated, Beshear said.
All but a few Kentucky counties are currently in the state's "red zone," with districts asked to rely more on virtual learning in hybrid instruction models so fewer students, teachers and staff are gathered inside buildings. They must also adhere to the state's "Healthy at School" guidance and offer virtual learning options that do not harm students' grade-point averages and include Advanced Placement courses.
"We will be able to recommend more in-person classes even when the virus is being transmitted at higher rates provided the adults in that building have that protection," he said, adding that districts will need to exercise "flexibility" for students and staff who have or live with people who have medical conditions.
Copyright 2021 WDRB Media. All Rights Reserved.