LOUISVILLE, Ky. (WDRB) -- One by one, students at Medora Elementary School filed into the cafeteria for the lunch Wednesday.
The masked boys and girls who were the first Jefferson County Public Schools students to step foot inside classrooms for classes in more than a year looked for the sticker that represented the next designated spot in line about 6 feet behind the person in front of them.
Trays in hand, they were ushered to their assigned seats inside the school's cafeteria where students were spaced out facing one direction.
School operations at JCPS look vastly different now thanks to the COVID-19 pandemic, which forced schools throughout Kentucky to cease in-person instruction in March 2020.
While other school systems in the state have offered some form of classroom instruction during the 2020-21 school year, Wednesday marked the first day students were allowed back inside buildings for classes.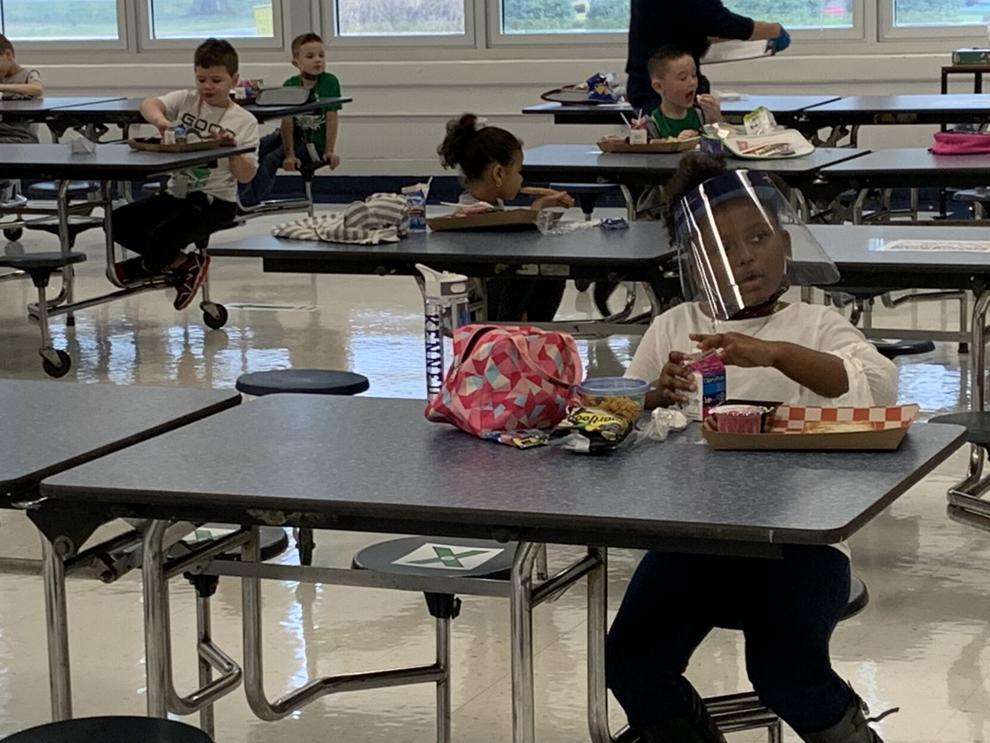 "We've been working for weeks now to prepare whether it was hybrid or everybody coming back, and we are ready for these kiddos," Bowen Elementary Principal Lisa Wathen said.
About 7,000 students in kindergarten through second grade whose last names start with A-K returned to classes Wednesday. Those in kindergarten through fifth grade whose last names start with L-Z will come back Thursday and Friday as JCPS operates on a hybrid schedule.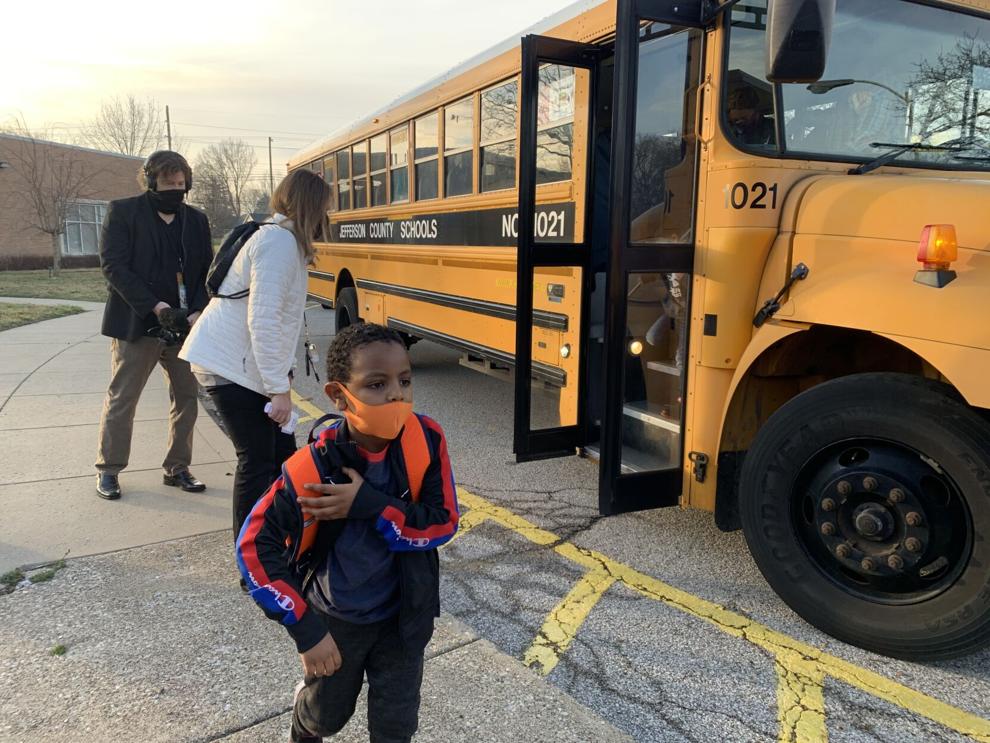 JCPS Superintendent Marty Pollio said Wednesday morning gave him "goosebumps" as some of the district's youngest students returned to classrooms.
"Some of them, as you can see, are a little bit nervous about coming to school, but just the excitement of kids walking in the door is why we do this," he said.
Students in the district's early childhood program will return March 22 followed by those in middle and high school on April 5, immediately after spring break. All grade levels will operate on hybrid schedules except for elementary students who receive special education services, who will be back in classes four days per week instead of two.
Nearly two-thirds of respondents to a JCPS survey chose to send their children back to schools compared to around 35% who selected to continue learning remotely.
Schools have been tweaking their reopening plans and other slight changes could come based on need.
Medora Elementary Principal Beth Palmer said her school decided to add a third staff member to help take temperatures of students before they're dropped off by families after Wednesday.
Medora envisioned such adjustments as its reopening plan was put into practice, she said. What's more, principals have traded ideas of how to handle new guidelines on school operations during the COVID-19 pandemic, she said.
"I took some of their ideas because they were really good, so what you see in action today was the result of a lot of collaboration," Palmer said.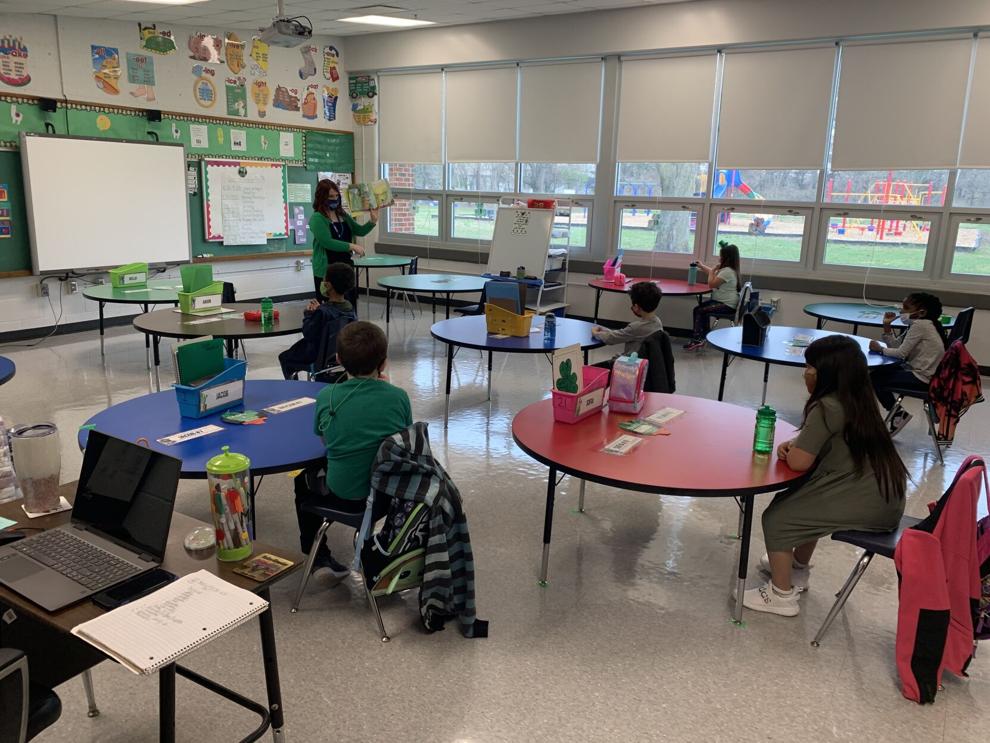 As of early Wednesday, Palmer had no problems from students not following public health guidance like wearing masks inside schools.
"We're also making sure as far as behavior goes that we teach those routines and procedures but then that we also provide time for them to move," she said.
"School looks a little different right now because we're sitting in rows and we're not sitting at those typical tables, and so we want to make sure that we're providing them time to stand up to move around and also just have breaks to talk to each other."
Many JCPS parents realize that changes and adjustments could be made. They say they feel confident the district will do that accordingly.
"If there are things that aren't working as well as they want them to, I'm sure that they will be able to implement the changes," said Rachel Koontz, who sent one of her two kids back to school Wednesday.
Chancey Elementary Principal Tioka Ivory said her school's focus for the first few days of in-person learning will be ensuring students are ready to learn after the COVID-19 pandemic upended their normal routines.
"Academics will be there and we will certainly make sure that kids are academically ready for the next level, but right now coming off of something like a pandemic, we want to make sure kids are socially and emotionally ready to learn," Ivory said.
Wednesday also marked a shift toward normalcy for teachers and staff like Sara Hayden, who teaches second grade at Bowen Elementary.
The school, she said, "is like a home to those of us who teach here."
"I think the excitement for the adults is as real as it is for the kids," Hayden said.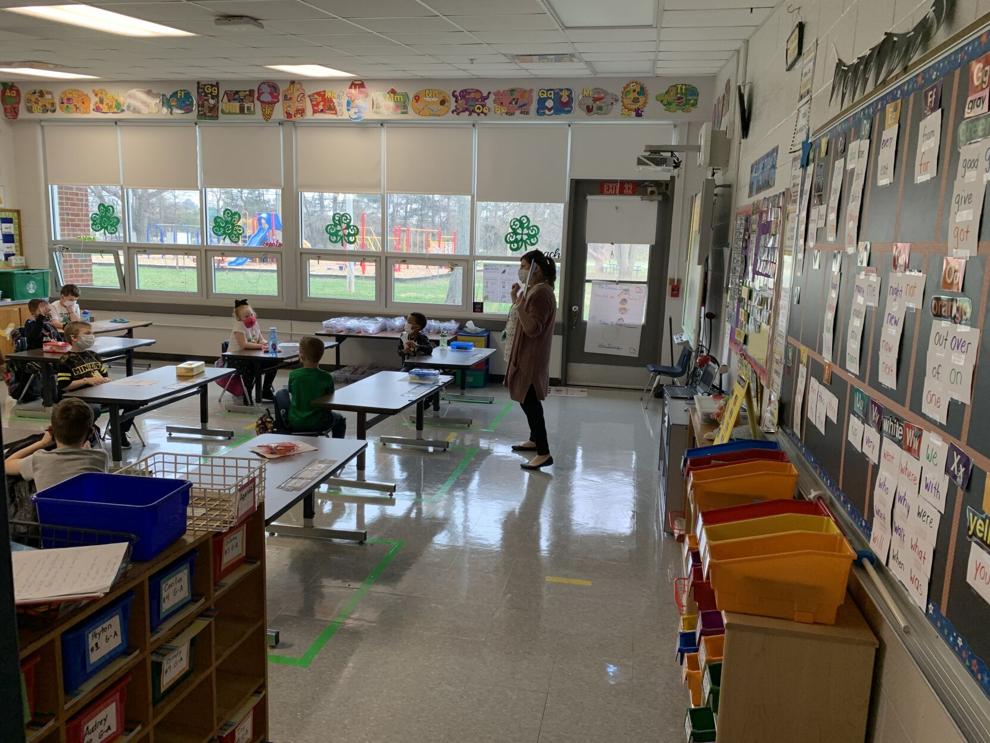 JCPS could transition from its hybrid learning plan to a more traditional schedule for elementary schools, which Pollio originally recommended as part of his reopening plan.
The Jefferson County Board of Education voted 4-3 in February on an amended version that required elementary students to learn on hybrid schedules.
Since then, COVID-19 transmission rates have dropped in Jefferson County. After months in the state's "red zone" for coronavirus spread, Jefferson County is almost in the second-lowest stage of Kentucky's COVID-19 incidence rate map with a seven-day average of 11.1 new cases per 100,000 residents.
Still, Pollio said parents should not plan for JCPS to change its operational plans for classroom instruction.
"There's about two and a half months left of school, and so we'll watch that data and make any adjustments that are necessary," Pollio said.
"We're committed to this hybrid model right now and doing it well and doing it safely and then as we see data, if that continues to change, we may review that with our board of education."
Here's when students will return to classrooms if they chose in-person learning:
Wednesday Elementary students in kindergarten through second grade with last names starting with letters A-K
Thursday: Elementary students in kindergarten through fifth grade with last names starting with letters L-Z
March 22: Elementary students in third through fifth grades and early childhood students with last names starting with letters A-K
March 25: Early childhood students with last names starting with letters L-Z
April 5: Middle and high school students with last names starting with letters A-K
April 8: Middle and high school students with last names starting with letters L-Z
Copyright 2021 WDRB Media. All Rights Reserved.