LOUISVILLE, Ky. (WDRB) -- Kentucky Transportation Secretary Jim Gray asked Indiana officials to rethink their opposition to an 8.3% increase in RiverLink tolls starting next month.
In a letter dated Wednesday, Gray once more called on the bistate Tolling Body to meet and consider approving a lesser jump in rates on the three toll bridges between Louisville and Clark County, Indiana. Gray is a member of the toll policy group.
At issue is a previously agreed-upon way to adjust tolls each year. Under rules set by both states before tolling began in 2016, tolls climb automatically by either 2.5% or the annual rate of inflation — whichever is higher. And since the RiverLink network opened, they have risen by 2.5% annually.
The six-member Tolling Body includes the top transportation and finance officials in both states, as well as two citizen members. It doesn't meet regularly — its last meeting was in 2018 — and rarely tackles RiverLink issues that bridge users would notice.   
Kentucky Gov. Andy Beshear floated the idea of a lesser toll raise in May to Indiana Gov. Eric Holcomb in a letter and phone conversation, but Holcomb rejected it, according to a May 20 letter obtained by WDRB News. 
Holcomb wrote that Indiana required "consistency in approach" to the two toll projects it oversees -- the RiverLink bridges and the Indiana Toll Road, which runs across the northern section of the state. Rates there recently rose more than 9%.
Holding down tolls on the Indiana Toll Road o match the proposed increase on the RiverLink bridges would require higher tolls in northern Indiana for years to come. 
As a result, there would be "significant longer-term consequences for the users of Indiana's other toll system," Holcomb wrote. 
Even so, as Kentucky prepared for a much larger hit to drivers this year as the result of soaring inflation, a state board that oversees the state's bridge financing asked the Tolling Body on June 1 to enact a one-time 2.5% increase that would take effect July 1. Gray is the chair of that board, the Kentucky Public Transportation Infrastructure Authority.
Indiana again rejected Kentucky's proposal. Two of its Tolling Body members notified the group in a Tuesday letter that Kentucky's plan came too late because the automatic rate increase already had "been communicated" to the toll system's operator, Kapsch TrafficCom.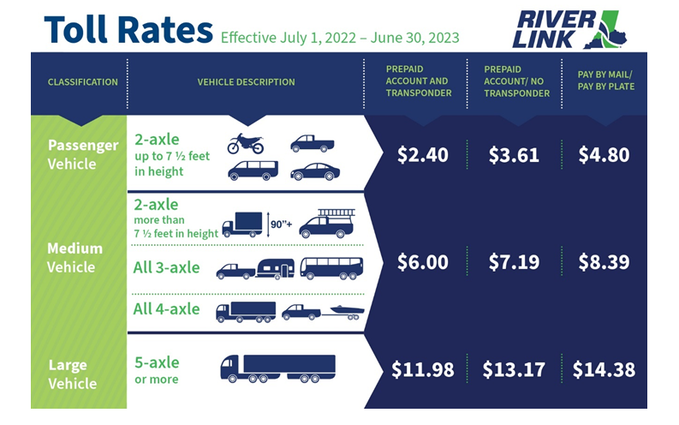 By suggesting lower rates, Kentucky is making "in essence, a request to reverse action already taken pursuant to the Business Rules," Indiana Transportation Commissioner Mike Smith and Dan Huge, the Indiana Finance Authority's public finance director, wrote in their letter.
"The Indiana representatives of the Tolling Body believe it is important to continue to follow the Business Rules, and decline to join the request for a special meeting for this purpose," they wrote.
Both states provided their letters to WDRB News.
Scott Manning, a spokesman for the Indiana Department of Transportation, said in a statement earlier this week that Smith was involved in discussions about possibly changing the business rules "considering the economic challenges brought on by inflation."
Indiana "was clear on its commitment to following the business rules and maintaining a holistic and equitable approach to tolling rate adjustments between the Ohio River Bridges and the Northern Indiana Toll Road," Manning said.
The new RiverLink rates were announced publicly on Monday after both states agreed to do so. The tolling rules require the upcoming charges for the July-June period to be calculated and "ready for release to public on or about June 1."
Gray wrote Wednesday that the Tolling Body bylaws permit the group to meet at any time and change toll rates. He argued that the states "have a responsibility not to allow a windfall," and that the 8.3% increase would produce $400 million – "revenue generated beyond what is currently needed, and at the expense of bridge users already facing inflationary pressures."
Gray also noted that the automatic rate increase was agreed to before tolling began.
"With five years' experience under our belts, and given the current climate, we have the opportunity and obligation to reevaluate what is in the best interest of travelers, while fulfilling our commitments," he wrote. "We must not allow this policy to compromise the states' ability to make an appropriate decision."
Beshear said Thursday that Kentucky didn't enter into the bistate agreement on the Ohio River bridges "with any other project in mind, and we didn't agree to be bound by any other project in either state. That's not in our compact." 
"This is about this set of bridges," he said. "To make a change will take Indiana agreeing. And we hope that they will change their mind given that this will now charge people more -- maybe even significantly more than we need -- to get the project done, and that just isn't right."
The RiverLink increase set to start July 1 would boost rates for all types of vehicles that use the toll crossings: the downtown Interstate 65 Kennedy and Lincoln bridges, and the upriver Lewis and Clark Bridge.
A passenger car, truck or SUV with a prepaid RiverLink transponder, would see rates climb from $2.21 to $2.40 per crossing. A car without a RiverLink account would have to pay $4.80 to cross the Ohio River, up from $4.42 now.
New one-way tolls for semi trucks and other large trucks would range from $11.98 to $14.38.
Copyright 2022 WDRB Media. All Rights Reserved.