LOUISVILLE, Ky. (WDRB) -- With an October 2020 deadline looming, Kentucky is scrapping its longstanding plan to let people get new airplane-friendly driver's licenses from their local circuit court clerk's offices.
Instead, the Kentucky Transportation Cabinet wants to create regional locations across the state where drivers could apply for the Real ID licenses, cutting out the local offices where residents have gone for decades for their credentials.
Having county offices oversee the Real IDs, which can be used next fall to board domestic flights, is "not a sustainable long-term model," Transportation Secretary Greg Thomas wrote in a Sept. 6 letter, a copy of which WDRB News obtained.
The cabinet is "making efforts to secure funding" for a regional approach and plans to work with state and local court officials to "quickly develop and execute a plan that is in the best interest of citizens," Thomas wrote to the Kentucky Association of Circuit Court Clerks and the Kentucky Administrative Office of the Courts.
In an interview Wednesday afternoon, Thomas said recent pilot programs in Franklin and Woodford Counties made it clear that a new approach was needed. 
Thomas declined to provide working figures on how many locations are being considered for the regional centers, as well as where they may be located and how much they would cost. Officials are considering available publicly-owned buildings and travel time from various parts of state. 
"We're getting close to a plan, though," he said.
But Thomas said his agency would "absolutely" have the facilities open ahead of next fall's deadline. 
On Oct. 1, 2020, the Transportation Security Administration and other U.S. agencies no longer will accept Kentucky's current licenses to board domestic flights or get into federal facilities like military bases and government buildings.
At that point, Kentuckians would need the Real ID license or a passport or other valid ID to get on a plane or enter those facilities. 
"If you think about 120 rollouts versus these regional facility rollouts, it's actually more efficient and will take less time," Thomas said.
The new plan will require funding during next January's General Assembly and before then, Thomas said. The source of the first round of funding wasn't immediately clear.
A spokeswoman for Kentucky's software vendor, Idemia Identity & Security USA, which was to install it in each county, did not immediately return a phone call seeking comment. 
The change comes after local circuit court clerks and lawmakers in Franklin and Woodford Counties complained about the additional workload on local offices that manage county courts in addition to the driver's licensing duties.
Those counties began processing Real ID licenses over the summer, but that launch was marked by long wait times, in part because local offices were now collecting and scanning multiple documents needed for the new licenses.
The state's courts office and the statewide court clerks' group agree on the new direction, said Greg Helton, the Knox County Circuit Court Clerk and president of the Kentucky Association of Circuit Court Clerks.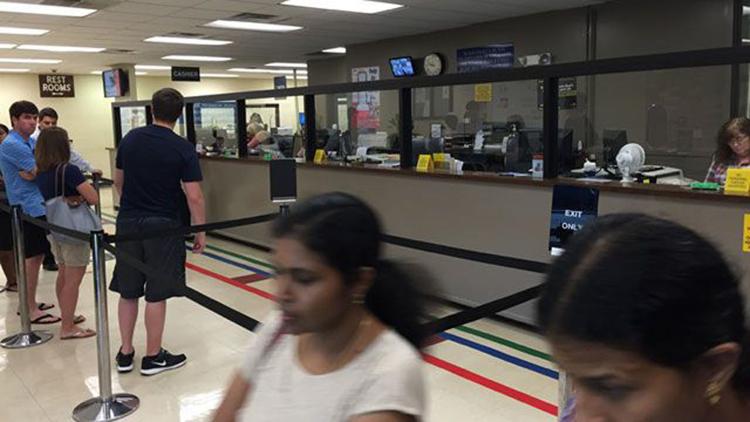 "We want to do whatever is in the best interest of the citizens of the commonwealth," he said. "And that's why this is changing the way it has." 
Jefferson County Circuit Court Clerk David Nicholson said there have been "logistical and technological concerns" in recent months about the role of local clerks' offices.
Nicholson said in a statement that he believes the new approach will "streamline the process and eliminate unnecessary bureaucracy." 
"Any regional model for credential issuance must include locations in Jefferson County due to our large population and the sheer volume of driver's licenses issued in this community," he said. 
State Rep. Jason Nemes, a Republican who represents parts of Jefferson and Oldham counties, said clerks in those counties have told him the move will be in citizens' best interest.
"Having these regional facilities where we know it will be done properly and the lines won't be as long and it won't be interfering with other business — I think it's a good decision," Nemes said.
But the abrupt switch — abandoning the county-by-county approach that has been pursued since the legislature gave Kentucky the go-ahead to comply with the federal Real ID Act in 2017 — raises new questions about how the state intends to meet next year's deadline for Real ID licenses.
Last week, Franklin Circuit Clerk Amy Feldman tweeted that the Transportation Cabinet had begun taking applications for the Real ID licenses in the county.
In his letter, Thomas said those counties faced "significant unforeseen workload and staffing issues" after starting to offer the Real ID licenses.
He said the state won't add scanning and other equipment needed for the beefed-up licenses elsewhere in Kentucky. Jefferson and the state's other counties had expected to start offering them by the end of the year.  
"It was obvious to us that the workload and staffing would not be sustainable going forward, and so that's the reason why we're adjusting in terms of our model going forward," Thomas said.
All states and territories are required to comply with the 2005 Real ID Act, which Congress passed as a recommendation of the 9/11 Commission by next fall. It set new standards for personal identification cards, such as driver's licenses. The goal is to make it harder to counterfeit or forge documents.
As the new credentials become available, Kentuckians will choose between two driver's licenses:
One is called a "voluntary travel ID," which meets the Real ID standards. It functions like a current Kentucky driver's license, letting its holder drive, buy alcohol and other age-limited purchases, board domestic flights and enter military posts.
The other type is known as a "standard driver's license," which is similar to the current license. It will be good for driving, age-restricted purchases and entering federal buildings for basic services but can't be used on its own to board a domestic plane.
Thomas said Kentucky's circuit clerks would continue to issue the "standard" licenses.
He said no decision has been reached that would turn over all driver's licensing operations in the future to the Transportation Cabinet's yet-to-be-established regional offices, although "the clerks and the cabinet feel like that's an efficient approach," he said.
Reach reporter Marcus Green at 502-585-0825, mgreen@wdrb.com, on Twitter or on Facebook. Copyright 2019 WDRB Media. All rights reserved.