LOUISVILLE, Ky. (WDRB) – An online course for recruits training to be police officers across Kentucky included an image from a website called Nappyafro.com and used the term "Gorilla Pimp" next to a picture of a shirtless Black man in a section on human trafficking, according to documents in a whistleblower lawsuit.
The slides, which included several pictures of Black people in the trafficking section, were called "derogatory and racist" by some former employees of the state's Department of Criminal Justice Training who filed the suit.
One of the women said she was demoted after reporting the training content to the department's equal employment opportunity office, according to the August lawsuit and documents obtained by WDRB News.
And a department supervisor wrote in emails that the training materials could have "repercussions" if the media were to see them.
The lawsuit, filed by attorney Thomas Clay in Franklin Circuit Court in August by six current and former DOCJT employees, includes internal emails from the supervisor, Patrick Miller, discussing his concerns with the training materials, including using a picture from "Nappyafro.com."
"It adds little training value for the social repercussions that could occur from our using it," Miller wrote in a January 5 email. "Also, it appears that the use of black people are predominate in the slides. The question asked to me is can white people not be pimps? Are we stereotyping through our use of photographs?"
The department trains law enforcement across the state. 
Miller also warned that the phrases "Gorrilla Pimp" and "Romeo Pimp" alongside pictures of a Black male "goes along with the possible implications of teaching officers to stereotype black males as 'pimps.'"
One training slide, titled "Trafficker Indicators," described an "AGGRESSIVE (GORILLA PIMP)" as someone who is violent, has limited social skills, is unsophisticated and "Appeals to survival needs."
There is also a description for a "Romeo Pimp."
Next to the descriptions is a picture of a shirtless black man with a name of "Daddy True" underneath.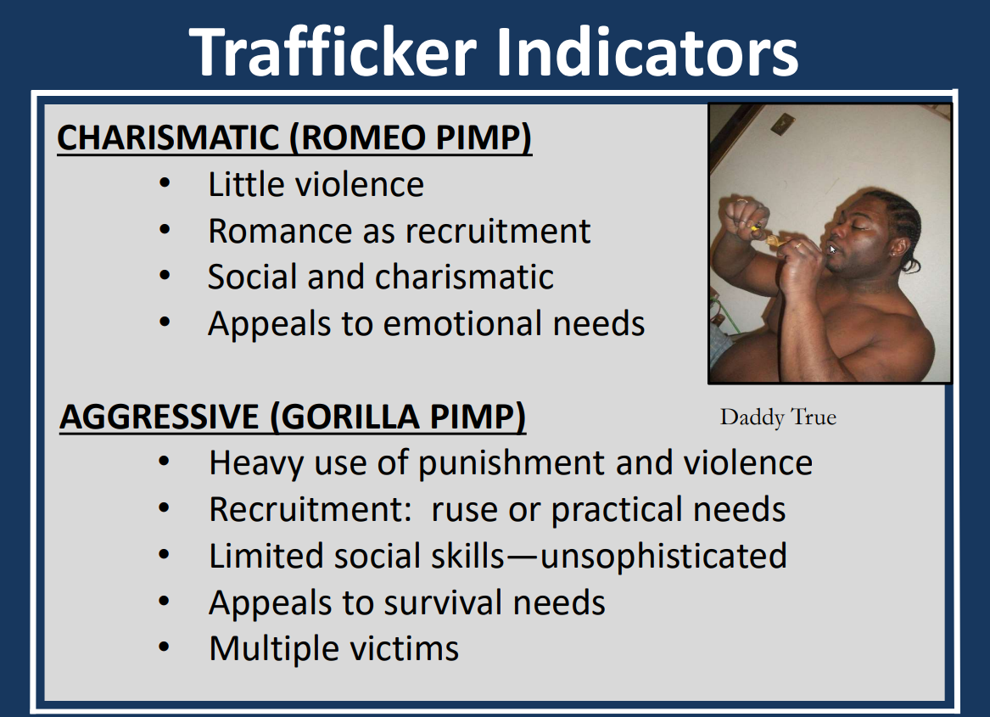 "If these are terms that officers need to know (like street names for illegal drugs) then I would recommend that they have a reputable source showing these as terms police should be aware of or at least a reference in the materials explaining why these terms are important for officers to know," Miller wrote. "If not, are the terms worth the repercussions for the implications?"
Another slide, titled "Victim Indicators," has multiple pictures of Black people, including one from Nappyafro.com.
"Remember," Miller continued, "we are not looking at it from the law enforcement perspective per se but from what would occur if this individual slide were to be shown to the media."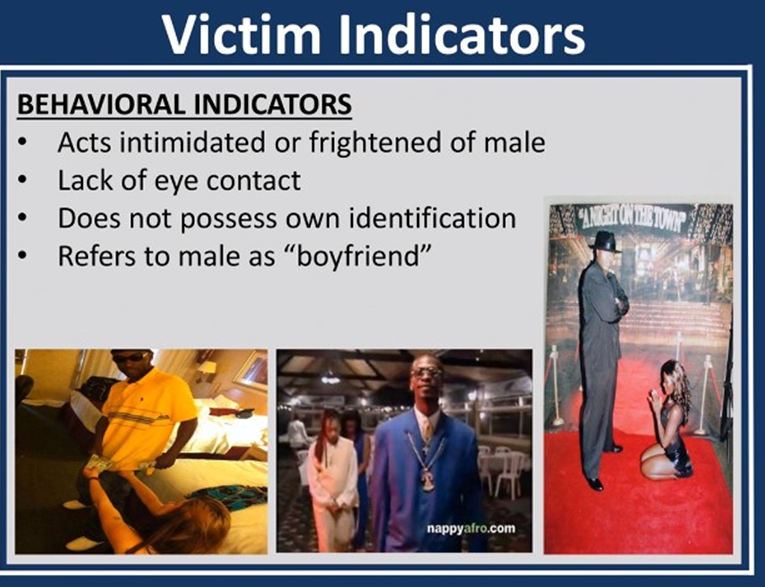 That email, sent to Frank Kubala, the director of the department's training operations, was part of a chain of emails sent to officials to review online training content "for potential issues" in "response to what occurred last year."
Court records show that Kubala required supervisors and instructors to review content for appropriateness and any materials associated with "warrior mindset."
An October 2020 report from student journalists at Louisville's duPont Manual High School revealed training materials used by Kentucky State Police included quotes from Adolf Hitler and advocated for "ruthless" violence. 
The report prompted outrage from Kentucky Gov. Andy Beshear, who called the presentation "absolutely unacceptable."
One of the employees involved in the lawsuit, April O'Dea, said in an interview she was part of the team asked to look at the curriculum in the training classes. She said the group saw "red flags" in the human trafficking section and told officials about the issues.
"It makes it look like they are depicting only African American men are human traffickers," O'Dea said. "And only women of color are the victims. ... I found it very appalling and offensive"
Kelly Foreman, a spokesman for the Department of Criminal Justice Training, said "the training with the unacceptable materials was taught in-person once to seven local law enforcement officers. The photos were removed in February 2021 before the material was made available for online training."
O'Dea said that statement is false, that it was taught more than once and was on an online training website "for everyone to see."
Foreman said the term "Gorilla Pimp" is "a term-of-art used by human traffickers; therefore, officers need to know about it in order to recognize and respond to it."
O'Dea wrote in recent exit interview that she was demoted "due to reporting racist content" in the online training course, according to documents.
O'Dea wrote that she and another plaintiff, Ashley Peercy, were called a "Bit***s" by a deputy commissioner for "questioning our career path after being stripped from all job duties without explanation," according to a copy of the exit interview.
"I cannot work or support an agency that promotes derogatory and racist content to be promoted and cultivated through my work environment," O'Dea wrote.
The lawsuit was filed against the Justice and Public Safety Cabinet; the Department of Criminal Justice Training; the department's commissioner Nicolai Jilek; Deputy Commissioner John Schwartz; and other officials.
Jilek was previously president of the Fraternal Order of Police union in Louisville. He replaced former commissioner Alex Payne in 2019. 
The suit, among other allegations, accuses the cabinet of condoning a culture where female staffers are called "bit***s" without being disciplined and that some plaintiffs were retaliated against for reporting a "racists and discriminatory class."
When an official "refused to act" upon the complaint about the class, O'Dea reported it to the EEO, according to the lawsuit.
In July, O'Dea received a letter from the cabinet saying her allegation of racists training materials and other complaints had been investigated and "found to be either unfounded or unsubstantiated," according to court records.
When Jilek found out about the complaint, O'Dea said she was demoted, the suit claims.
While initially denying the allegation, Schwartz eventually acknowledged he called O'Dea and another plaintiff "bit***s" while in his office, saying it was "out of character" and a "one-time reference," according to a summary of an interview in court documents. 
The internal investigation found "unprofessional language" had been used by a supervisor and "appropriate action had been taken."
The department said Schwartz apologized and was reprimanded. 
The suit accuses the defendants of fabricating "a plan to terminate, demote, isolate and/or marginalize" employees who reported alleged violations, discrimination and other misconduct.
In July, Jilek posted a note on the agency's website about "positive changes that enhance training and support those who serve the commonwealth."
And in his statement, Foreman said "DOCJT has devoted extensive resources to thoroughly inspecting all training materials on a continuous basis to identify unacceptable or objectionable content. When concerning materials are identified, they are investigated and removed from training."
Copyright 2021 WDRB Media. All Rights Reserved.